I Found Love in a Hopeless Place...Stripes.
I am loving these striped socks! They got a lot of use this winter - keeping my legs and toes warm from the cold! For only $9.99, I am thinking about getting more. They are stretchy, inexpensive, well made and cute for parties or everyday wear!
Published:
Pros:
Well Made
Inexpensive
Versatile
Cons:
None
The Striped Thigh High Stockings from Leg Avenue might seem like a mediocre item, something that you would just skip over, but they are great - so stick with me in this review, and then make your decision!

I know that they are not some dazzling and spectacular lingerie item. They are just socks. But for the great price and comfort... I love them.

Packaging: Basic
The Striped Thigh High Stockings from Leg Avenue came in a standard packaging that you would typically see in stores. It is a tight plastic with a display hanger. The item was carefully wrapped up inside with a pink cardboard giving all the details of the item. The package was simple and basic, and would make a nice stocking stuffer. Ha, stockings in a stocking.

Made in Taiwan.

Care/ Maintenance: Details on packaging
The care instructions for this item are on the packaging cardboard insert. They cannot be found on the item, so it is important you take note of the care instructions, save the cardboard insert, or my favorite, log on to EdenFantasys.com and read a review that will give you the information!

For this item specifically, it is recommended to hand wash warm only. You can use non-chlorine bleach as needed. Only drip dry and do not iron the item.

In my opinion, this care is a little too safe. I took the risk of washing with my normal clothes and they were fine! Since then they have probably been washed 5 more times! I've gotten a lot of use in these, so I am glad they are handling the washing machine and dryer – hand washing would have really put me out on this item!

Size: One size
These thigh high socks come in only one size. In the model pictured, she is stick thin. I however am not. I wear about a size 6 in jeans. The thigh highs fit me just fine. At a height of 5'4" I was able to pull these up past my knees. Only then did they have no creases, but they were a little tight on the top band. Instead I prefer to wear them just below my knee at the calf. They are a little looser, but more comfortable. If I was wearing them for a costume though, I would pull them up so they were tight on my body.

It is hard to say a size suggestion, although I know how helpful they are in reviews. The packaging says they fit 90-160lbs. But I think this depends more on your leg size. So, my size suggestion is anyone with small to medium built legs. If you have large calves, no problem. It is more based on your thigh. I cannot really say a pant size, since legs are different than pant size, but probably 0-8 in general would work comfortably. If you don't mind wearing these loose, they could fit on bigger sizes as well.

Design/Shape: Stripes
It is all about stripes in these socks! The stripes are about 1/2 inch thick in a every-other rotating black and white pattern. At the very top of the sock is a bit thicker band of black. The heel and the toe are also black. They fit me without getting see-through and are thick throughout the sock when pulled to the full extent.

Material/Texture: Good material, feels nice on.
The material is 76% Acrylic, 21% Nylon and 1% Polyester
The material is soft and comfortable. The socks are stretchy on all sides. The fabric is medium thickness and medium weight. They are heavier than typical nude or black basic thigh highs. They are thick enough to keep you warm.

The construction of this item is very good. The seams are sturdy, as well as the toe portion and the stretch band feels like it will last. The socks stretch and then return to almost their original size. They do not stay stretched out. The material is high quality.

Personal Experience :FUN socks
These thigh high socks are so fun! They can be used for a Halloween or party costume, or worn daily. I've been wearing them underneath pants all winter! They do a nice job of keeping my legs and toes warm in the cold weather, although I don't recommend them for skiing or outdoor winter activities, just everyday winter wear! I can wear them all day without any discomfort. I wear them just below my knee, not pulled up all the way, so they are not desperately tight. I am getting a ton of use for these, and I am eagerly trying to think of a Halloween costume this year to wear them with!
Experience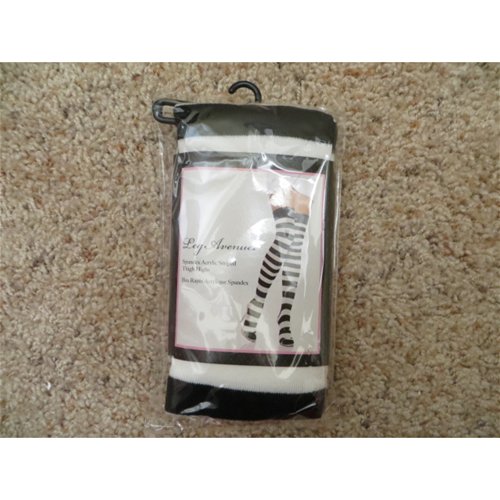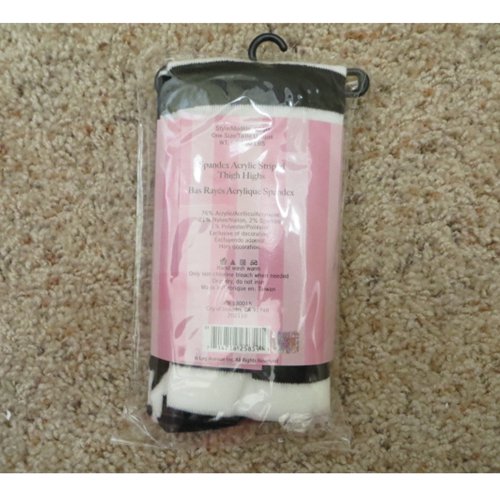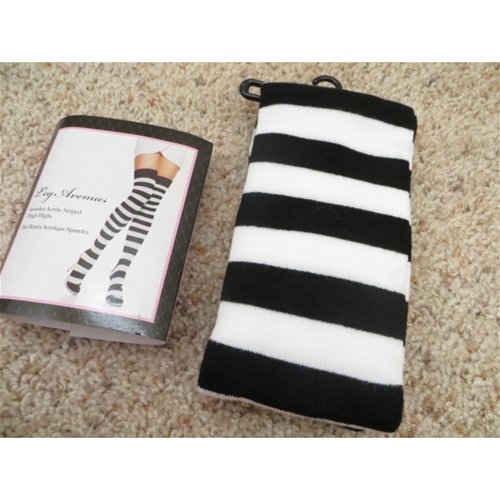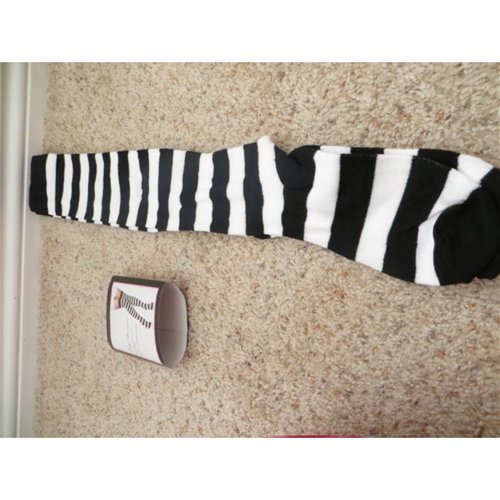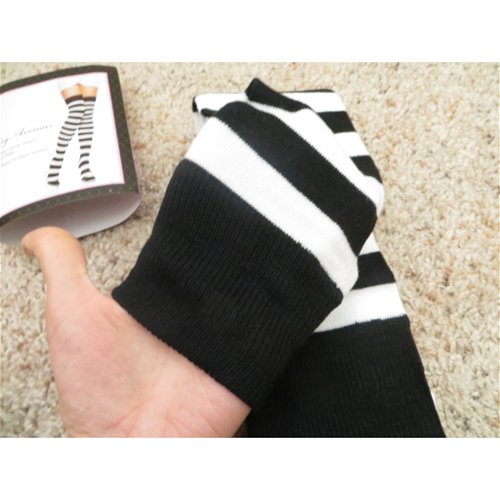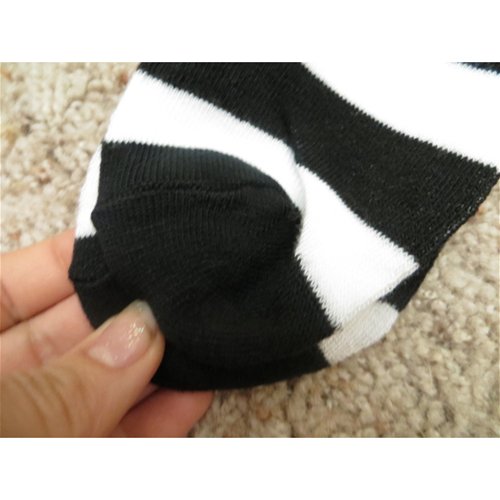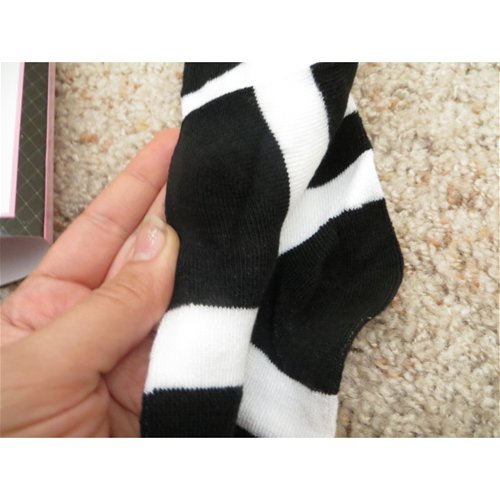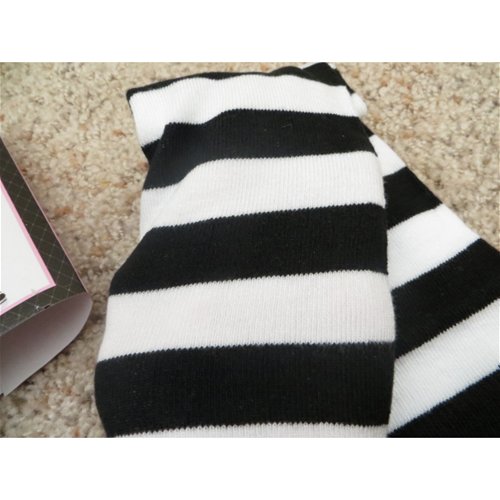 This content is the opinion of the submitting contributor and is not endorsed by EdenFantasys.com

Thank you for viewing
Striped thigh high socks
review page!