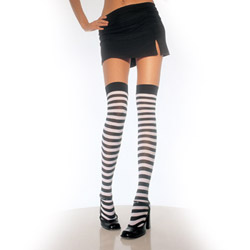 Striped thigh high socks
Socks
by Leg Avenue
Super soft Striped Thigh High Socks: I'm seeing stripes!
I had these socks on my wish list for quite some time, as I was hesitating whether or not I should buy them. I'm so glad I decided to get them, as they look super hot on. I'm a little heavier on the upper legs, and weigh more then what the sizing guideline for product states, however, they actually fit me. They were a little snug, but after an hour of wear, they fit perfect.
Published:
Pros:
Cute, feminine, stretchy, high quality.
Cons:
No plus sizes available.
Use
Are you looking for a good quality pair of knee high socks? Are you looking for something that will actually keep your legs warm, and look super sexy? Well, the Spandex Striped Thigh High Socks by
Leg Avenue
are that and more! They're socks that are meant to fit above the knee, are top quality, and come in the design of black and white stripes. You can easily dress them up or down, wear them with a dress, skirt, skort, shorts, or under your favorite pair of pants for added warmth.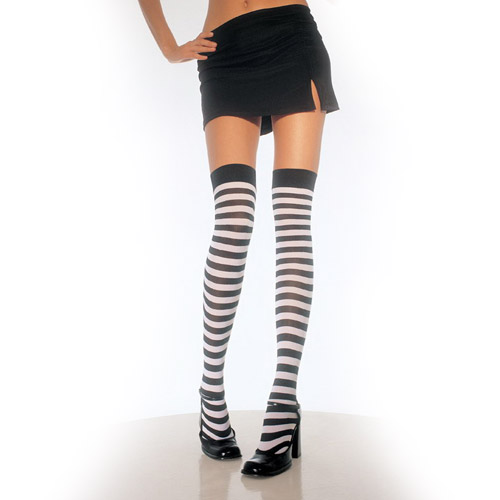 Material / Texture / Design / Shape / Size
The packaging states that the socks are made of 75% acrylic, and 25% spandex. The sizing says "one size" fits all, and the sizing ranges from 90-160Lbs. The socks are black and white in color, and the pattern is made up of stripes that run horizontally on the leg. Each stripe measures 1" in width, and the sock itself measures 7" around, and 20" long (all without stretching). The size of the foot measures 8" long, and should fit most foot sizes.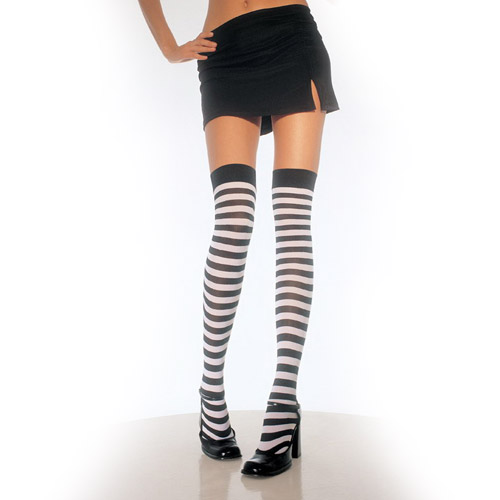 The sock can stretch quite a bit, to fit many shapes and sizes. I'm actually a size 14, and 184Lbs at the moment, and the socks fit. The socks are a little snug on the upper portion of my legs, however, I'm continuously losing weight. If you're legs are heavier on the top, the socks may make the skin of your legs puff out above the sock.
The upper portion of the sock, has an added extra elastic portion, that measures 1" in width. You can't see the added elastic from the outside, however, you can see it on the inside. The elastic is sewn nicely on the inside of the sock, and is in the black portion. The top black portion is thicker then the other stripes, and measures 2.5" in height. Keep in mind once the socks are on the body, they stretch and the measurements would differ from person to person. On me, the stripes ended up stretching to be roughly 1.5" in thickness, and the top black striped ended up stretching to roughly 4" in thickness.
The socks feel like any other good quality sock that you can buy. They're soft to the touch, and stretchy in nature. They're stretchy enough that I was able to actually get them on. Whereas, I originally thought they wouldn't fit after removing them from the package. The socks look long enough, but to the eye look too small when it comes to the width of them for thigh highs. Don't let that fool you, as they easily stretch with little effort.
Care and Maintenance
Even though these are socks and socks you would normally just toss in the washer and dryer, you wouldn't want to do that with these. With the contrasting colors of white and black, you would want to wash these in cool water with a mild soap. You will want to hang and let the socks drip dry, to keep their shape. Do not iron, or use bleach on these, as it would damage them.
Packaging
The socks came packaged in a clear plastic material that was sealed. Inside, it was wrapped with a cardboard insert which held the socks folded nicely. The insert is black and grey in color, with a flower like pattern. The pattern reminds me a bit of an ornate type of wallpaper. On the front, there is a soft white box that's framed with the dark background, and it has a models legs wearing the socks. It says "Leg Avenue", and "Spandex Striped Thigh Highs". There is a pretty light grey swirl design on the left.
The back has the sizing, style, fabric breakdown, washing instructions, and the company information. All lettering is written in white, to show up on the dark background.
There was a small little black plastic hanger that was holding the socks on. It looks like it's designed for stores to be able to hang it on their walls.
Most of the packaging can easily be recycled!
Experience
Overall, I'm incredibly pleased with my socks. The quality is excellent, and I'm happy that they fit (even though they're a little snug). I wasn't sure if these socks would look a little juvenile on, but they actually look quite professional depending on what you wear them with. I actually wore them to work, with a black skirt suit, and black boots to the knee, and I received quite a few compliments on them. One woman asked where she could get a pair, which I thought was cute.

Since they are a little snug at the top, I found that after stretching them a bit with my hands first, it solved the problem. Also, they ended up molding and stretching to fit better, after an hour of wearing them. I feel super sexy wearing these, and they actually help keep my legs warm. Winter time and you want to wear a skirt? Well add these socks, and you'll feel toasty warm!
Follow-up commentary
14 days after original review
These socks are so cute and sexy, and can be worn with so many different outfits. These I like to wear and pretend I'm a school girl again, and my fiance loves them! For the price you can't go wrong.
This product was provided at a discounted price in exchange for an unbiased review. This review is in compliance with the FTC guidelines.
Thank you for viewing
Striped thigh high socks
review page!