Striped Stockings!
I think these are cute, I just wish they came in a plus size. Though I am not plus sized at all, I think that would have probably fit better. The thighs on these are a little bit snug, not to the point that it will feel constricting, but it can give you a thigh-muffin-top.
Published:
Pros:
Cute, thicker than tights, can be worn with an outfit or costume
Cons:
One size, tight on thighs, not available in more colors
These stockings came packaged like so: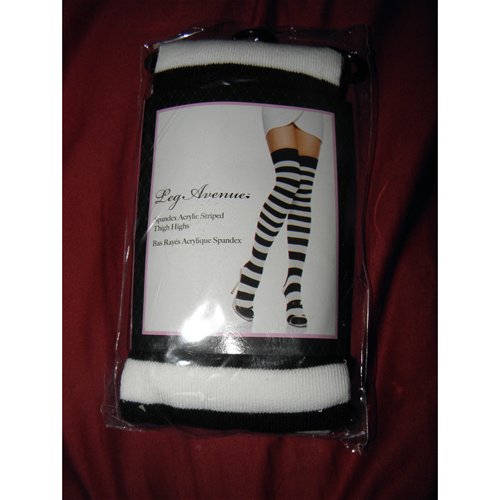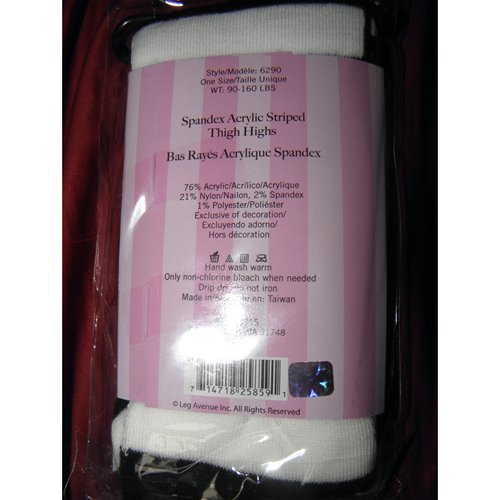 I was expecting these to be thin, sheer-ish fabric; very much fitting to the word "nylons". However, these are the same material as a pair of socks, not sheer or thin like stockings. They would not exactly keep you warm, but they are as thick as a thinner pair of cotton socks, which is much thicker than what you expect of stockings or tights. These are really thigh high socks, so the name is very fitting. I don't mind the thickness, I thick they are cute. They could be worn with a cute outfit or with any number of costumes. The benefit that comes with them being socks, not nylons, is that they are less apt to get snagged or torn or messed up by your fingernails.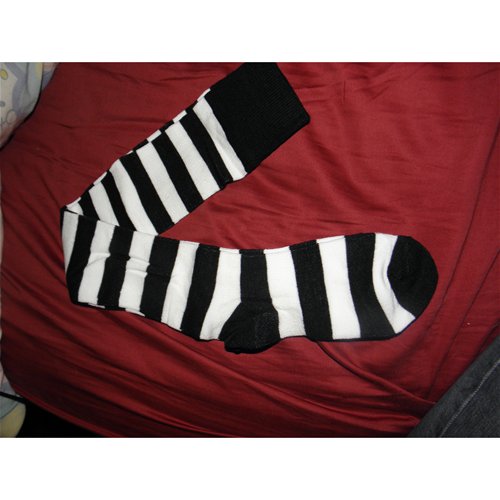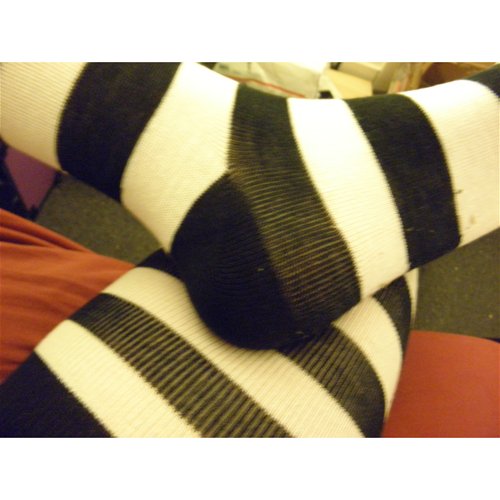 The heel seems like it might have a little extra reinforcement, but not much. Just enough so that they won't tear right in that spot right off, from pulling them up or walking around in them. They don't make you sweat, they are comfortable as a pair of socks...except that they are a bit tight on the thighs.
I could get these stretched at maximum length to about 29" from heel to the top of the band around the thigh. These only come in one size, which is disappointing. My thighs are each about 21" around, and these are tight around the tops of my thighs, and were even tight when first pulling them over my calves. They fit okay, but they give my thighs a bit of a muffin top, which I don't really feel comfortable with. I am about 5'9" and these come to mid-thigh on me and I have pretty long legs. If you are taller than me, they will be shorter on you, so keep that in mind. These could be worn with a garter belt, which I think would be very cute and interesting. I mean...thigh high socks with garters attached? How cute would that be! If you wanted to wear these under clothing, you could. These can really be worn anywhere, and they would not get in the way obviously, if you wanted to have sex with them on. My feet are a US women's size 10 and these fit comfortably, without feeling like the heel is in the wrong place.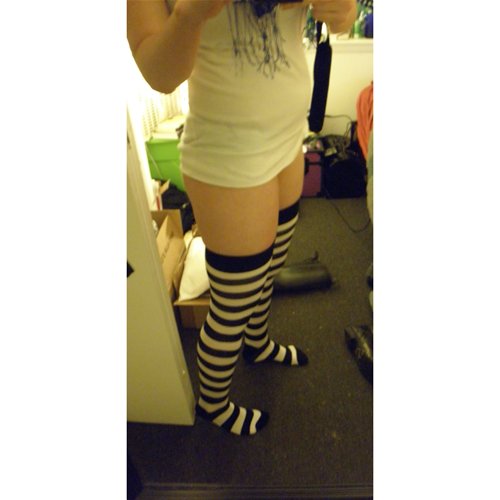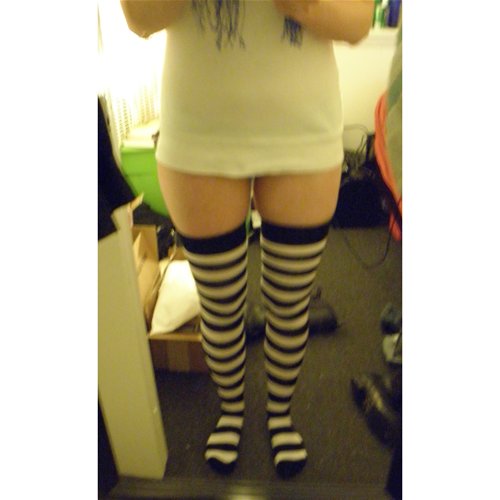 I am wearing them right now, as I write this review. I figure if I wear them for a bit it should break them in a little, hopefully make the thighs fit a bit better once they are stretched somewhat. I like these and think they are very cute, and could look great with the right outfits. I'm just not sure how much I will actually wear them because of how I feel about the look of the thighs on me. Also, I would love it if these came in not only a bigger size, but also other colors. The first that came to mind when I put these on was rainbow stripe! I would love a pair of these with rainbow stripes on them, I would wear them out and lounge around the house in them. You could put legwarmers over these and wear them with a retro outfit, or to a dance/yoga class even. If you are on a rollerderby team, you could wear these and dress them up for a game, that would look amazing. These could be seen as a "gothic" style stocking, and they could be if paired with the right things, which would look great. Personally, I love the look of black and white stripes (vertical or horizontal), I think they are very fun. These could be worn in many ways, and add that little extra pop to make an outfit stand out and look great.
As for care, these are hand wash warm and drip dry. I would not want to put these in a dryer, I'd hate for them to come out tighter. The material is 76% acrylic, 21% nylon, 1% polyester. They are made in Taiwan. I don't think there will be an issues with the colors fading or blending, I have had plenty of other black and white striped wear-ables in my day, and I've never had any issues with that. These could be kept with any other socks or stockings you have, easy to store and not super sexy or indiscreet.
Follow-up commentary
2 months after original review
My feelings on these haven't really changed at all. They're still nice, cute, thigh high socks. They seem to hold up to washing, they're not so bad for the price. Plus, they can be worn year round, not just as a costume piece.
This content is the opinion of the submitting contributor and is not endorsed by EdenFantasys.com

Thank you for viewing
Striped thigh high socks
– hosiery review page!