If You Only Had a Head... or Texture...
The Elegance G4 is a beautiful, strong, rechargeable vibrator with 5 speeds, variable patterns, and made from 100% silicone with a plastic handle. Its rumbly vibrations can be used internally or clitorally, or anywhere else. Its girthy size and smoothly asymmetrical body is unusual in look and in feel. Many will love this toy. It is a high quality toy with a powerful motor.

I, myself, should have chosen something with more texture.
Published:
Pros:
Rumbly, deep Vibrations
Strong
Rechargeable
Girthy
Cons:
Long Charging Time
No Enlarged Head
May be too large for some
Why do
I
feel guilty when a
good quality toy
just doesn't measure up to my long held expectations? *sigh* I wanted the Elegance G4 by Fun Factory since it came out over a year ago. I drooled and swooned over it. I envied those who had it. I saved points and money. Finally, a while back… a sale… and I owned it. It was
mine
. I've waited months to write a review. Why? It isn't exactly what I thought it would be. It's a fantastic toy, but... It isn't as
perfect
I thought it would be for my personal needs.
The Elegance comes in standard issue Fun Factory packaging; a cool red and silver cardboard box, with flaps held together with magnets, a book of their other toys and a sample of FF Toy Fluid (which I have many of, but can't use because it contains glycerin) and a Click and Charge A/C Charger.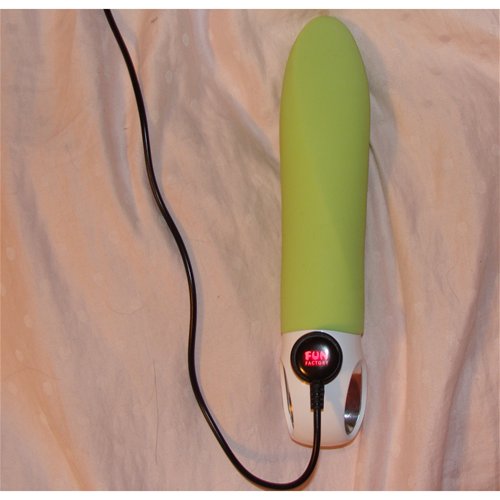 The Elegance's unusual lime green color was offset by its white loop handle and when I touched it….. its power buttons glowed. *gasp*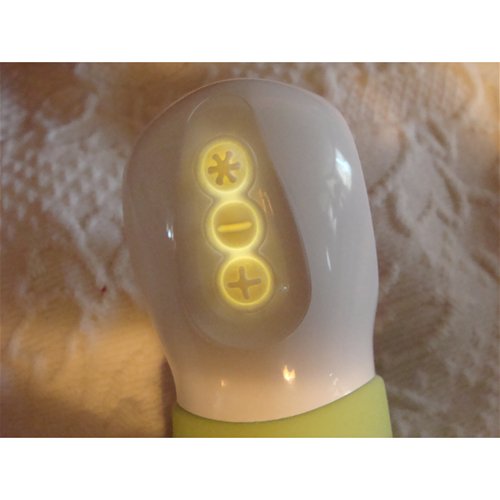 My hand ran over its strange shape. Large, bulky and girthy, 8.5 inches long, about 7 of those insertable, 5.5 inches in circumference, a weird and wonderful looking asymmetrically tapering head.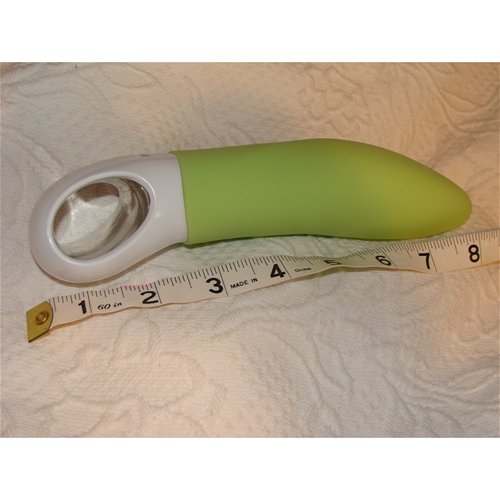 My hand caressed the green silicone body and it felt… sandy. It still feels a bit like small bits of sand or Kleenex "crumble" cover the surface. This oddity doesn't seem to effect the usage of the toy and has decreased with use and washing.
The toy is rechargeable; it comes with the G4 Click and Charge plug, which attaches to the body of the handle with a satisfying magnetic "click" and, if you are lucky and careful, lights up red to let you know it is charging. It holds a charge a long time. As I learned the toy isn't a favorite of mine, it often sits, waiting for weeks or even months between uses. The charger is particular. Move the toy, it loses connection and you have to try to get it in place again. Move the wire and you have to get it in place again. Speak too loudly… and…. you get the idea. The charger is finicky.
After charging for between 3 to 6 hours (a really long time, if you ask me) you have a full charge. There are three buttons on the handle of the toy.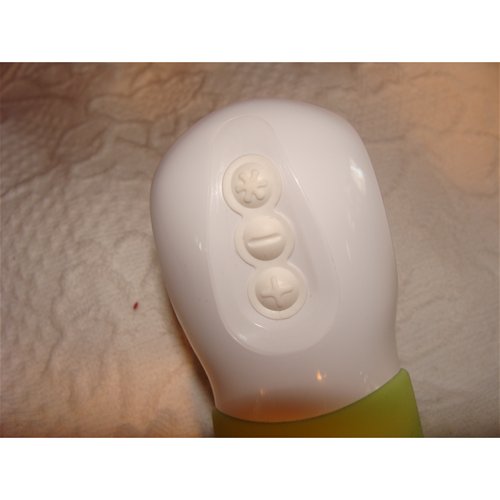 A + to turn on the power and turn the power up. A – to lower the power and turn the toy off and a Star button to turn on the patterns or to also turn the toy on. The toy is turned off by holding down the – button for a second or so. The entire toy vibrates, including the loop handle, but the most intensity is felt about four fingers up from the handle. The rounded almost ovular tip of the toy is plenty strong enough for clitoral stimulation, if desired.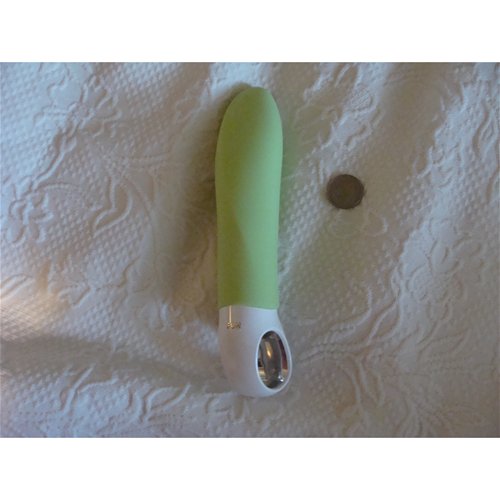 The + button will bring you to five levels of increasingly strong solid vibrations, then hit the Star button for patterns.
The patterns:
~Fluttering
~Fast pulsing
~Slower pulsing
~Slower pulsing with gradual speeding up of pulsing to fluttering
The patterns all have deep, low register vibrations, and all are very quiet.
The Elegance is fairly powerful and very rumbly, as most Fun Factory toys are. I wasn't surprised at this. It's girthy. Its body is 100% silicone. The plastic loop handle fits my first two or three fingers well, and it's intuitive to use.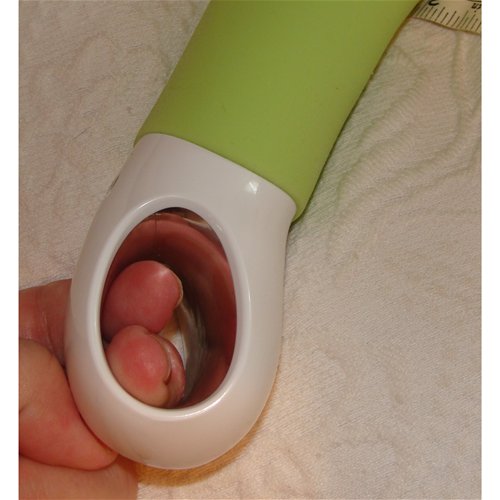 It holds a charge a long time and can run for quite a while. The longest I have run it for continuously was about 30-40 minutes, and I still had plenty of charge after this running time.
So, I ask myself; why isn't this the perfect toy
for me
? The body shape felt odd. It is not symmetrically balanced, by design. So it twists around about 1/3 of a turn when inserted, but not in a "juicer" or "screw" type fashion. It just feels out of whack. It starts to turn a little during insertion and then just sits there, rumbling away. And there is no enlarged head at the tip of this toy. I have found that I enjoy a phallic like head on my insertable toys. Something about that penis like head that rubs me the right way, I guess.
Experience
I also really enjoy toys with texture. With the exception of the slight ridges that line the asymmetrical shape of this toy, there is no texture. I thought the size of this toy would make up for the lack of texture, but I guess I couldn't overcome a lack of texture and a lack of an enlarged head in a phallic vibrator.
Although the Elegance was large and strong, I didn't feel it hit my G Spot well. There was no head and not enough angling of the body of the toy to do so. I find it harder to climax while using this toy, as my body expects some firm G Spot pressure.
The Elegance G4 may well be the perfect toy for
many
people. Some may find the odd twist of the body to their liking, and don't mind a toy without an enlarged phallic shaped head. It's strong enough, and large enough. I thought the unusual shape would be exactly what I wanted. Sadly, it isn't. I prefer a more classic shape. The Big Boss G4 would have suited me better. This type of head, from the Fun Factory Boss would have been perfect. (And I already have it, in the limited edition battery powered version.)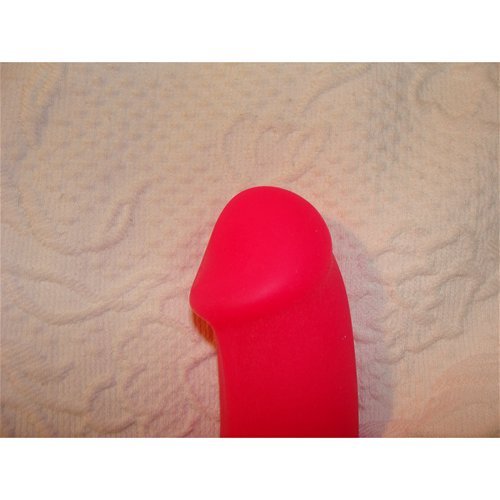 Head of Fun Factory Boss; Perfection.
The toy can be cleaned with hot water and soap. The Elegance is said to be waterproof, but I haven't submerged it. You can use a toy cleaner or wipe, but in the name of comfort, you may want to clean it with hot water and soap afterward. The silicone parts can be cleaned with a 10% bleach solution. The toy lack s the requisite flared base for anal play, but it is long and has a loop handle. Only use this toy for anal play if you are careful and know what you are doing.
But, the toy is certainly strong enough and has enough power for clitoral play. A lot of women (like myself) may want to warm up by using it this way before applying a small amount of water based lube (I use Sliquid Organics Natural with this toy) on the shaft. As it is made of two separate pieces, and there is a tiny, microscopic gap between the silicone body and the plastic handle, a condom should be used if the toy is to be shared.
That being said, I still use the toy. I can have some fun with it. It isn't awful. It isn't a poorly made toy. It's certainly better than a toy that is too small or too thin or made from unsafe materials. I think it takes a certain type of person to enjoy the asymmetrical shape. I'm not that person. Some women may find this to be their perfect toy.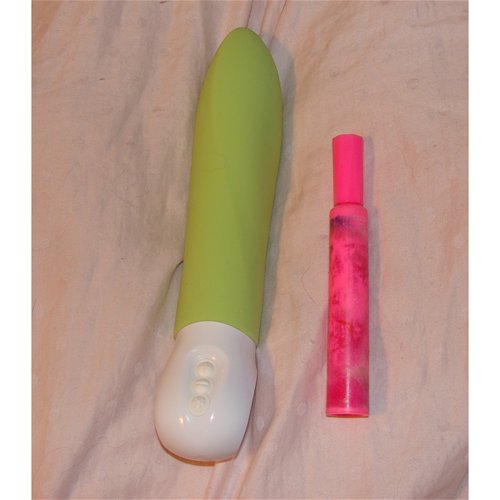 Giving this toy a rating is difficult. It's well made; it does what it is supposed to. But, I would prefer if it were different. You win some, you lose some, you end up in the middle sometimes. I ended up in the middle with this toy. Some will find it their Vibe in Shining….. Silicone.
Follow-up commentary
11 months after original review
Poor Elegance. It sits in my toy chest and I rarely take it out anymore. I do think it would be a great toy for those who don't need a penis like glans on a toy, but for me the transition during penetration is too smooth and it doesn't hit my G Spot well.

It is a very high quality toy, and the vrooms are great. But, I prefer toys with a pronounced head and the Elegance just doesn't have that.

For those who want size that eases in gently this may be the toy for you. I prefer to gasp when My Man inserts a toy and this guy just doesn't do that for me.

The charger is still a little fussy, it can easily go off-line if you aren't keeping and eye on it. I can't leave vibrators out, even when they are charging (I have kids) so it's hard to get it into the right position either in a drawer or under the covers (which you are warned NOT to do) and keep the charger clicked in. But, if I keep an eye on it, I can get a charge after some hours.

The Elegance is still going to be a great toy for many. I find my needs are different than it's shape provides.
This content is the opinion of the submitting contributor and is not endorsed by EdenFantasys.com

Thank you for viewing
G4 elegance
– g-spot vibrator review page!