Little bunny buddy
The Silicone bunny buddy is a cute little sleeve fitting over a bullet to add some fun to your bedroom "activities". He is meant to use externally on your erogenous zones. There are many different ways to use him! The one speed bullet has decent power but some may be left wishing for more variety.
Published:
Pros:
Cute (?)
Material
Texture
Cons:
One speed bullet
This oddly cute (in a kid's little Easter finger puppet way) little bunny teaser fits over the plastic bullet to bring some "fun" to an other wise boring typical bullet. It is meant for external stimulation of the vagina or really any erogenous zone. It is not made for insertion and I mention that because this should NOT be used anally- just don't go there! Use the little bunny and his bullet alone or with a partner. You can even take this adorable bunny into the shower or bath with you for a more fun and/or relaxing time. While it does look like a cute little finger puppet, if you left it out with the bullet in it then people will see this bunny is not as innocent as he seems!
The Silicone bunny buddy is made of TPR silicone rating a 6 on Eden's safety scale. The silicone is smooth, but there is a bit of texture where his face is, like his little nose that could add for extra stimulation, as well as his tail. The ears and feet are the most firm part of the bunny. The rest of the bunny does have some give to it when the bullet isn't inserted; the bullet inserted pretty much only leaves bending room for his head, ear, and feet. The silicone feels soft and has some drag to it. Apply a bit of water based lube to make things easier. The bullet is made of hard plastic rating an 8 on Eden's safety scale. The bullet is small and round. There is no texture, just all around smooth plastic.
The design of the bunny is great for nipple and clitoral stimulation. His head is slightly bent with the ears curling in slightly, this makes for a decent "scoop" like action when using the ears on your girly parts (like a come here motion with your finger). The nose sticks out a little for some tickle and tease. His feet and tail stick out as well and can be use for pinpoint stimulation. You could also just lay the bunny face down for broad vaginal stimulation. Really, there are several ways to use it, just play around and find something that works. The bullet can be taken out and used on its own, though it's rather plain and boring. You could also use the bunny sleeve as a finger sleeve (if your finger will fit). The length is
4" with a circumference of about 2 1/2" and a diameter of 1".
The texture/design of the bunny is about as exciting as this toy gets. I say that because the bullet only has one speed, so there's no build up or winding down with this- just one solid, buzzy vibration setting. However, I have found that the bunny fits over the We-Vibe Salsa and Tango as well as other bullet vibes. So if one speed isn't for you, toss the bullet and grab your favorite one and shove it in the sleeve! The bullet that comes with the bunny is powered by 4 watch batteries, which are included along with a spare set. Operation is simple- press the button on the bottom of the bullet once to turn it on and again to turn it off. The vibrations travel decently through the bunny. The one setting may be fine for a beginner (but even as a beginner, I liked my bullet that had variety) but most users may be left wanting something more. The bullet won't be heard outside of a closed door. I wasn't impressed with the bullet, it's not powerful enoug for me and though I don't care for patterns, I DO want more than one speed!
Cleaning is easy, all you need is some antibacterial soap and water. You could also use a toy cleaner or wipes to clean the bunny and bullet. Only water based lubricant should be used with the bunny sleeve. Store it in a place where it won't get lint, hair or other particles stuck to it.
I was less than impressed by the way the bunny was packaged, but packaging isn't that important to me. It came in a clear ziplock style bag. The bunny was inside some plastic that was stapled at the top to hold it in. The batteries came sealed inside plastic (separate from the bunny) along with two sets of batteries a small paper folded up with instructions.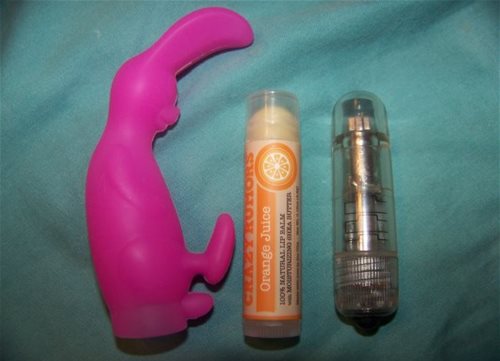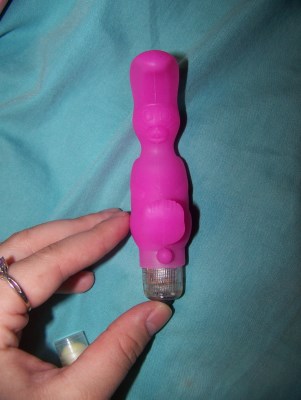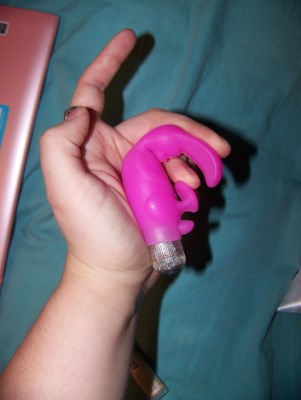 Experience
The bunny is cute but because of the crappy one speed bullet, I wouldn't have ever purchased it at the selling price it was at. It's cute and goes well with another bullet. I got this from spending $59+ on an order and choosing the free "mystery gift". This is my second one, I have no use for two so I'll give it a friend. It's decent as a free gift but I can't justify ever actually buying it for more than 5 bucks or so. I gave it 3 stars because I just find any toy with a one speed vibrator to be a sort of rip in a way, but maybe I'm just being too harsh?
Follow-up commentary
7 days after original review
I kept the little bunny sleeve and the batteries and threw out the vibrator. The bullet was a complete joke. It's a decent "free gift", but one is enough. I've gotten three of them, gave one to a friend and just have the other sitting there taking up room. It isn't worth buying on it's own, especially for the price it was going for.
This content is the opinion of the submitting contributor and is not endorsed by EdenFantasys.com

Thank you for viewing
Silicone bunny buddy
– sex toy review page!