Not Ready to Forsake All Others
The Rondo is attractive, and I'm sure that the ideas incorporated into it seemed innovative on the drawing board. However, while fully functional, it needs a little fine-tuning to be my go-to toy. Still, the shape works well for both G-spot and clitoral stimulation, just not at the same time. The price suggests a toy that should be a little more perfect than this. If you can get it on sale, I'd recommend it, but it's not the best toy all around.
Published:
Pros:
Good for separate G-spot & clitor stim, strength, button locale, nice packaging, comes with extras
Cons:
Charging port cover, no charging indicator, only one steady vibration mode, collects lint
Close2U's Rondo is part of a newer wave of toys they released. This G-spot vibrator is made of silicone, for the insertable part, and plastic. It has two vibrators, both of which are located in the shaft, toward the middle and tip. The Rondo boasts a variety of vibration patterns and, due to the manufacturer's efforts, is intended to be waterproof.
Let's start with what I like. Silicone is always a plus. Sadly, this one collects lint like no other. This does come with a storage pouch, so you'll want to use that (you have to squeeze the vibrator in there, though). Speaking of goodies, Close2U has packed the box with a silicone cock ring, a sample of lube and a toy cleaning cloth, too. Although this has a higher price than your typical battery-powered vibrator, you get a lot for what you pay for.
The packaging itself is also badass. The box cover opens like a book, and you can see the Rondo itself through a plastic window. The cover secures magnetically, and the toy itself is actually in a little drawer that opens from the side. There is another one below it, which houses the manual, adapter and accessories. This little dresser style is unique. Although, it does take up more space than is strictly necessary and it can be a hassle to remove the Rondo from between the fitted foam inserts, I think this would work great if you repurpose it for condoms, cock rings, lube packets, etc.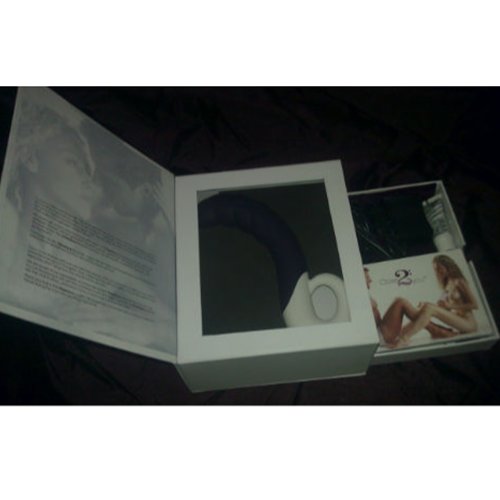 The buttons are on the handle, which curves up toward the body and has a loop. I find it easy to grasp and find the buttons -- a single power button and a button that pages through the settings. I like this so much better than buttons that are one the very end of the toy.
The silicone feels like it has a lot of give in my hand, but is firmer when inserted. It's good for pretty intense G-spot stimulation and there are ridges on the shaft that make it interesting, if you don't like straight and plain. The ridges make insertion a little more lubeworthy than it would without them. The Rondo really isn't huge but, at its widest, is more like 1.5" than the 1.25" as written on the product page. The increase in size is gradual, but I don't find that I insert it far enough to really feel the thinner part. If you did fully insert it, you'd get about 5.5" of curved length. I like that this isn't overly long.
This means that I can't get dual stimulation with the toy. This isn't a huge problem, because the area that would hit my clit would be the handle and not the toy itself. Plus, the rounded head of the toy is excellent for clitoral stimulation with pressure, so I can't complain.
Rondo is a good toy but it's not a great toy. If it was the only internal vibe in my collection, I'd be pleased but it's overshadowed by my collection as it. In fact, I feel like there are three very specific flaws in this toy.
First, is the charging port, which is actually covered by basically a silicone cork. This is incredibly difficult to remove the first time and I don't know how anyone without nails could remove it at all. Plus, it doesn't match the charging images in the manual, so I wasn't even sure if this was a cover for the port, at first.
Once I did have it open, I realized that the cover was connected by a thin strand of silicone. You have to push this back in before you recover the port to get it to fit seamlessly, for it to be waterproof. Most people won't do that, I imagine. Also, be careful when removing the cover because you can pull it completely off, like I did. I don't plan to use this in the shower or tub, but now I have an open hole around the charging port.
Secondly, there's no indication about charge. It shouldn't take more than a few hours but I don't check the clock every time I plug in a toy to charge, and I find this frustrating.
Continued Below
Experience
The third downfall is the lack of multiple steady vibration modes. The only steady vibration mode is nice, because of the two motors, but some might want something stronger or weaker. The vibrations are buzzy enough that I didn't feel like the pulsations were all that impressive. It's interesting to feel pulses going back and forth between the two motors, but won't set me over the edge. I ultimately stuck with the steady mode. Oddly, it feels like it waves. Other reviewers mark this as a con but, for me, it's a pro. I feel like the Rondo is purring between my legs and like it quite enough.

In terms of strength and buzz, this is decently strong -- stronger than any Lelo toy and somewhat deeper. It's not the deepest or strongest, though. For two motors, it is a little lackluster. As you have the toy on, it's not quite what I'd called quiet. In fact, it reminds me of Lelo or Fun Factory's early attempts. The motor is kind of whiny and there are several different types of sounds, some which quiet when you press this vibrator against your body or insert it. It can be a little distracting.

Although the Rondo has the outward appearance of a well thought out toy, it just seems like Close2U forged ahead with ideas that looked good in the planning process but don't work quite as well in real life. The toy is far from a complete failure but it's not as polished as you might guess from its looks. I don't want to suggest that I don't like this toy. I do. It's effective but flawed.
This product was provided at a discounted price in exchange for an unbiased review. This review is in compliance with the FTC guidelines.

Thank you for viewing
Rondo
– g-spot vibrator review page!