Power Queens Rejoice!
If Ina fits your anatomy, you will not be disappointed. If you have any doubts that it won't fit you properly, take a swing by your local novelty store to see her in person before making such a large purchase only to be disappointed. Then get your ass back on the computer and order from EF ;) (Really though - I've seen them for as much as $179 in stores!) She is whisper quiet, STRONG, and offers a lot of variety with strengths and patterns.
Published:
Pros:
Rechargeable, strong vibrations, silicone
Cons:
Not waterproof
I had been eyeballing Ina for a while, and once I got my tax return this past season, I decided to go ahead and splurge on this expensive piece of machinery - and I sure don't regret it! It actually works quite well for the reason that when I realize how broke I am because of how much this toy cost, I use it, and I feel a LOT better! ;)
I love the color choices available. They were very appealing to me just because lime green and bright orange are colors I rarely see toys in, but my ultimate favorite color is purple, so that's what I chose.
Ina came packaged beautifully in a black box. She same with an instruction manual, a satin drawstring bag for storage, a long power cable to charge her with, a sample packet of lubricant and most importantly - a warranty!
Ina is made of silicone and has a plastic base. As with all silicone products, it is imperative to NOT use a silicone-based lubricant with it. The only downfall of this toy for me is the fact that it isn't waterproof. I typically don't use my toys in the bath/tub, but it'd be a lot easier to clean if it were able to be submerged. If you do choose to use soap and water to clean it, take care to not get the handle/buttons/charging port wet. Aside from that, the quality of the product totally makes up for the whole waterproof factor!
Power and size queens will most likely be pleased with Ina. I can't speak for everyone, as I think I'm one of the "lucky" ones whose anatomy fits with the toy quite well. The shaft has got a lovely, bulbous g-spot curve and is rigid/stiff but smooth and velvety to the touch. It hits my spot perfectly and really fills me up so I'm not left wanting more. The clitoral arm, which also has its own motor, has a bit of give in it. It's not as stiff as it appears in photos, but it's definitely not the most flexible, either. It's more flexible than not, but it's not going to flop around.
There are eight different options for patterns and vibrations. I've never been one for the different patterns (usually I just work my way up to the highest vibration!) but Ina has one pattern I quite enjoy - rumbling from the motor in the g-spot shaft that alternates with the clitoral arm, then out of nowhere, BAM! An insanely strong (and unpredictable, but when I'm in such bliss, I have no time to be paying attention! Haha.) vibration that'll shake you from head to toe. I like to use this setting to use the clitoral arm to tickle my clit and warm myself up before actually inserting Ina. The top vibration strength on this girl is ridiculously strong. Probably wouldn't be suitable for beginners or people who aren't too keen on lots of power.
Given the level of power Ina offers, she is extremely quiet. Even on the highest setting, it cannot be heard outside my bedroom door. If I had to try to put into great detail the vibration type, the shaft motor vibrates in a more deep, rumbling fashion and the clitoral arm is a bit more buzzy but ridiculously intense. A nice combination for sure!
Once the battery starts to die, the buttons will start blinking red. Hook her up to her dandy little charger for two hours and you'll be good for another four hours of play. It should also be noted that Ina CAN be used while plugged into the charger, which is quite lengthy.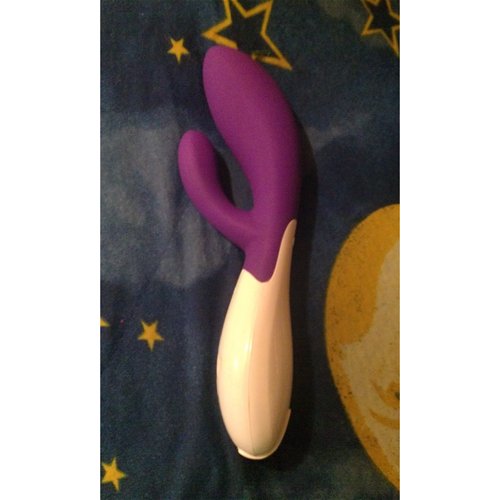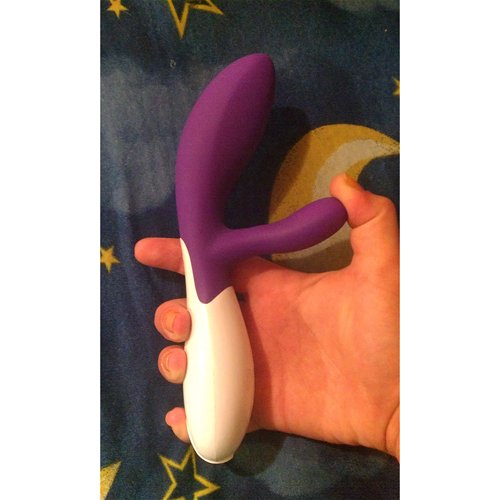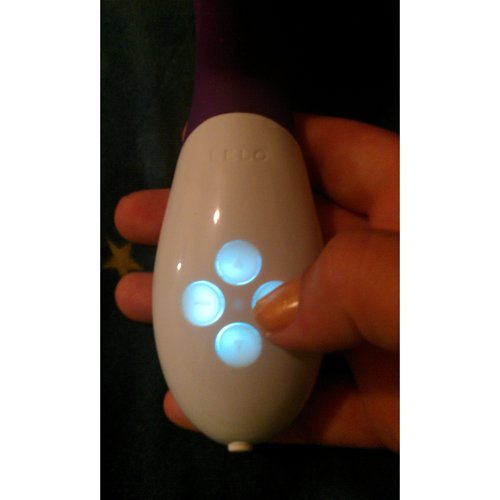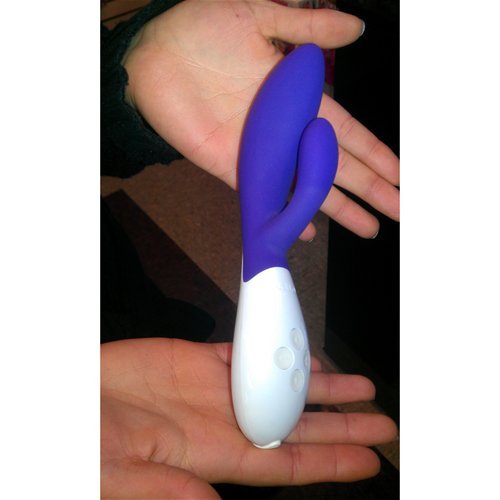 Experience
I knew once I got Ina I was in for a real delight, but my mind was blown at how fast she got the job done. Totally wasn't expecting that! I learned to play with her a bit more to get myself nice and wet before actually starting in on the action and that works out just fine for me.

She fits my anatomy perfectly. The g-spot curb is phenomenal, and I especially adore the clitoral arm because it applies so much pressure to your clit as it sends those lovely, intense vibrations that you can feel in all your nerves. A lot of rabbit-style toys are fun for the "tickling" sensation they offer from the bunny ears, but this sturdy arm sits quite snug on your clit. Make sure you're wet enough or use a water-based lubricant to properly lubricate your clitoris as well, so that even though the clitoral arm sits with such pressure, that it can easily glide up and down as you thrust.

I find the best way to insert this toy comfortably is to aim it up towards the top of your vaginal wall as you glide it in. If the clitoral stimulator gets in the way or makes this uncomfortable, all you've got to do is lift it up with your thumb or opposite hand and put it in place once the toy is inserted. Be careful because I've accidentally poked myself with it and that wasn't too pleasant!

When I say this is my favorite toy, I mean it. I'll never forget the first orgasm I had with Ina. If that doesn't speak for itself, I don't know what does.
Follow-up commentary
2 months after original review
Ina is still at the top of my list of favorite toys. I did experience a malfunction in the motor of the clitoral arm, but I notified LELO, sent my damaged Ina back and they promptly sent me a replacement within two weeks. Excellent customer service and an excellent toy!
This content is the opinion of the submitting contributor and is not endorsed by EdenFantasys.com

Thank you for viewing
Ina
– sex toy review page!