Ina...And Right Back Out-A-Gain.
While Ina's firm clitoral pressure combined with filling g-spot pleasure should have come together to create the perfect dual-stimulation vibrator, the power levels of the motors were not well-balanced. For those who prefer their clit vibration stronger than their internal vibration (along with body-safe bright silicone and an innovative design), Ina will be a delight. For those who want to control their experience with adjustable power levels, though, Ina will be no sooner in than out-a-gain.
Published:
Pros:
Orange, sterilizable. Offers rumbly vibrations and clit pressure.
Cons:
Internal motor too weak, no independent controls, hard to clean.
PREFACE
This is not going to be a fun review to write---I don't enjoy being negative. However, I personally appreciate reviews that discuss the downsides of almost-universally-loved, high-priced toys. When I was new to sex toys and deciding whether or not to pick up an Ina, I was excited to read that all recurring cons sounded like pros to me. Lots of pressure? "Bring it on!" Rigid? "Perfect!" Might not reach a far clit? "That's okay, mine's conveniently located really close to my vagina." Not waterproof? "That's a bummer but I'm sure it won't be too bad."
Imagine my surprise when I opened up the classy box and found that Ina didn't work for me in a whole slew of ways that nobody had mentioned before. Please, if you're considering Ina, don't let my review be the only one you read. There are lots of reasons to love this vibrator, and many people do. But I do want to lay out a few disappointments I had, just so you're aware of them.
I bought Ina about six months ago, and tried sporadically across those six months to get to like it better, to no avail. I just recently (after sterilizing with a bleach solution) passed Ina on to a friend for whom it's a much bigger success---so I figure now is the time to write my review, unpleasant as it may be, while the toy's still fresh in my mind.
USE
Ina is a luxury dual-stimulation "rabbit" vibrator. Its rigid shaft and rigid clit thumb allow you to apply pressure and vibration to your g-spot and clitoris simultaneously. Most people say that Ina is pretty much perfect---if you happen to like pressure, and if Ina happens to fit your anatomy. (For information on anatomy, check out
Lexical's wonderful review
.) I think of Ina as a boxing glove, with the fist pressed up into the g-spot, and the thumb reaching up and over the clitoris.
CONSTRUCTION AND CARE
Brightly colored silicone (whether day-glo orange, lime green, or grape purple) with a little bit of drag covers
most
of the insertable portion of Ina, while white plastic comprises the handle. Underneath the silicone, hard plastic houses two motors---one in the bulge of the insertable portion, and the other right in the clit thumb.
The clit thumb is attached quite firmly---I believe a stringer runs right through the handle and is seated in the plastic on the opposite side of the handle. This is awesome in that it allows the clit thumb to apply a lot of pressure---but it's the first thing I started to dislike about Ina. As you can see in this picture, the silicone recedes to allow the clit-thumb to be mounted. This means that you're actually inserting a fair bit of plastic when pressing Ina into your g-spot. This isn't a
huge
problem---ABS plastic is as non-toxic and body-safe as silicone---but it is annoying to clean the crevice between the two materials. Especially when the vibe is not waterproof, I was worried that cleaning the crevice would compromise my motor. Luckily, cleaning the interface didn't ruin my Ina, so I assume it's only the buttons and charging port which aren't water-tight. Nevertheless, the cleaning hassle rules out using Ina on your period, which for me is a big strike against a toy.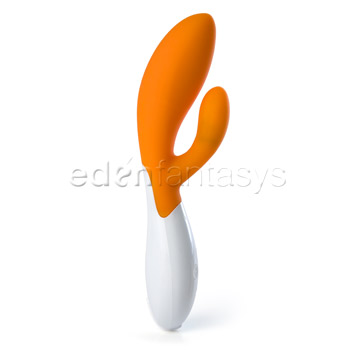 The silicone-plastic interface might have been a bigger problem for me than it will be for others. As I alluded in my introduction, my clit is very close to my vaginal opening. As a new toy user, and because people either said Ina was perfect or that the clit thumb was too
short
, I assumed my clit must be in the "perfect" camp. Unfortunately, I'm to the other extreme, and the clit thumb overshoots my clit. Basically, in order for the clit thumb to fit, I have to pull Ina's handle really far down, pressing the fist
way
up into my g-spot. This can get a little uncomfortable over time, and also puts a lot more of the handle inside me than the designers intended.
PERFORMANCE
My biggest beef with Ina is not the construction, however. It's the performance. Again, every body is different. Ina works for a lot of people---but I want to share how it failed for me. Unlike a lot of women, I have a very
hardcore vagina
and something of a
shrinking-violet clit
. But I didn't know that when I bought my first Lelo toy. So I unknowingly slipped Ina in (with the help of a little water-based lube) and turned it on. It is remarkably quiet on all settings, and especially so when inserted. It has a sliding-scale of power, from quite mild to pretty strong (on the clit) but quite mild to still quite mild (internally).
Experience
Ina has several patterns, the first of which is steady vibration in the clit thumb and the g-spot fist simultaneously. I quickly found out that if the clit vibrations were mild enough not to make my clit scream for mercy, I couldn't feel the internal portion at all. The second pattern is steady vibration in the fist portion alone, and I was shocked to find out that, even at this price point, I could "squeeze" the vibrations off with my kegels in all but the top three speeds---and I could still dim those significantly. I feel that that's kind of pathetic, especially given the hard plastic motor housing. Anyway, pattern three is steady vibration in the clit thumb alone, and I found that to be pretty enjoyable at a low setting. (After the first time, I learned that I had to minimize the vibrations while still in pattern two before advancing or I'd burn my clit off! But this may not bother others.) Ina then goes into a few pulses, both ordered and random, and finally a roller-coaster escalation which I think would be the best pattern, if the two motors weren't so very different in power level. I can barely feel the internal first four beats, and then the final two blast my clit out of the water (in a bad way). I can lower the vibrations til the clit part is bearable---but then the internal part is nonexistent, or I can crank the vibrations til I enjoy the internal stimulation---but then I have to hold the clit part up in the air to keep it from zapping me.

A simple separate intensity selection for internal and clitoral power would have made this vibe excellent. A five-star vibe, even. Failing that, just adding an internal motor that was the same strength as the clitoral motor would have made a big difference.

Its long-lasting rechargeable battery (complete with blinking lights when the charge is low, and a travel lock when you don't want to drain the battery) speaks to a bit of good planning on Lelo's part.

Unfortunately, Lelo's nonadjustable motors, coupled with the awkward placement of the silicone, made Ina a failure for me. I hope your experience is better---if your body sounds different from mine, please check out all the other wonderful reviews from all the people who received powerful blended orgasms from this nearly silent, bright orange bit of eye candy. But if your body sounds like mine... move along, because Ina will just come out-a-gain.
This content is the opinion of the submitting contributor and is not endorsed by EdenFantasys.com

Thank you for viewing
Ina
– g-spot rabbit vibrator review page!