Really Shows Off My ASSets
These booty shorts are just too hot! The lace and bow accent give them a flirty, feminine, dainty look. Their modest coverage leave a bit of mysterious allure. And your ass will look so good in these! If these don't make your ass look good, nothing will.
Published:
Pros:
Soft
Sexy
Cover alot of skin
Cute bow accent
Cons:
My pair's bow was in the front
Teeny panty liner
Price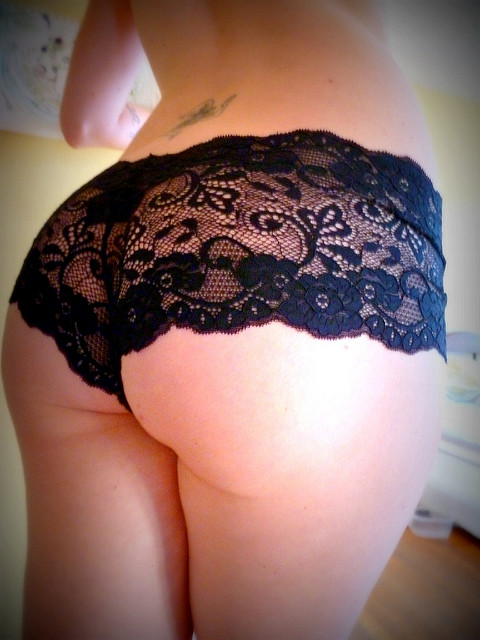 Fantasy Lingerie! I just don't know what to think of you. Sometimes you hit the nail on the head, and sometimes you miss it by a mile. This time, however, you've made me smile. The Vintage Doll Lace Booty Short is my new
favorite
pair of panties.
And this is really
my kind of panty
. I'm not the kinda girl who wears thongs or G-strings for the hell of it. If I've got a string up my ass, it's because I have one intention and one intention only. And because of that intention I don't plan on keeping the string up my ass for any longer than 15 minutes. MAX. I wear bikini-bottom panties, boy shorts, and have been known to wear boys' boxer briefs and even boxers on the not-so-rare-occasion.
But I also like to shake what my momma gave me. And as a skinny girl, I am grateful that she gave me an ass. I've got a booty, guys. Nothing that will make you stare, but it's proportioned, it's ample, and it wants attention. And these booty shorts give it just what it needs.
If you're a gal with a big ol' booty, pick you up a pair. Your ass will thank you for it. And so will whoever gets to look it.
I ordered a size small, as a size 5-7 pant gal. When I got the small, I was disappointed. At 13" across at the hip, it looked much too big! I was pleasantly surprised when I slid them on and the lace stretched and hugged my lines graciously, delicately. A perfect fit! Perfection
does
exist. My 29" waist and 34" hips were flattered to have this delicate 92% nylon, 8% spandex lace adorning their curves.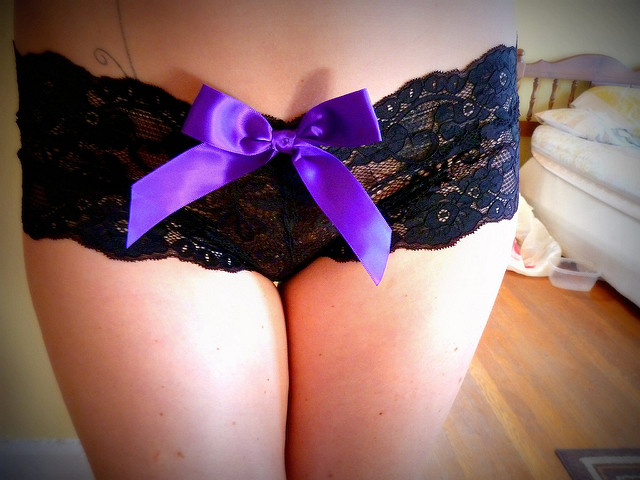 The dainty lace used here features a scalloped fan edge that adds to the femininity of the piece. The lace is an artful mixture of fleur de lis across the middle with a decorative medium-sized floral pattern at the waist band and thighs. It really creates a very nice, flattering pattern.
The cute bow accent is a deep, brilliant purple and adds an extra touch of elegance, and really dresses up the panties. The bow is silky, sexy soft and won't get in the way when wearing the shorts with pants.
The nylon material is pretty soft on. It's not the silkiest material I've ever felt but it certainly didn't bother me one bit.
The cut was appreciated as well. Nothing shoved way up in my ass! It was a miracle. I've gotten 'booty shorts' before from Victoria's Not-So-Secret, and all but threw the damn things in the trash the first time I wore them. My ass-crack felt it was being assailed. And I didn't like it, not one bit. This cut allows just enough of my ass cheek to peek out to be totally droolingly sexy. Without the dreaded wedgie.
The front cut is ample as well, extending below the mons and lying nearly straight across at the crotch. It's really so sexy, feminine, and dainty. It reminds me of a vintage pair of panties, which makes the name sound more appropriate, now that I think about it.
At first I missed the 'panty liner' in these lace shorts. That's because it nearly doesn't exist. A sharp diamond shape at the crotch with a mere 3" x 1" stature, it's cotton alright, and it's barely there. At least Fantasy Lingerie tried. I won't be wearing these panties for extended periods of time due to the lack of a real cotton panty liner. I'm prone to yeast infections and nylon is not a friend of the vagina. No sirree.
The purple bow on my black panties was on the front, while the model's is on the back. No matter, they're cute anyhow. The care tag at the back is classy; soft, black, and shiny. It appears a high-quality lingerie item from this tag alone. It's not an irritating tag I'll be inclined to cut out.
The tag advises to machine wash on warm, on gentle cycle with darks, and that tumble dry on low should be fine. Me, I'd throw these in the wash and hang them to dry, with everything else. My apartment building's dryers are shit anyway. Mother nature and that magical thing called 'air' dry a garment for free.
So I'm wearing these when I'm thinking I might get some later, and I'm ordering a pair in the white. My boyfriend can't resist me in them, and I feel like a fucking rock star. So big booty bitches, line up! These booty shorts will let your assets shine.
This content is the opinion of the submitting contributor and is not endorsed by EdenFantasys.com

Thank you for viewing
Vintage doll lace booty short purple
– sexy panty review page!