Let Your Butt Go Ooh-La-La!
A classic touch of black lace can add extra allure to any derriere. These French knickers will frame your buns lovely and give a modest edge to what could otherwise be a scandalous affair. Sturdy yet sexy, these panties can keep you prepared for even the most last minute of encounters. It never hurts to sport some sexy lingerie, even under the most mundane outfits!
Published:
Pros:
Adorable, elegant, good for daily or special occasion wear
Cons:
No materials information on the garment label itself -- is that liner really cotton?
Cut & Fit
The Vintage Doll Lace Booty Shorts are cut in the French knickers style. At the front they appear to be a horizontal band of lace crossing the nether regions while at the back they ride half way up the butt cheeks and give them a pretty frame. The cut is flattering for those who don't want to show off their bikini line. It also enhances the curve of the buttocks while not showing it all off at once like a thong. In fact the French knickers cut is so endearing because it's almost shy and modest in a way, while still being flirty and very feminine. This cut benefits from the fact that leaving more to the imagination can be quite enticing.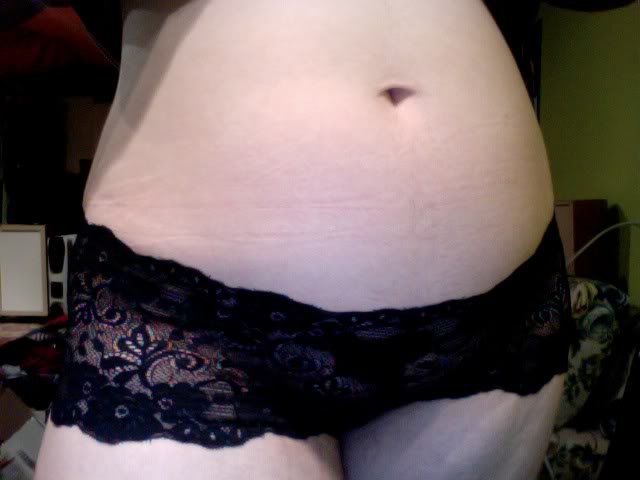 These panties are low cut, but I would recommend against wearing them under tight fitting low rise pants because of the bow. The bow would definitely be visible under tight pants or a skirt! It is cute, however. I thought that I would want to cut the bow off immediately, but it's been sticking around for a couple of wearings now. If you do want to remove the bow, it's been affixed to the panties with purple string so shouldn't be too hard to remove with a seam ripper.
These panties are appropriate for daily wear and bedroom romps alike. They are fun to wear underneath normal work clothes, just in case a chance encounter arises. Wearing sexy underpants daily is fun! I can also picture them being worn under a flouncy skirt or bloomers. That's probably because of "vintage doll" being in the title, and the purple bow.
I got these panties in size Large. Fantasy Lingerie lists large as size 14 - 16 with a 30½ - 32½" waist and 42½ - 44½" hips. My hips are 44" and my waist is 36" and these panties fit me perfectly. The waist measurement doesn't matter as much as the hip, because these are low rise panties.
Materials & Maintenance
These panties are made from a Nylon/Spandex blend. Though not as soft as cotton, they have a nice light weight with a fair bit of stretch and the lace pattern is clear and crisp. They feel good against the skin and are not scratchy. They do have a very small (~1-1/2"X2-1/2") diamond shaped liner that appears to be made of cotton. That is what it looks like to me. Cotton liners are important in panties for hygienic reasons. Natural fibers don't hold germs as easily as synthetic fibers.
The care instructions on the label say to machine wash in warm water on the gentle cycle with darks. Tumble dry low, and remove promptly. Do not twist or wring. I have washed mine in a garment bag once in cold water and it came out fine. I didn't tumble dry, but hung mine on a drying rack. If you want your lingerie to last longer, hand washing is always a good option. Lingerie can be washed with a mild detergent suitable for laundering baby clothes, with detergent specifically made for lingerie and delicates, or with shampoo. Warm or cold water can be used, though using cold water shocks the elastic back into its original position. Fill a sink with soap and water and soak the garment for about five minutes. Gently agitate then spot clean any trouble spots and rinse twice with clean water. Do not wring the garment, but squeeze without twisting or roll it up inside a towel and compress. Hang or lay flat to dry. The panties can be folded neatly to store or crumpled in the back of a sock drawer, whatever your style may be.
Experience
I was so pleasantly surprised by how well these fit! As a curvy girl I find pantie shopping daunting at best, especially over the internet. These panties were true to size and since they come in a cut and style that I love I will be ordering more! The cotton lining was the clincher for me. Who doesn't love black lace? I mean really!

After a couple of washes in the machine without a tumble dry, my pair is holding up fine. They appear to be sturdily built.
Follow-up commentary
4 months after original review
I've been wearing and washing these for a few months now and they are holding up pretty well. I've been hand washing them in cold water and hanging them to dry, so basically pampering them. I think my butt's gotten a little larger since I started wearing them, but other than that they still look great!
This content is the opinion of the submitting contributor and is not endorsed by EdenFantasys.com

Thank you for viewing
Vintage doll lace booty short purple
– sexy panty review page!