Bootyful Panties! (3X)
Fantasy Lingerie has impressed me with these high quality panties! Not only are they beautiful to look at, but they are very comfortable to wear and help to boost my confidence! You do have to be a little careful that these panties don't snag on anything, but the general ease of care is also very appreciated.
Published:
Pros:
- Comfortable
- Stretchy
- True To Size
- Beautiful
- Easy To Care For
Cons:
- Can Snag
- Bow Can Be Seen Through Fitted Clothing
- Limited Color Options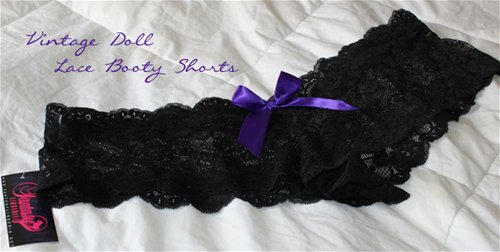 Vintage Doll Lace Booty Shorts from Fantasy Lingerie are beautiful lace panties that are as gorgeous to look at as they are comfortable to wear. These panties are a great item to spice up a night with your partner, or simply to boost your confidence. They're beautiful enough to wear for special occasions, but comfortable enough to wear on a regular basis; making it a smart panty to purchase. These panties work great on slim figured ladies, all the way up to fuller figures and come in a wide range of sizes that appeal to many. The design of these don't make them the best choice for male bodied individuals since the crotch area simply doesn't provide the appropriate amount of space.
The lace pattern is very attractive and is made up of mostly flowers and swirls. The pattern is very feminine, but since the panties are black, would also be suitable for someone who isn't super girly. The edges have a soft scalloped look to them and while the edges appear unfinished, there are no frayed areas and are mostly even. Along the front and back center of the panties are the seams. They are done very neatly and the material isn't bunched up or uncomfortable to wear.

The majority of these panties are a black lace, but have a big, deep purple bow on the center of the front. The bow is silky feeling on the front and is shiny; the back of it feels a little rougher, but is still soft. It's approximately 5" across in length and is attached by a couple stitches in the same color. The bow makes it a challenge to wear with something form fitting, but would be suitable to wear underneath certain clothing (like jeans). If you would prefer to go without the bow, it would be as simple as carefully snipping the stitch holding it in place.

These panties are made from 92% Nylon and 8% Spandex; giving them just the right amount of softness and the necessary stretch. They feel lovely against the skin; even sensitive, freshly shaven areas don't get irritated by the lace. The material feels high quality which is really nice since some lace just feels scratchy and annoying against the skin. The material stretches easily width wise, but doesn't have much (if any) stretch to it length wise.

The back of the panties have the tag attached to them and have all the necessary washing instructions on it. It states that these should be machine washed on the gentle cycle using warm water, can be tumble dried on low, and should be removed immediately. It doesn't mention whether or not these can be ironed, so I would stay away from that. Because of the material and pattern, I don't imagine wrinkles would be a big concern anyway. Simply fold once they're dry and place in your lingerie drawer or wherever your lingerie is stored.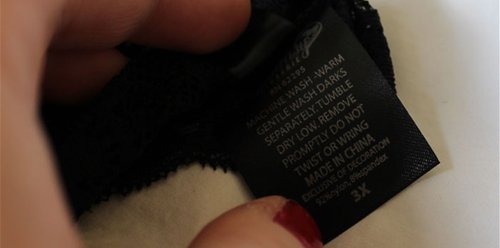 The crotch on these panties aren't open and have a small panel inside that's shaped like a diamond. The length is 3 1/2" and the width is 2". It's nice that it has the panel there, but it doesn't seem large enough to cover the appropriate areas.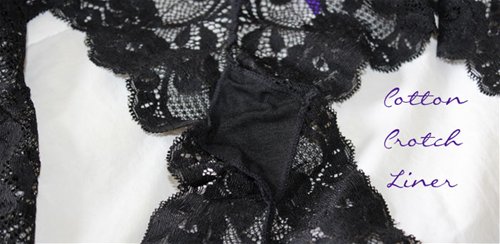 These 'booty shorts' come in sizes small through 3x. Fantasys Lingerie is actually quite accurate with their sizing; I ordered the 3x and they fit me perfectly. I'm a size 22/24, weigh 275 lbs, and my hip size is 51 1/2". These don't fit me tightly at all and there is plenty of room left over. With how far these panties stretch, I would imagine that they would fit someone up to a size 28 without much of a problem. When the panties are laying flat and unstretched, they are 20" across the top, and the band is 6 1/2" wide. The crotch area is 2 1/2 to 3 3/4" wide.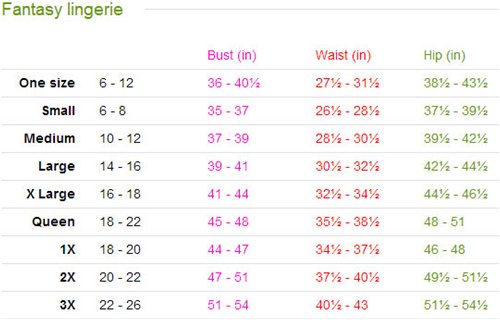 When these panties first arrive, they are inside of a clear plastic bag and are attached to a flimsy plastic hanger using the pieces commonly found holding price tags on the items you'd purchase from a store. Along with that, is a hang tag that shows the company name on one side, and the size you ordered on the other. Be careful removing these pieces since it would be easy for them to snag the lace. The plastic bag and hanger can be recycled, or the hanger can be kept and used for other things; the hanger becomes useless for these panties as soon as the tags are removed from them.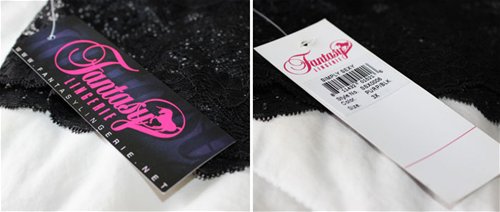 Experience
Even on my larger frame, these panties fit very comfortably. I have a little extra in the front since having my children and prefer panties which have a wide enough band to cover that area. Though they need to be adjusted from time to time, these cover my Mommy belly; making me feel much more secure about the way I look. From behind, I like the way that these cover my butt. It's much more than the typical thong or g-string, but not so much that my best
ass
et is fully covered up. The lace makes it so that you're revealing just enough while still adding an element of mystery.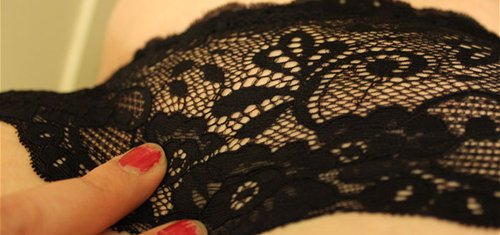 Follow-up commentary
2 months after original review
I still really love these panties! They are cute, feminine, and I actually like the way they look on me which is something I can't say about many things. I've been very impressed with how well they've held up to washing and am pleased to say that these feel as though they will last a long time.
This content is the opinion of the submitting contributor and is not endorsed by EdenFantasys.com

Thank you for viewing
Vintage doll lace booty short purple
– sexy panty review page!