(3X) Totally Adorable...but...
For the same amount of money, I could have bought two pairs of lace panties at Walmart that I suspect are made by Fantasy Lingerie and feel like the same fabric. In other words, I paid extra for the special "booty short" style and for a big bow.

I'm not impressed.

I love them enough for five stars - BUT - as a budget-minded consumer, I am deducting 2 stars for the extra price. They're not worth the $12.99 to me.

But they are cute and I do love them.
Published:
Pros:
Stretchy lace that is comfortable
Cute Bow
Cons:
Booty shorts
Up until recently, I wore granny style underwear that your granny would probably not wear. I figured as a plus size gal, it didn't really matter what I wore underneath - so I would buy packs of cotton briefs for women for $10-$15. They would have 5-7 pairs in them and I was thrilled when I stated to be able to find them in colors.
Then I discovered Eden Fantasys and as my husband and I played more sexually, I became more aware of my body and desired to wear something that made me feel pretty. For years my husband had stated that he didn't care about lingerie and it really didn't do anything for him. Now though, I wanted pretty stuff - for me.
One of the first things I did was to chuck the old panties (and bras) and get some that were prettier. I went to Walmart and felt like I was totally spoiling myself by buying lace panties for $4.99 each and silky/satin panties for $6.99 each. I even broke down and spent over $50 on those first purchases.
Then I discovered that Cato had my-size panties too. For those who don't know, Cato is part of the "Fashion Bug" line of stores you'll often find near WalMart plazas. I started going in there and getting panties for $4.99 and $6.99 each too because they were a slightly higher quality.
The idea of spending $10 and up for panties on Eden was something I was not willing to consider for the longest time. For one thing, I had about 12 pairs of panties by now and for another thing - why pay such a high price?
However, as my number of reviews started climbing and I saw myself on the "run" to get to 100 reviews, I started looking for less expensive items that I could review to help get my numbers up (nothing like honesty - right?). I started looking at the panties again and considered using my 25% off holiday coupon to get some so that I could bump my number of reviews up. Oh yes, I'd also enjoy having some new panties.
What this is...how to wear it
These are panties - plain and simple. Wear them under garments - wear them with a pretty lingerie item where you tossed out the accompanying butt-floss (aka "G-string" or "minimal thong") or simply wear them alone.
They are currently available on Eden Fantasys in S,M,L,1X,2X and 3X. You can get them in black with a purple bow or white with a light blue bow.
They are designed as "booty shorts" and are made of a very stretchy lace.
Material & Care
These are made in China of 92% polyester and 8% spandex. They are so stretchy, I thought they had more spandex in them. They can be machine washed with warm water in a gentle cycle. They can be tumble dried on low but need to be removed promptly. Do not twist or wring them.
Design
These are basically sretchy lace panties in a "booty short" style. Unstretched, the front is 24" wide but can stretch to 28" if pulled. They are 8" long from the top to the bottom of the crotch but can be stretched to about 9.5". The sides are not quite 6.5" long. There is a very tiny lining in 2" of the crotch and I mean VERY tiny. There is a seam up the front and back and I didn't notice it when wearing them. I did notice the tag a tiny bit but not too much. The purple bow on the front is almost 4" across and 4" long.
Sizing
According to Fantasy Lingerie, for a 3x you should have 40.5"-43" waist and hips that are 51.5"-54.5". My waist is 49" and my hips are 57".
Not only do these fit me, but they still have a bit of room to stretch!
Pictures
Front: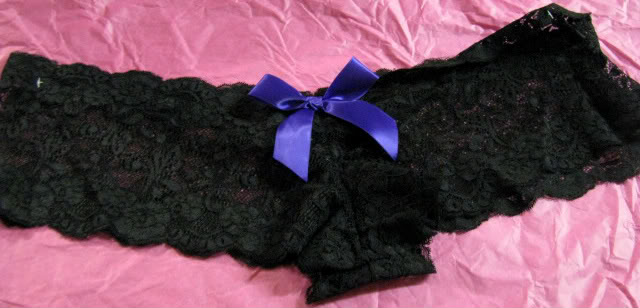 Back: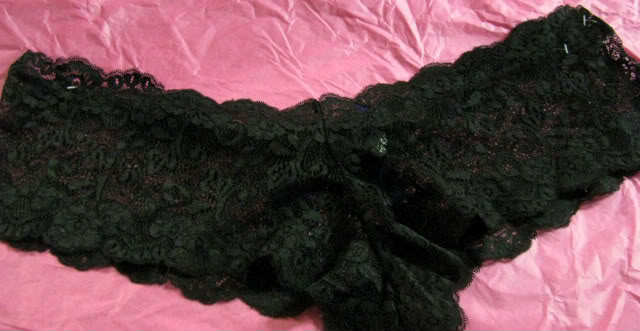 Close-Up of the Lace: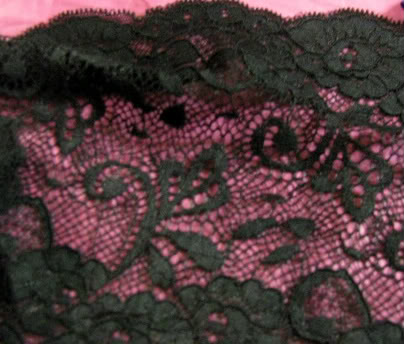 Experience
I have really mixed feelings about these panties and trying to give them a rating is very hard.

For one thing, the line I buy from Walmart is "Smart & Sexy" and I strongly suspect that it is created by Fantasy Lingerie. I say this because the fabric feels very much the same quality and texture and has the same stretchiness to it. The tags inside look a lot alike as far as the font, etc. It doesn't help that Fantasy Lingerie calls this line Simply Sexy.

The difference between what I buy at Walmart for $4.99 is that it is a bit more of a "brief" cut without a fancy bow - and that appears to be it. To be honest, I think I like the brief cut better and it is more comfortable with my size and weight to wear it.

I feel like I would have paid $8 more for a "booty short cut" and big bow if I had paid full price for these. Even at 25% off, it still feels like too much.

If you really want some lace panties that are comfortable and don't feel like you need to have "booty short" style - look elsewhere.
This content is the opinion of the submitting contributor and is not endorsed by EdenFantasys.com

Thank you for viewing
Vintage doll lace booty short purple
– sexy panties review page!