Shakey Shakey!
The Stronic Eins is truly a unique toy. The thrusting motion is unlike any vibrator and provides deep muscle stimulation.
Published:
Pros:
Unique sensations
Great G-spot stimulation
Several speeds and patterns
Cons:
Loses effectiveness in certain positions
I started seeing pictures of the Stronic Eins on the blogosphere long before it became available in the US. It was hailed as the new alpha toy. Everyone wanted one of these and couldn't wait for them to finally be stocked in their store of choice. Why was everyone so excited? Because the Stronic Eins is
not
a vibrator. Fun Factory calls their new flagship toy a
pulsator
, the first of it's kind. Instead of true vibrations, the Stronic Eins shimmies back and forth!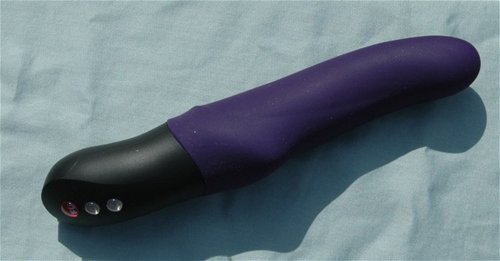 The Stronic Eins comes in the typical packaging for Fun Factory toys. There is an outer cardboard sleeve that has a photo of the toy and some general information. If you remove the outer sleeve, there is a light copper colored box with a red interior. This inner box is relatively plain and is perfect for gift giving or storage.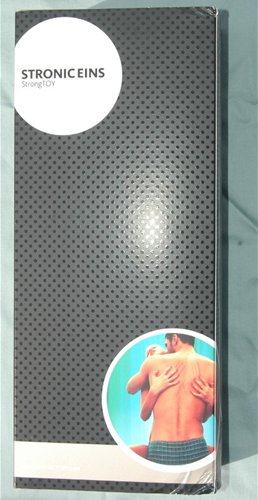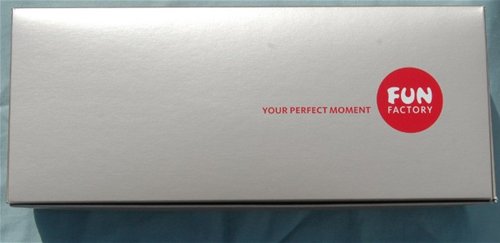 The Stronic Eins is made of silicone, is waterproof, rechargeable, and can be cleaned with either soap and water or toy cleaner. It should not be used anally, and only water-based lubricant should be used with it. Operation is a simple three button affair. To turn it on, press the red
FUN
button. The
+
and
-
buttons cycle through the 4 speeds and 6 patterns. Each setting is quiet, and although someone may be able to hear it in the same room, they wouldn't be able to hear it through a closed door.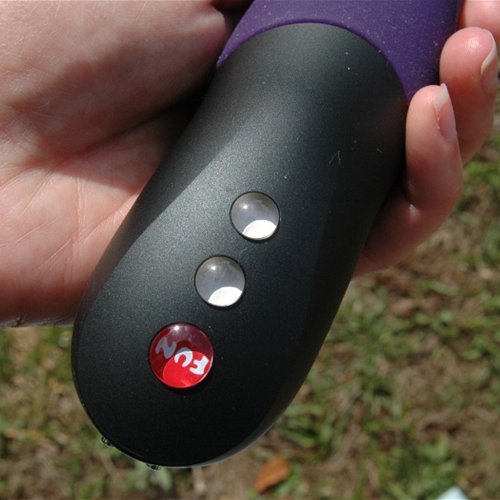 I need to talk for a minute about the size and shape of the Stronic Eins. It is roughly 6 inches from tip to the base where the handle starts, or around 9 inches in total length. Right before the handle there is a large hump that I've seen many people refer to as a clitoral stimulator. Honestly, I'm not convinced that's what it is at all. It's not quite shaped right to really be designed for clitoral stimulation. I'm thinking that it's actually there to help balance the toy, house mechanics, or possibly even just for aesthics. The tip, however, is gently curved, ever so slightly flexible, and is most certainly designed for G-spot stimulation, which it does very well.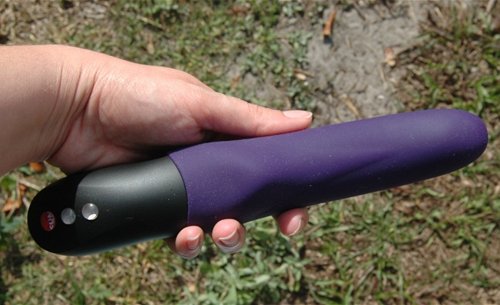 Before I move on to my experiences with it, I want to mention the color. I have the violet version of the Stronic Eins. I was a little disappointed that it didn't come in a wide range of color choices the way some of Fun Factory's other toys do, but instead just came in the standard pink and purple that so many toy companies feel that we must certainly want. However, pink and purple are very common colors in sex toys, and it is brand new technology, so I'm going to excuse it on those grounds. Plus, the purple isn't a girly-girl party dress purple. It's a deep, mature, plum purple.
Experience
Now on to the fun stuff! When Fun Factory claims that this pulsator is like nothing else, they most certainly aren't kidding. The entire toy shakes back and forth instead of vibrates. The tip is just flexible enough to be comfortable, while being solid enough to provide very decent G-spot stimulation. I've found that the best way to use the Stronic Eins is to hold the handle very loosely, or even better, not at all. My favorite way to use it is to merely place it where it is hitting my G-spot and let go. Holding on to the handle restricts the movement. When I just let it go, it stays in place fairly well, just shaking back and forth like it was designed. The pulses are so strong that it makes my whole lower abdomen shake. Even though the toy isn't moving very far, maybe an inch in each direction, it feels like it is moving so much further.

I hate to say it, but really this toy works best while you are flat on your back. I tried standing using it in the shower and laying in different positions, all of which work, but none of them work as well as just laying down on my back. Any position other than what you would think of as the missionary position slightly restricts the movement of the toy, lowering its effectiveness.
So, I clearly like the Stronic Eins. I like it very much. So why a rating of four stars instead of five? Really, it's only that I wish the pulses were ever so slightly stronger. If it was just a smidge stronger, it would be five stars. As it is, really, I'd consider it to be four-and-a-half.

As a final note, I have to mention that Fun Factory claims that the Stronic Eins has "naturalistic, rhythmic thrusts," which I assume means it mimics the natural sensations of sex. Well...it kind of does. It doesn't really feel like having sex, however, the patterns sort of mimic the variations in speeds and rhythms you'd recognize when having sex.
Follow-up commentary
3 months after original review
I still like the Stronic Eins. It's fun and definitely unique, but it's what I consider a sometimes toy. It takes a little too much effort to get just the right grip on it so it neither prevents the movement nor allow it to escape down the bed. The deep, rumbley thrusting movement is still very pleasurable, but I only bring this one out when I have patience for making adjustments..
This product was provided at a discounted price in exchange for an unbiased review. This review is in compliance with the FTC guidelines.

Thank you for viewing
Stronic eins
– pulsating g-spot vibrator review page!