Zini Ran should run, run away!!!
I really think the Ran left a lot to be desired. For over 100bucks, this should have been waterproof, and where the silicone meets the plastic the area is not flush causing some ouchies on your nether regions. I think the idea of the toy is spectacular, but needs a little more planning to be a perfect toy.
Published:
Pros:
Alien like head, battery notifier, can hurt
Cons:
too many patterns not enough oomph, not waterproof
The Ran is a very elegant looking toy with his deep merlot colouring and black handle. With his bulbous head and very thin neck, he makes for an odd looking alien. He has a hard plastic inner covered in medical grade silicone. To feel him the only way I can describe it is like this. You know when you drag your finger over butter? (not saying I have done this lately by the way and if you do? I am not sure if you want to eat that butter unless your fingers are clean) That is how I would describe how amazing he feels. I might have been shocked at just how tiny he was, but nothing quite prepared me for the shape of his head. It kind of reminded me of the alien from the Alien movies.
His triangular head provides deep pin point g-spot stimulation. Which was odd. Strange. New!!!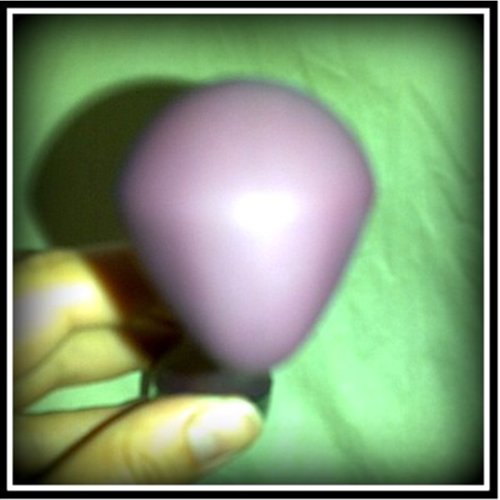 My g-spot loves the uniqueness of this little guy. He is one of the only g-spot toys I've ever seen that is more triangular shape than the traditional circular or tapered eggish shape. It is really a neat sensation to have an almost sweeping motion over your g-spot. If nothing else, that sensation alone is worth the price of the Ran. And because of the thinness of his neck, you can do something like a hammering motion along your g-spot which I've never experienced before. Because of him being silicone covered hard plastic, you can apply lots or a little pressure just as you need. From his base to the tip of his head, he's hard with no give. You also don't really need to worry about him getting stuck against your pubic bone either. In the picture above, where my thumb is placed, there seems to be a ridge of padded silicone which is movable.
I think I might just be the one and only person out here in the world who is not a huge fan of the Ran. He's got two motors, one in his head, and the other somewhere around where the plastic meets the silicone. The second motor does not turn on till you reach the highest setting, and it in my opinion, is a waste of a motor. It doesn't do anything but make the handle vibrate. I don't really notice a jump in the head motor intensity. The head motor is pretty decent for a warm up toy, and he really sucks on your clit (to the point of after thirtyish minutes me going... what the hell??? I'm just wasting time here!!! I'd rather be doing my dishes). And as much as pin point g-spot stimulation is a grand novelty, I find I still turn him around so the broad side of his head plays over my g-spot. But on an intensity scale? I can only give the Ran's motor a mid three. There are so many other toys at the same price scale as the Ran that pack more punch: Fun Factory's Tiger, Uma to name two.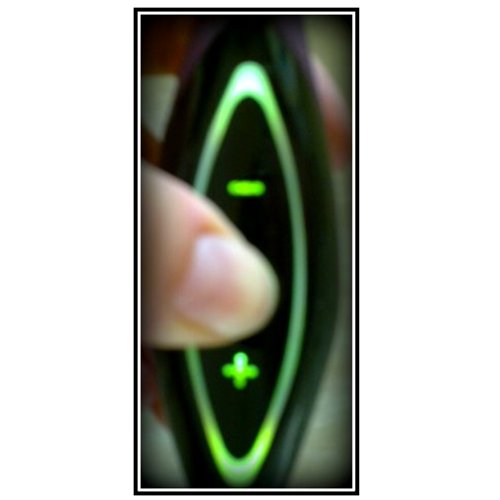 The Ran is pretty damn funky. Those three buttons (-, O and +) can do a lot of tricks. To turn on, click the + button once. To scroll through the intensity levels, just keep clicking the + button. To turn off, click the – button or hold for three seconds. Now the fun part about the Ran, is when you've got the toy on, you click on O and you get to scroll through it's fifteen patterns, each pattern has a different LED light that blinks with the pattern. Like a disco ball for your room. The Ran has one of the top of the line LED light display. It is the only toy I've ever heard of that has a "how much battery do I have left" light. You just press the centre button and hold for a moment while the toy is off. Various colours mean a different amount of charge. I could sit here and walk you through each of the funky patterns and the colour that matches up with it, but every other review has that info and I only get 800 characters.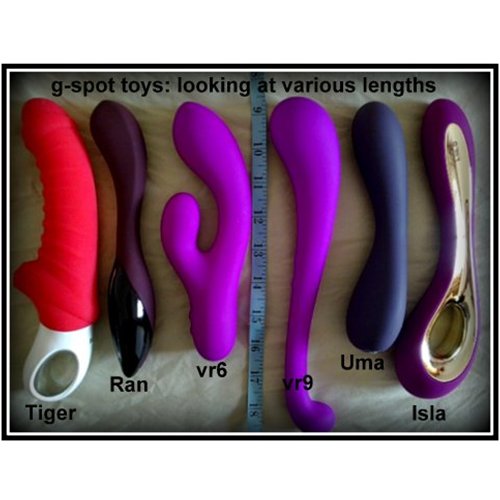 To compare the Ran to some other toys,
I wrote a giant G-Spot Toy Comparison
on my blog, if you are keen to find out some differences, similarities and more pictures of the Ran to other g-spot toys. But let's run through the Ran's size for the sake of this review: 7 4/5inches total length, 4 3/4inches insertable length, 1 3/8inch diametre, weight 0.1lb.
Experience
I ran out of room!!!
Now I must point out one little detail. The Zini Ran IS NOT WATERPROOF. So whatever you do, be sure not to toss him into the sink. Yup. I've made that mistake more than once. Serves me right for always buying waterproof. You develop some interesting habits! So no taking him into the shower or the bath, or even letting water get all over him. Be VERY careful when washing him with soap and water to not get water over the control panel or into the backside where the recharge port is.
The Ran is rechargeable, and came packaged with a recharging thingie. I really liked how the Ran came with an plug-adaptor attachment for various countries. He can be used universally as his plug is 110-240v.
Personal Experience:
He's not waterproof. This I think is my biggest complaint about the Ran. I get very wet naturally, and I love using lots of lube when I masturbate, now add in the stimulation of g-spot play… squirting makes for a very… liquidy time. I cannot let myself just let go and enjoy the moment because I might get my juices mixed with lube onto parts of the very expensive sex toy that cannot get wet. I'd not suggest using the Ran with a man simply because he does not think about the consequences of not following one simple instruction; DO NOT GET THE HANDLE WET. Another thing I cannot stand about the Ran is where the plastic meets the silicone, there is a part of the toy that is not flush. So if you are not careful, you will get a nasty little nick between your urethra and vaginal opening. I've attempted to get pictures of this, but for some reason I cannot seem to capture it I can only feel it.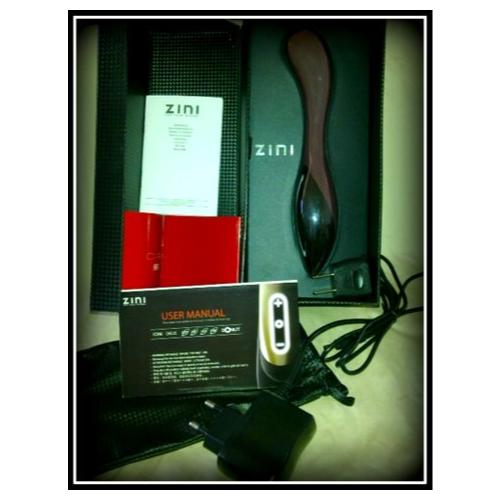 You do get a nice little storage pouch with this guy as you can see above.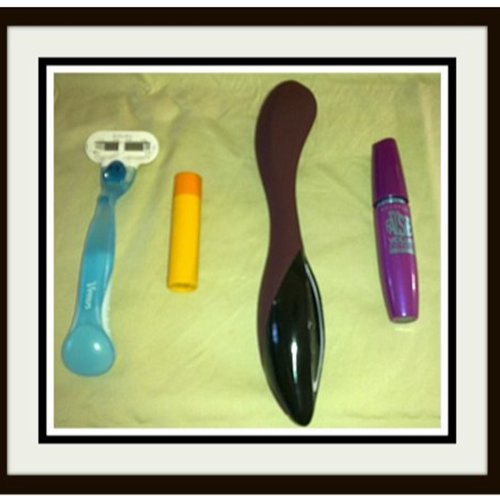 As with almost all of my reviews; a Venus razor with a standard head, a tube of Burt's Bees Lip Chap, Zini Ran and a tube of Maybelline's Falsies mascara.
Personal note: If you love and adore patterns, this toy would be worth it. This guy would also be wonderful for those in tight quarters as he is very quiet. But if you want intensity and don't care about patterns, you might want to look elsewhere.
Follow-up commentary
3 months after original review
Zini Ran, has found his way into the bottom of my never used toy box. When it comes to toys I am spending around 10,000points on, I had better be getting my money's worth. And that means waterproof too!
If you are interested in a comparison of the Ran with some other luxury vibrators, take a look
at this post
.
This content is the opinion of the submitting contributor and is not endorsed by EdenFantasys.com

Thank you for viewing
Ran
– g-spot vibrator review page!