"Look Ma! No Glasses!" An Awesome 3D Adventure
Tenga is innovative in mens toys and the Tenga 3D is no exception. This is a fantastic toy which will work for any guy regardless of size, and with 5 texture options to choose from there is plenty of options to choose from.
Published:
Pros:
Fantastic , easy to clean, awesome packaging.
Cons:
Limited number of uses.
Yes, the Tenga 3D Spiral is awesome. It's a male masturbation sleeve made from an antibacterial
elastomer
(
external definition
). The Tenga 3D comes in 5 flavors, the Module, Zen, Pile, Polygon, and the Spiral. Tenga is a Japanese company that has been making male masturbators are mostly one use toys, but also have a range reusable ones including the Tenga 3D series. What you see in the pictures is the interior. The idea is that you flip the toy inside out and use that texture side. The Spiral model has spiraling ridges that have smaller ridges that provide more sensation.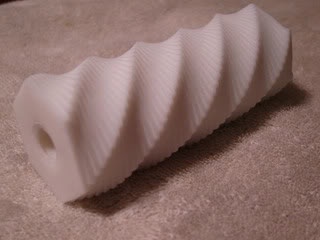 The Tenga 3D measures in at 4 1/2 inches long and 2 inches in diameter. Though the opening is 1/2 inch, which may sound a little small, but because the material is elastic, it can accommodate almost any girth. Shown below is the Tenga 3D over the Vixen Creations Lone Star, when put over it, it seems that there is room to spare.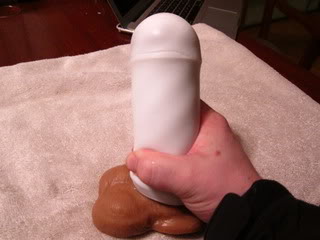 One of the best parts about the Tenga 3D series is that they come in very elegant and utilitarian packaging. It's a clear plastic tube with a black plastic stand. Why this is so useful is that after you clean it you can put it on the stand to let it dry. I also must say that because of it's unique shape and it's packaging design it makes it relatively discrete, in that, unless someone really knows what it is, it's going to be somewhat hard to tell that it's a masturbator. Also, in the packaging there is a trap door on the bottom of the case that houses instructions and a sample of Tenga Hole Lotion lube packet. The instructions show how to unbox the unit, proper use, and cleaning. There are also instructions in Japanese on the reverse side. As for the lube, I misplaced the sample package so I cannot comment on it. Unfortunately the casing does not snap or seal shut, so the casing it's self is not great for travel. Though the sleeve it self is fantastic for travel because it is relatively small and discrete. Care is super easy! Once you are done, you flip the product inside out and rinse. Because the toy is made with an anti-bacterial material, there is no reason to worry about something nasty growing on your Tenga 3D, though sharing this toy is still a no-no.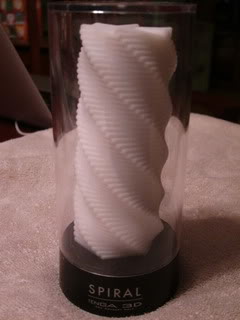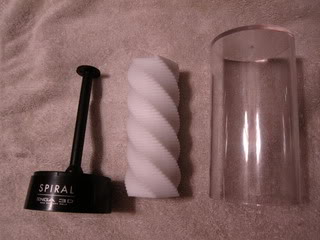 Things worth mentioning... Tenga says it's good up to 50 uses. I could see this being interpreted as a bad thing, but I'm really happy that they have pointed this out. I've often wondered how many uses in reality that my Fleshlights are good for. I feel that it's a good thing knowing how many uses I can get out of this, especially because of the turning it inside out before and after every use. This process as well as the act of stretching it will start to cause tears in the material, making it much more prone to bacteria. The other thing that I feel is very important, is Tenga says that you should only use the 3D series with water-based lubes. Now I have read in other reviews that some warming lubes may cause problems, so you probably want to avoid those as well as silicone. The other thing is that it's not a particularly quiet toy. Durring use it's quite audible the lube and the material squishing around.
Now, to why you are all here. I love the Tenga 3D Spiral. It is my first masturbation sleeve, but I feel like it's a fantastic sleeve for my first. The texture of the 3D is absolutely fantastic. The sensation can range from moderate to extreme based on a two factors. First is how much lube you use. If you don't use a ton, the sensation is very intese, where as if you use more lube it's not so. The other great part about the Tenga 3D is that you can control where the pressure is. It's fantastic to be able to localize the sensation by squeezing or applying more pressure. One thing that I love is to grab it by the top and thrust and turn around the head of my penis. I will say that if you are a bigger guy, you probably will feel more sensation.
This is an absolutely fantastic product and I would recommend it to any guy.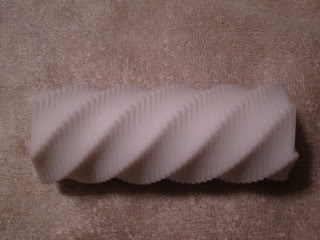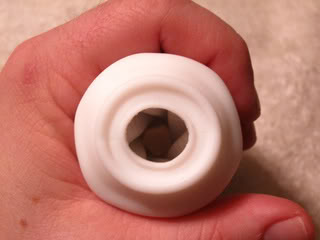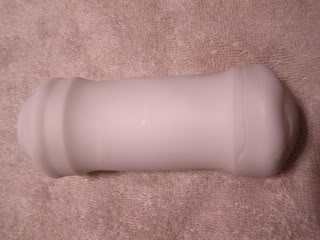 This content is the opinion of the submitting contributor and is not endorsed by EdenFantasys.com

Thank you for viewing
Tenga 3D
– penis stroker review page!