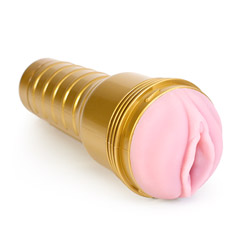 Fleshlight pink lady stamina training unit
Masturbator by Fleshlight
STU is Almost a Lady
If you're looking to improve your stamina and think this is the sex toy god's answer to that, you're wrong. The only way to get good in bed is to get in bed. Would I buy this toy over any other Fleshlight? No. Would I buy it over other cheap toys? Yes.
Published:
Pros:
Typical Fleshlight design, Nice feel and fit
Cons:
Not realistic, Needs lube applied throughout use
This was my third Fleshlight. Needless to say, I was excited to see if it was just as good, or even better than my other models. The idea behind this model is a tighter tunnel. It is only 0.5 inch wide when compared to the Fleshlight Lady's 0.75 inch. It has a very intense array of beads inside that mimics an actual vagina. Consequently, it provides the stimulation of actual intercourse and improves your sexual stamina. The STU (short for Stamina Training Unit) offers intense sensation when used for normal masturbation, so if you approach using it like the original Lady version, you will probably last 10 minutes, at most. The toy is designed to build up your stamina, so that in your sexual practices with that special someone, you won't be in there for 5 minutes like a champ and then explode like the Fourth of July, leaving much to be desired by the other person. In my humble opinion, it works a little bit.

Upon first opening the product box, you have the usual Fleshlight packaging, sample lube, instructions, and a small bottle of toy cleaner. The nice thing with Fleshlights is that you don't get that strong, headache-inducing scent of chemicals from the material. It's always a good idea to clean the toy before first use. Upon examination of the STU, I noticed how much tighter the inner tunnel was without actually using the toy. First, the outer lips have the same stretchy feel, but the tunnel was very tight, even with just a finger or two inside. The bumps and ridges on the inside that provide the maximum stimulation to build up stamina are also much more evident on this model.

You never really forget the first time you have sex, but with toys like these, you tend to always want more from them. Let's face it, you can't simulate the vagina without actually having sex with a girl. That is the case with the STU, although, you will notice that it does not take long to get close to coming due to the texture. If you don't go crazy, you should be able to enjoy using it. Upon entering the toy for the first time, I was surprised at how little lube was needed for such a tight opening, but you will need to apply some a bit more often than a normal Fleshlight. The toy has an amazing feeling in use, but is not quite as realistic feeling as I had been hearing from other reviews. However, it still feels pretty good for a stamina training unit.

This is not really a good toy for new users. For new Fleshlight users, or Fleshlight experts, if you approach it as any other toy and go at it like normal, you'll be done in 5 minutes. You have to approach it as if you are actually having sex with someone. To really appreciate what Fleshlight has accomplished as far as the intensity of the toy is concerned, I would say you would have to try them side by side with a girl of your choosing (you really think your girlfriend or wife doesn't know you have these things?) and go from there. My girlfriend and I incorporated it into foreplay one day, and she was surprised by the tightness of the tunnel upon applying lube to the toy, but that was the only difference.
This product was provided at a discounted price in exchange for an unbiased review. This review is in compliance with the FTC guidelines.

Thank you for viewing
Fleshlight pink lady stamina training unit
– sex toy review page!