The most amazingly velvety pocket pussy you will ever use.
Well designed and very comfortable The Girl Next Door masturbator will become a stay over guest. With a great inside texture, and easy to maintain, there is no reason why this should not already be part of your collection!
Published:
Pros:
Texture, designed for easy grip
Cons:
Can get tacky.
Great for the single man or couples alike, the girl next door can now come over for a bit of added fun. In this case I used it on my S.O. because I don't have man parts. So most of this review is coming from what he told me. We have quite a few masturbators and this one fits in perfectly to his growing collection, ranked as one of his favorites now.
The girl next door masturbator is made by California Exotics using Pure Skin/TPR. Pure Skin is an incredibly stretchy soft material that can be used with water or silicone based lubes. It is porous so it doesn't have the life silicone has but is way more affordable. We found this particular one to be very velvety in texture which was enjoyable. This inside has this wonderful slightly bumpy but organic feel to it---it wasn't overly textured or too nubby. It didn't feel greasy or too thin like some pocket pussies have felt. The walls had a nice thickness that made it very easy to grip but without feeling like you might break through it. There wasn't any smell or taste to this toy. It is pretty quiet to use and you don't get too much of that weird air pocket/farty noise some masturbators can get.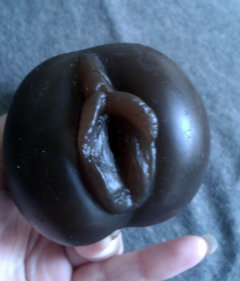 At 5 ½" long this is a great length for most guys. I particularly enjoy it having the hole in the back end of it so I can aid my guy in some oral while using this. The hole also helps clean up and drying. This particular model was this lovely dark chocolate black color which made it look really clean and slightly industrial. The shape was slightly more bulbous in the entry way with a large labial opening. The longer labes added to the experience greatly--- they added extra texture and fit snuggly around him. It was one of the more accurately designed toys we have used; it even has a hooded clit look. After the entry it has an accordion like middle for about an inch and half and goes back to a bulbous back exit side. My S.O. particularly like this design because he could pinch and grip right after the bulbous entry way, which was super comfortable for him and me. He also described it as tight without being uncomfortably tight, just right.
There were some slight imperfections in this particular run of the toy. A few gash scratch looking marks on the outside but they didn't affect the way this performed at all. It's not too uncommon when running materials for this to happen so we thought nothing of it.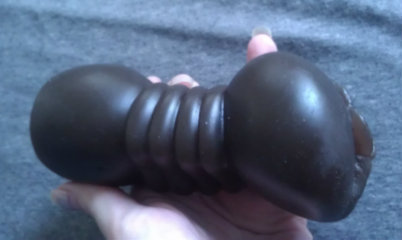 Experience
When washing this you can use a mild soap and water, it is really easy to clean up. It is very important to make sure this dries well after. You will get a mildew smell if you do not take care of TPR and have to throw your toy away. I keep all of these toys bagged during storage because they do get slightly tacky after washing them and will pick up lint and hair like you wouldn't believe. So toss it in a ziplock and store it away.
We are very pleased overall and will add this to our toy rotation. You really cannot try too many masturbators because they all wind up feeling so different from each other and it's a fun experience trying them out.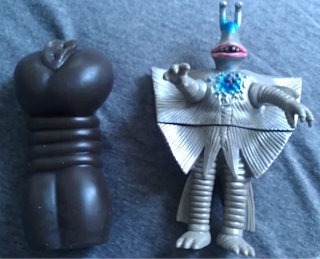 This product was provided free of charge to the reviewer. This review is in compliance with the FTC guidelines.

Thank you for viewing
The girl next door masturbator
– pocket pussy review page!