A Clean Toy is a happy toy.... and happy genitals.
Sex toys are fun, but they would stop being fun the second you used a dirty toy, and then contracted a sexually transmitted infection; am I right? Yea, I know I am right.

Safeguard your body against infection and bacteria with before and after toy cleaner. Use it when you purchase a new toy, and before and after every use.

This product is a must have for any toy owner.
Published:
Pros:
Great price, Clean smell, MUST HAVE PRODUCT!
Cons:
N/A
Like most moms, my mom always used to tell me the importance of staying clean, and warning me about bacteria and germs. Like most of the lessons my mom taught, I am able to still use them to this day, and even implement them into the bedroom.

Did you know that sex toys can trap in bacteria and infection in the pores, and spread it to other partners you are sharing toys with? Not only that, but they can also grow bacteria if not cleaned properly, and you could find yourself with a sexually transmitted infection (STI).

The best way to guard yourself is to make sure that you are taking proper care in cleaning your toys.

My favorite thing about Before and After toy cleaner is that it makes it easy to keep your toys clean and more importantly, safe. In addition to safe guarding your treasure cove (as I like to call mine), this body safe product will leave it smelling fresh, but not over powering. I mean, who doesn't love a fresh smelling toy? I know I sure do.


Let's talk about which you should use toy cleaner on, and what options you have for toys.

Cleaning non-porous materials: glass, stainless steel, hard plastic, and silicone

- Glass: Wash glass toys with Anti-bacterial toy cleaner such as Before and After. Pyrex toys are dishwasher safe, but do not expose glass to extreme temperatures.
- Stainless Steel: If attached to an electrical device, use Anti-bacterial toy cleaner, being careful not to submerge any electrical components. If there are no electrical components you have 3 options: soak in a bleach-water solution (1:10 ratio) for 10 minutes, or place it in the dishwasher, or boil.
- Hard Plastic: Clean with anti-bacterial toy cleaner. Do not boil.
- Silicone: You can choose from 3 options to clean a silicone toy. Either boil for 5-10 minutes, put it in your dishwasher (on top rack), or wash with anti-bacterial toy cleaner. Do not boil silicone vibrators because you will destroy the vibrator mechanism.

Cleaning porous materials: rubber, vinyl, cyberskin, nylon, and leather

- Rubber materials: Rubber materials are porous and difficult to clean. In addition, their composition is not always known or may contain phthalates, chemicals which have been shown to be harmful to your health. For these reasons, it is recommended to use condoms with these types of toys. Even though you use condoms, it is still important to clean the toy with an anti-bacterial toy cleaner to remove any debris prior to storing, and before using.
- Cyberskin and Vinyl: Cyberskin is soft and porous, often used for dildos. Wash cyberskin and vinyl toys delicately with warm water only. Air dry and powder a small amount with cornstarch to keep them from getting sticky, and drying out thus cracking.
- Nylon: Nylon harnesses and toys can be machine or hand washed with a mild anti-bacterial soap.
- Leather: Wipe leather products with a damp, soapy cloth or with leather cleaner. Do not soak leather. After cleaning, you may recondition your toy using a leather conditioner. Protect metal parts from tarnish by applying a coating of clear nail polish.

As you can see, this product will come in handy in many circumstances since you want to clean the toy before and after use, hence the name of this product.
Experience
I have VERY sensitive skin, so sensitive I cannot even use some soaps, and most lotions. I have never had a problem (or a reaction) to this product if it touches my skin and I have been using this product since 2008.
This product comes in two sizes, 4oz, and 8oz, and I purchased the 4oz bottle. As you can see, though 4 ounces does not sound like a lot, it is a good amount.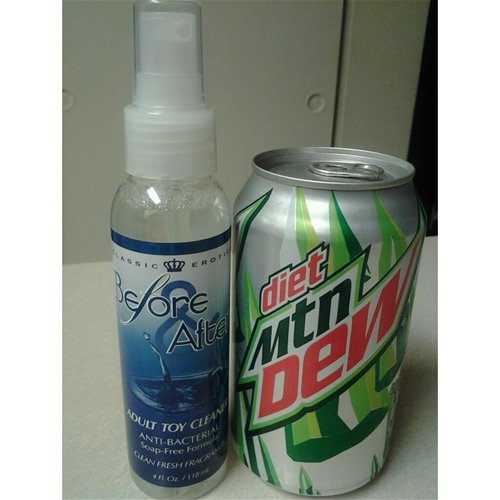 However, I would recommend going for the 8oz bottle as it is more cost effective in the long run, as you pay $1.25 per ounce with the 8 oz bottler, and $1.80 per ounce with the 4oz bottle.
This content is the opinion of the submitting contributor and is not endorsed by EdenFantasys.com

Thank you for viewing
Before and after toy cleaner
– toy cleanser review page!