Ease Of Use And Peace Of Mind
This is a nice anti-bacterial toy cleaner that smells lovely, and is great for any toy material. Have peace of mind that your toys are clean, and that your body is safe from any harsh chemicals or parabens. It does not contain glycerin and sprays on easily, a great alternative to the conventional soap and water and convenient for travel use.
Published:
Pros:
Paraben/Glycerin free
Water based
Safe for any toy material
Smells wonderful
Easy to use
Cons:
Smell might be too strong for some.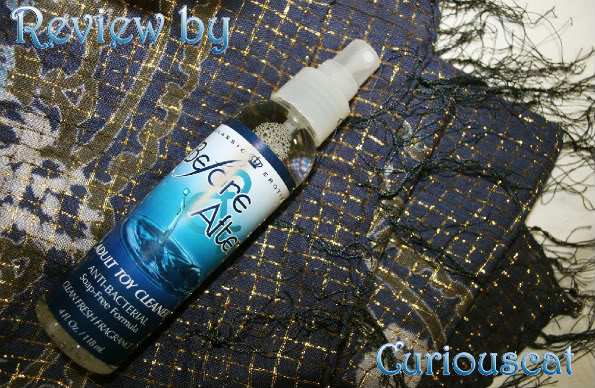 Before and After toy cleaner by Classic Erotica is especially made for the cleaning of your sex toys whatever the material may be. Free of any nasty chemicals like Parabens and glycerin you can clean your toys with peace of mind.
It is great smelling and easy to use; very convenient way to clean your toys, and a great alternative to soap and water. This would be great for use if you are out an about or camping and you don't have access to a sink or water. Just spray on and you're done! It's very convenient; every toy collection should have something like this on hand.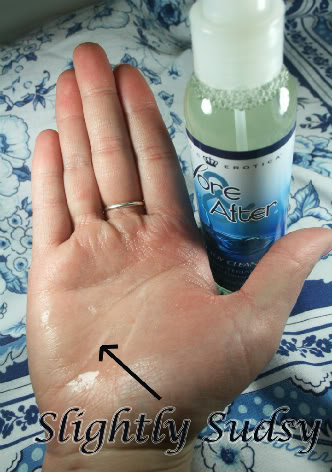 The texture is much like any normal spray, very liquidy and not thick. It's light and has a big spray range, so watch out for close up spaying. It's not sticky, and won't leave your hands or your toy feeling tacky. It actually dries up pretty fast, and does not leave any residue. I feel confident my toy is getting really clean.
It's clear yet slightly off colored, and not to sudsy. When sprayed into my hand it did have a little bit of small bubbles and foam, like soap does; though this is soap free. It's not greasy at all, but can run pretty fast if you spray too much on at once. So you might want to have a towel handy.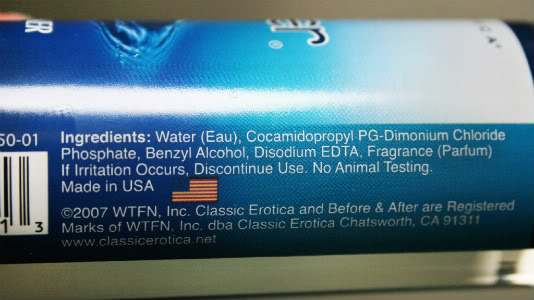 The ingredient list reads,
Water (Eau), Cocamidopropyl, PG-Dimonium Chloride Phosphate, Benzyl Alcohol, Disodium EDTA, Fragrance (Parfum)
I really like the smell of this product, it's clean yet lovely. It is a bit strong, some people might not like that, but I thought it was a nice smell so I didn't mind. My toys did smell slightly like this cleaner for a little bit, but the smell faded pretty fast. It smells slightly floral, and sweet, a lot like a linen spray would smell.
It's not meant for tasting but I did try it for this review. It's almost tasteless, but with an underlying chemical soap hint. Not something you would want to taste out of a bottle, and something that is virtually tasteless once placed on your toy.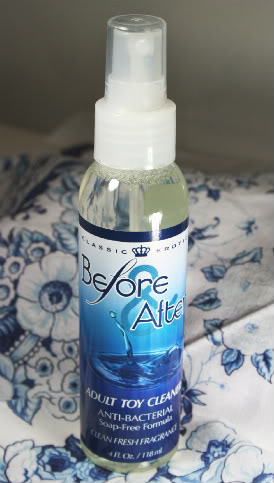 This product worked really well for me, and was just what I was looking for. My favorite way to use this product is to spray a good amount on my toy, let it sit for a second, then use my Eden toy and body wipes to wipe off the excess and give it that extra cleaning boost. It helps the toy dry faster as well, and lets me kind of scrub the toy which I couldn't really do before with a towel because I'd just get towel lint all over my toys. Most my toys are silicone so they are very prone to that.
The toys skin did faintly smell like the cleaner after but was pleasant and didn't last long. After using this spray when my toy was dry I licked it and did not taste chemicals or anything overpowering. This is very good, because eventually you're going to put the toy back in you and you don't want to put a bunch of cleaner up there. So it doesn't leave much of an after trace of any sorts. It's nice, effective, and gentle.
When this came in the mail there was no box or anything for it, it was just wrapped in a plastic bag. There was a protective foil over the bottle sealing the product in, and to protect with tampering.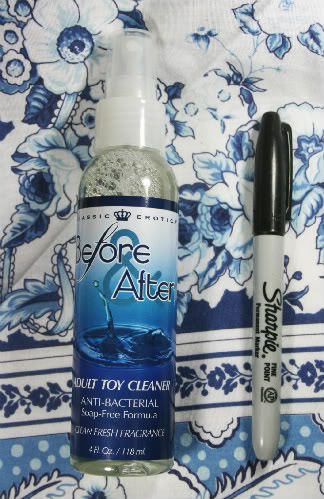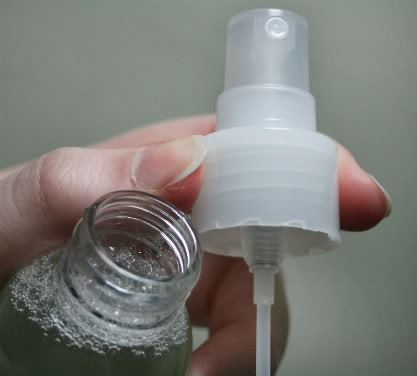 The bottle I got was the smaller bottle that is 4fl which is about 118ml. The whole bottle stands at about 6 1/2" high. I like the smaller bottle as you do get a lot of product, and it is so much nicer for storage. The bottle is hard plastic with a twist off pump spray top; it has not leaked for me, and I sometimes store it lying down.
It's discreet enough, just looks like a regular spay of some sort, but upon closer inspection is easily identifiable. The one big giveaway is right under the title in pretty large wording it says, 'Adult Toy Cleaner'. So it pretty much spells it out for any prying eyes as to what it may be. Other than that it's pretty non-descript.
It's a really great product and is not tested on animals which is a big plus, and is Petro-chemicals free. I will be using this spray to clean all my toys, and would gladly buy this one again. I think this is a great price, and very affordable. If you are looking for a nice cleaner definitely check this one out!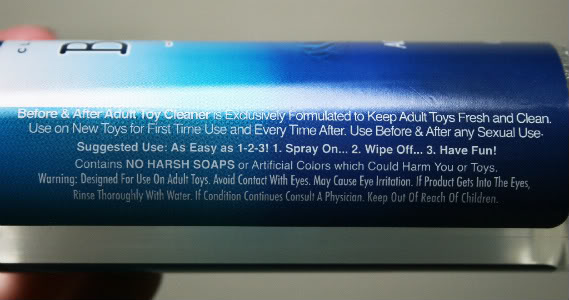 This content is the opinion of the submitting contributor and is not endorsed by EdenFantasys.com

Thank you for viewing
Before and after toy cleaner
– toy cleanser review page!