Affordably worth it!
If you're looking for the perfect massager for an all over body massage, then the InfraRed massager is great choice. With several attachments and a heated side, there's bound to be something for everyone here.
Published:
Pros:
Powerful
Different attachments
Cons:
Only two speeds
Only one side heated
Can get heavy/make arm tired
USE
The InfraRed massager by Cal Exotics is a great vibrating massaging tool. It's perfect to use on yourself to relieve the stresses of the day by massaging away aches and pains. You can also use it along with a partner giving them a massage or having them give one to you! Ladies could use is for clitoral stimulation, though I don't think this wand massager is the best one of that use. With several different attachments, and the heated part on the back, it's bound to work for just about anyone.
MATERIAL/TEXTURE/SHAPE/SIZE
The wand itself is 12 1/4 inches long.
The massager is made of firm plastic, but it has a softer, flexible neck. The attachments are all made of a softer plastic, with the buffer attachment being made of a soft foam material. There are 5 different pieces with this wand.
1) Large bump- great for direct pinpoint massages and getting in between sore muscles to work out knots/kinks. Also used for clitoral stimulation.
2)Dualer- this is also great for getting between muscles, the double rounded cones feel great on the neck and shoulder blades. It can also be used for clitoral stimulation.
3) Buffer- can be used for a softer massager or a buffer that you apply lotion or facial products for cleaning and massage.
4) Scalp massager/ Focus cone- the teeth like combs feel great on the head for a relaxing scalp massage.
5) Wide nubbed- Great for large muscle groups and just an all over body massage using up and down and circular motions. There are 7 nubs on this attachment.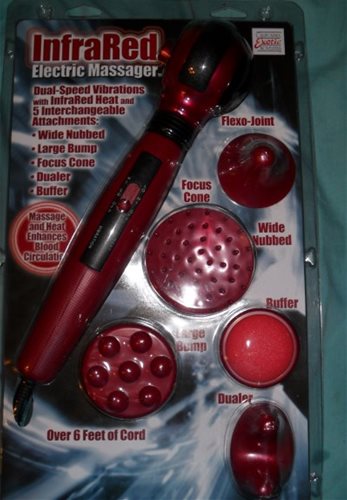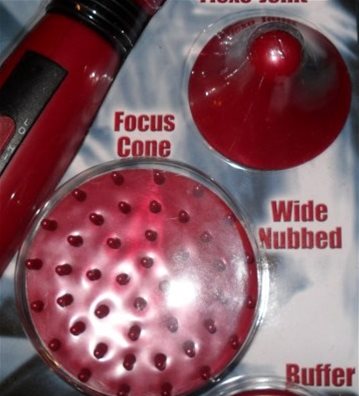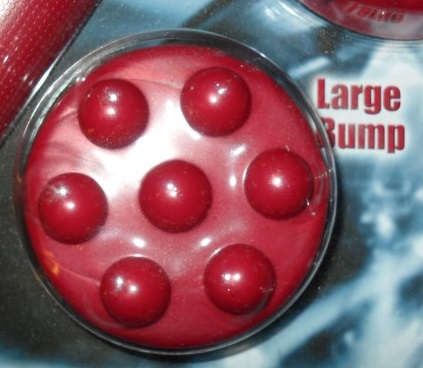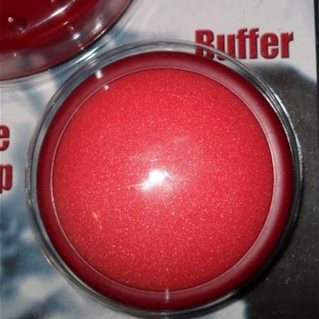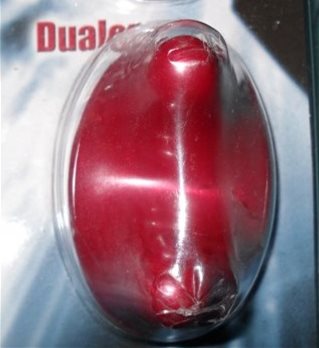 FUNCTIONS/CONTROLS/PERFORMANCE
There are two speeds with this massager- Low and high. It is heated on the back of the head and will be heated during the entire time. Low vibration gives off low heat while the high vibration gives more warmth. The vibrations can be felt throughout the entire massager and are pretty strong. They have a deep/high buzzy feeling to them and really feels great during a massage. It is very noisy, there's nothing discreet about this massager whether on high or low. There are instructions to use caution with this when using the back heated part. I haven't found that it's become hot enough to burn skin, maybe cause a jolt when it's been on for awhile and you put it on your skin, but that's it. Still, use caution, better safe than sorry. The heat doesn't transfer through to the attachments. The head feels good on tried, achy muscles!
There is about 6ft of cord, but it has to be plugged in to work so it may limit you to where you can use it. Obviously, this isn't a massager for the bathroom. The massager is great to use for a relaxing or sensual massage. Adding some massage oils really help the attachments glide along the skin, silicone lubricant can also be used with these attachments. It's controlled by a slider switch on the middle of the handle, there's high, low and off- pretty simple.
CARE
The best way to clean the massager itself is by using a damp cloth or toy/baby wipes. The attachments can be washed in the sink with soap and water and submerged in water. The plastic clam shell case can be used for storage when you're finished.
For the price, this is a great massager that comes with several different attachments. It takes the stress off of hands from a bare hand massage and the nubbed pieces really do a number on sore muscles and just feel great all over. The only con is that your arm can become tired from the weight of the wand. This massager also makes a great gift to give anyone.
This content is the opinion of the submitting contributor and is not endorsed by EdenFantasys.com

Thank you for viewing
InfraRed massager
review page!