Ammunition For Your War Against Germs
Advanced Smart Cleaner by Evolved Novelties is a nearly odorless, body-safe spray cleaner that you can use to clean your toys when other methods aren't available or convenient.
Published:
Pros:
Convenient
Body-safe
Makes toys clean, and safer than if not washed
Cons:
Some studies suggest antibacterial products may not be any more beneficial than plain soap
Advanced Smart Cleaner can be used to spray and clean toys made of any material (as long as they can be exposed to moisture). The instructions say to spray it onto a cloth, scrub the toy thoroughly, and rinse with warm water. If the instructions are followed, it isn't any more convenient than washing the toy in the sink with soap and water. However, it may be more beneficial than soap, by killing bacteria. The bottle claims that it will keep your toys "bacteria free, sanitized and disinfected." There is some controversy over antibacterial sprays and whether they provide any benefit, which you can read by doing a search on the internet. It's almost odorless--I can smell just a very faint sweet-chemical smell if I spray it on my hand. It has a mild foaming action and leaves your toy sparkly clean. This is what it looks like just after spraying it directly onto my We-Vibe Salsa: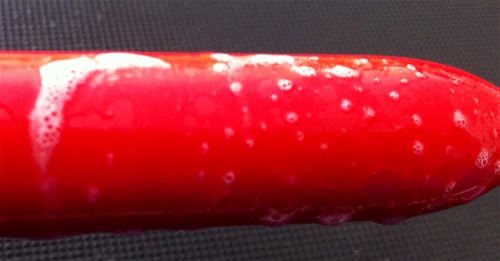 The ingredients are (ingredient description information is from
www.cosmeticsinfo.org
and
www.fda.gov
:
Purified water
Propylene glycol: A stabilizer and moisturizer, "generally recognized as safe" by the FDA for use in food.
Cocamidopropyl betaine: A fatty acid derived from coconut, safe for use in cosmetics, used as a cleaning agent and to provide foam.
Benzalkonium chloride: An antiseptic, used to kill or stop growth of bacteria, also promotes foam. FDA approved for use in first aid antiseptics.
Zinc gluconate: Helps kill or stop growth of bacteria. "Generally recognized as safe" by the FDA for use in food.
Phenoxyethanol: Helps kill or stop growth of bacteria. FDA-approved as an indirect additive in food (something that ends up in food due to processing or packaging).
Citric acid: A preservative. "Generally recognized as safe" by the FDA for use in food.
Advanced Smart Cleaner is a clear liquid, and comes in a 4 ounce white bottle with a tight-fitting spray lid and a clear plastic lid that fits on top of the spray lid (there is also a 1 ounce version but I don't have that one). I've had no problems with leakage.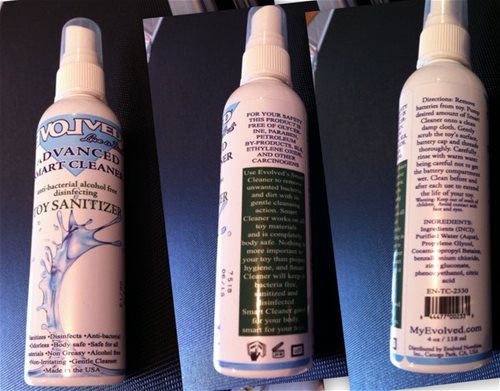 When it first arrived, it was wrapped in a shrink-fit plastic wrapping to protect it from leaking during shipping. Mine has an expiration date printed on the side, 06/15, so there is a limit to how long you can keep this before you have to throw it away. A couple of sprays is all you need to clean your toy, so the 4 ounce bottle should last quite awhile. The bottle has printed text and a splash of blue liquid printed on the front. It says it is "Toy Sanitizer" on the front, but it's pretty discreet. There are no pictures of naked women, and it doesn't say "USE THIS TO CLEAN YOUR
DAY GLOW WILLY PECKER!!!
" Thank you, Evolved.
Experience
I have used it differently than the instructions say, by spraying it directly onto a toy and then wiping it off, with no water rinse afterward. Interestingly, this is how Evolved shows and describes it being used in their
video commercial
for this spray. That makes it really convenient, and the toy looks just as clean, but by not following the instructions I may not be getting the bacteria-killing benefit, and I am exposing my body to chemicals that the water would wash off. So use your best judgment when you decide how to use this spray.
This content is the opinion of the submitting contributor and is not endorsed by EdenFantasys.com

Thank you for viewing
Advanced smart cleaner misting toy sanitizer
– toy cleanser review page!