Clean Me: Just Add Water
I expected this toy would be my new, favorite, water-free toy cleaner. I was disappointed to find that this cleanser directed users to rinse the toy with water after scrubbing it with the cleaner. This contradicts the company's demo video. I prefer the Eden Toy and Body Wipes since they have a nicer, fresh smell and don't require water. However, I acknowledge that compared to toy wipes, this spray will last you far more uses than a 10-pack of wipes and it gets the job done.
Published:
Pros:
strong stream, subtle smell
Cons:
directions require water, skin irritation

Performance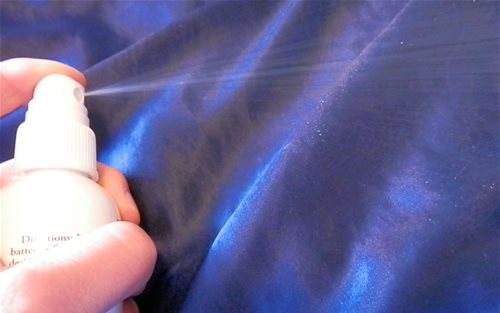 I used this toy cleaner on multiple toys, however, I consider the ultimate test of a cleaner to be how well it can clean a butt plug. I used a metal princess plug for this experiment. To clean the plug, I followed the video instructions found on the product page. I held the nozzle about four inches away from the plug. This allowed the cleanser to spray in a wide but strong stream, covering the entire plug with a layer of product. The liquid foams a bit, which definitely makes me believe that the cleaning/disinfecting agents are hard at work. I wiped the cleaner away with a hand towel. After the first wiping, I still noticed a slight smell (because it's a butt plug) and that the metal surface was not shiny. I repeated the process, and after applying the cleaner and wiping it away for the second time, the plug did not have the butt plug smell and was very shiny.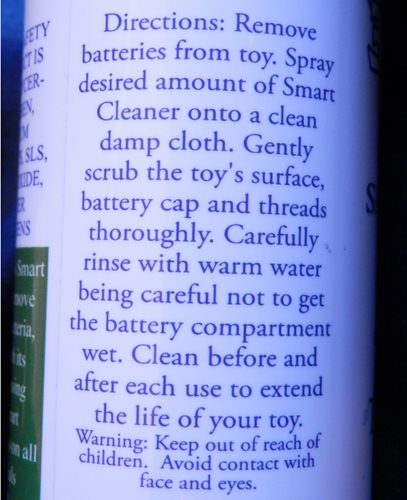 However, the package direction say to spray the product on a towel which you will use to scrub the toy. After that, the instructions say to rinse the toy off. I originally got this product because it was marketed as a no-rinse cleanser, great for those toys that are not waterproof. I found that the scrub-and-rinse method made my toy clean as a whistle, however, I was disappointed to find that the package instructions required water.
Smell
This toy cleaner does not have a strong smell. When I spray it in the air, it emits a faint smell that disappears after a few seconds. When I open the lid to smell the liquid directly, it reminded me of the bottled bubbles from my childhood, evoking a feeling of nostalgia.
Ingredients
: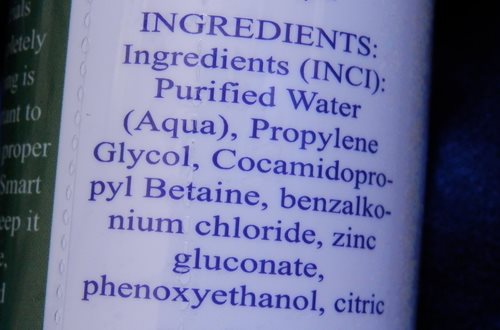 Purified Water
Propylene Glycol - is often used to absorb extra water in cosmetic products, as a solvent for food coloring, and to use in fog machines
Bocamidopropyl Betaine - is often used as a hair/skin conditioner, anti-static agent, foam booster, cleaning agent; can irritate the skin
Benzalkonium Chloride - antiseptic; can irritate skin
Zinc Gluconate - used as an anti-viral agent, kills bacteria, used as deodorant agent
Phenoxyethanol - fragrance, preservative, may irritate skin
Citric Acid - often used as a flavoring agent, preservative, changes acidity to prevent mold/bacteria
So what does this product
not
include? This product is free of Glycerine, Paraben, Petroleum, by-products, SLS, Ethylene Oxide, and other carcinogens. It is also safe for all materials and is alcohol free.
I would say that as a toy cleaner that markets itself as non-irritating, it is misleading since multiple ingredients have been known to irritate people's skin. I sprayed a small amount of product on my wrist and noticed slight irritation and itchiness.
Design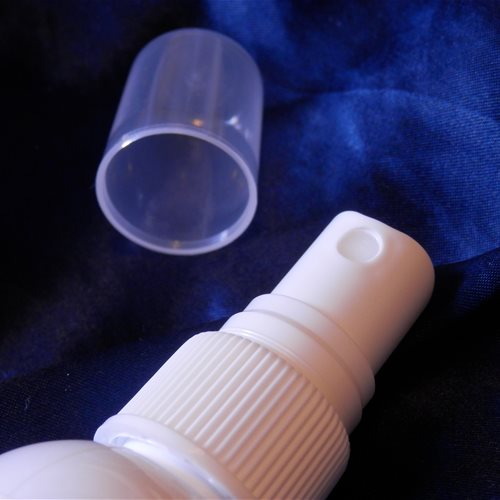 The toy cleaner comes in a spray bottle, which is packaged in a plastic covering. The spray bottle comes with a clear lid that fits securely over the nozzle (unlike some caps that consistently fall off).
This product was provided at a discounted price in exchange for an unbiased review. This review is in compliance with the FTC guidelines.

Thank you for viewing
Advanced smart cleaner misting toy sanitizer
– toy cleanser review page!