Body Paint for lovers!
Most people love dessert and sex, and incorporating the two is always a fun adventure! Lovers Body Paint allows you to have both, with an edible paint which can be used to draw pictures on your partner and then lick them right off!
Published:
Pros:
Tastes good
Easy to use
Easy clean-up
Travel Size Jar
Cons:
Tastes more like alcohol
Not Vegan
Small Jar
Must be refrigerated
Lovers Body Paint
by
Kama Sutra
is an edible body paint which you can use to paint designs, words, or pictures on your partner and lick them off. It comes in 3 flavors: Chocolate, dark chocolate and caramel.
I chose caramel because while I love chocolate, I prefer caramel! The product comes in a neat package which reminds me of the bags that Lindt chocolate truffles come in. Inside of the package is a jar of the paint and a brush.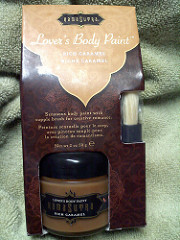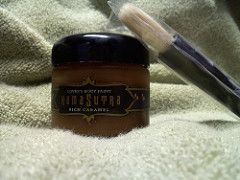 The brush
I'll start by describing the brush. It has a black handle and off-white bristles. The handle has ridges that go up and down the entire length, allowing for a better grip even if you fingers are wet from the product or something else that you are using. The bristles are soft, but not terribly soft. They will hurt you if you jab at yourself with them, but if you stroke at the skin, they tickle a bit!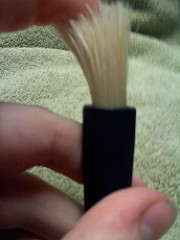 The jar
The jar is made of glass and has a screw-on/off black lid. The jar is not very discreet, as it clearly lists Kama Sutra and above that "lovers body paint". The jar is roughly the size of two quarters, were you to lay them down flat and measure the height. This makes the jar great for travel, if you are not going a long distance once it has been opened (due to storage issues), or if it hasn't been opened, you can go any length of time with it in your purse!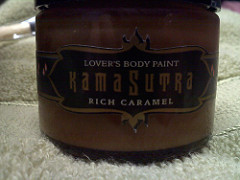 Smell/Taste
Upon opening the lid, while still warm you will instantly be hit with what reminds me of caramel syrup that you would put on ice cream and alcohol. Looking at the ingredients, it says "alcohol denat" which stands for
Alcohol Denatured
. This is a drying agent used in many cosmetic products, which can be drying to the skin but also allows the cosmetic to stick to the skin better and preserves the product. It is also an antimicrobial agent, meaning, it kills little microbes which you don't want in something you are about to ingest. As for the taste, it does taste strongly of alcohol. If you've ever eaten chocolate liquor of the caramel variety, this is basically what you are about to eat. Cooled, the smell and taste aren't as powerful, but the product works best at room temperature or warmed. If you don't like the smell or taste of alcohol, do not buy this product.
Storage
After this product is opened,
you must refrigerate it
. Although I don't like to put my paints and such in the fridge, this is the best way to keep the product like new, and free of bacteria that grow on foods and sweets. If you are concerned about your family seeing this product in there, you may want to put it in a different jar.
Maintenance/Care/Clean-Up
Be sure to rinse your brush off thoroughly after each use. You don't want any food particles left out in the open. I just use warm water and run it under the faucet while using my fingers to wipe away any extra caramel. If the jar gets sticky, just use a wash cloth and water!
Now, because this product tends to get a tiny bit sticky if you should end up not licking it all away, you will probably want a shower after each use. Be careful to avoid getting this around your lady bits if you have high risks with infections due to sugars in that area. Although it wasn't overly sticky, I found that even if you lick all of the product off, there is still a bit of a tacky feeling on the skin, so I preferred to at least clean off with a wipe after using it. If it does get on your clothes, I found that it rinses off fairly well, so I wasn't too worried about it getting everywhere.
Of course, because this product washes off easily with water, this would not be too great to use in the tub or shower.
Ingredients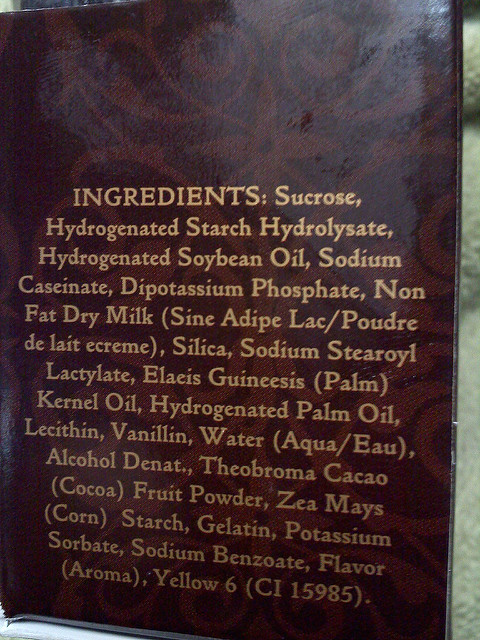 Experience
Initial Impressions/Thoughts
When I decided to get the paint, I wasn't sure what to expect. I'd seen plenty of reviews on the chocolate flavors, but nothing on the caramel just yet! I was excited, because one of my favorite flavors, more than chocolate even, is caramel. The thought of taking a product and spreading it across my lover and licking his sweet, caramel tasting skin was too great to pass up.
After smelling the product, I was not sure what to make of it. Though it didn't smell bad, it was very strong of alcohol. I wasn't expecting that at all, but I stirred it and took a tiny taste. Not only did it
smell
like alcohol, it certainly tasted like it! Luckily, I do enjoy candy liquors, so this product isn't a loss for me, but I would've preferred it to taste more like caramel than booze.I did enjoy drawing little pictures on my lover and licking them off, and having it done to me. The brush felt soothing against my breasts and tickled a bit on my neck, arms and abdomen. We enjoyed using the product, although he didn't care much for the taste of it. My partner and I are interested in trying the chocolate, which hopefully he will like a lot more!
Performance
As a body paint, this works well. Chilled, it does not spread too well but if you warm it up to room temperature or put it in a bowl of hot water for a little while, it will spread just like a latex paint or even actual paint! It goes on thick and I found I had to dip the brush in and let it drip off for a few seconds. Applied to the skin, it stays in place and doesn't drip unless you add globs of it to one area. Drawing with the paint brush is about as artistic or well-drawn as you make it. While making a masterpiece is not going to happen (unless you have just
that
much talent, you can very easily draw designs. My specialty was drawing penis' all over my guy, and he didn't care, as long as I licked it up afterwards and then enjoyed the real thing!
4 out of 5 stars because when I buy a product, I expect it to at least taste like the description. Although I did enjoy the taste, I was a bit disappointed that it didn't taste more like caramel. It was such a faint hint of it, it was a let down for me.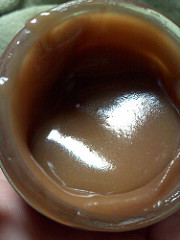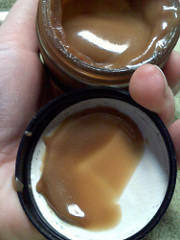 Follow-up commentary
5 months after original review
We ended up getting two uses out of this product. It didn't last very long because of the small jar, but it was fun while it lasted! We never ended up trying the chocolate, but that may change.


This product was provided at a discounted price in exchange for an unbiased review. This review is in compliance with the FTC guidelines.

Thank you for viewing
Lovers body paint
– edible paint review page!