Edible Essence
Overall this product is worth the purchase and if not satisfied with the amount of the contents apply less paint or purchase more! DO NOT apply directly to the vaginal area because the product has a corn syrup base, which could cause infection. The color looks like chocolate does, the texture is a lot like chocolate syrup and is sticky. Calls for immediate wash or may stain, and cleans off easy. Store in a room temperature area.
Published:
Pros:
Fun for foreplay
Tastes great
Cons:
Do not get very many uses out of one jar.
This product is sweet, experience is intimate, and sensual along with sexy! It is definitely worth the purchase for you, a couple, or a friend. After all chocolate is considered a "love" aphrodisiac and has been said to make women feel sexy! This product has many special features to inquire! It would be a great gift item for bridal gifts to a sexy birthday present for your spouse. You can enjoy this paint in the shower, bedroom, positioning chair, or even a sensual bubble bath.
The ingredients include:
Corn Syrup
,
Palm Kernel Oil
,
Hydrogenated Palm Oil
,
Non-Fat dried Milk
,
Soya Lecithin
,
Vanillin
,
Ethyl Alcohol
,
Water
,
Cocoa Powder
,
Food Starch
,
Gelatin
, [bold|Potassium Sorbate, and
Sodium Benzoate
. The product comes with a wide paintbrush and a little glass jar with the actual chocolate contents; the glass jar weighs about 0.4 pounds and has a volume of about 2 fluid ounces. The package comes doubled sealed for your safety, this product is edible however does not need refrigerated before or after opening, if you have left over. When using the brush careful not to poke and be sure to glide the brush lightly, after awhile of using the brush can become stiff. I found the brush to sort of tickle, but it wasn't a bursting out laughing tickle it was a more, "Ahh" tickle, a good sensation for me! The brush is made like a powder brush for make up.
Now when I opened my chocolate delight-fulness I found the paint to be thick and a little pasty. For the record, DO NOT MICROWAVE! It will burn and the taste won't be the same, it kind of tastes burnt. I suggest soaking the jar in hot water with the lid on or for immediate use add just a touch of hot water. After the light warming with hot water you will find the texture to be smooth and glide easily. Be sure to keep a towel handy for immediate clean up in case of spillage and avoid any staining.
Unfortunately there isn't much paint in the jar. My hubby and I used almost the entire contents of the jar in one use, but your experience may differ from how thick you apply paint and how much teasing you and your partner can endure before you start pleasing!
The taste to me is a lot like chocolate syrup or chocolate pudding. Thankfully there is no after taste or chemical hints in the flavor. The actual taste of the paint is really good! This product is sticky with use, but that could be resolved with a romantic shower or bubble bath experience after use! Just as well the brush is easy to clean with hot water, just clean thoroughly to make sure there is no paint left on the brush. Let the brush dry before putting it away in storage container or toy box! When the brush is dry and paint free it can be used a tickler!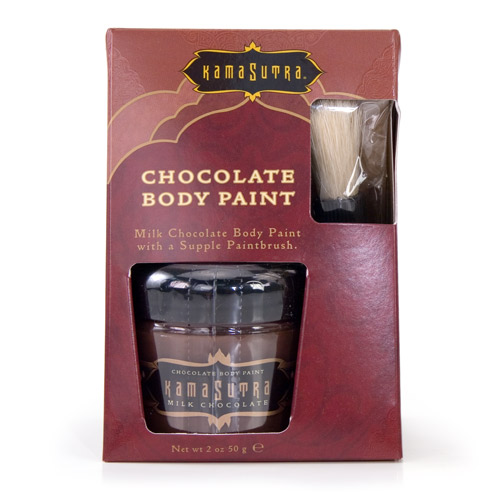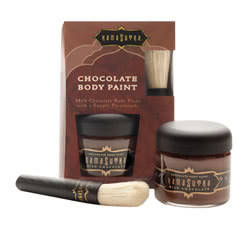 Experience
I had a very exciting and erotic experience with this product! I mainly enjoyed laying down on my stomach and letting my hubby paint all over my back down to my butt and legs the ticking sensation from the brush was amazing foreplay and kept me wanting more.
Follow-up commentary
4 days after original review
Still love this stuff!! It is just as fun as it was when I fist got it! I look forward to upcoming products like this and to trying the different flavors and brands!
This content is the opinion of the submitting contributor and is not endorsed by EdenFantasys.com

Thank you for viewing
Lovers body paint
– edible paint review page!