Yummy, Yummy: Chocolate ON My Tummy!
The Kama Sutra Chocolate Body Paint is a great way to add a bit of fun and yummyness to your bedroom-fun. The product is extremely sweet, so it's great for those of you who have a sweet-tooth! The paint comes with a paintbrush, so as soon as you receive the product, you're ready to play!
Published:
Pros:
tastes great, comes with paintbrush, fun, long-lasting
Cons:
too sweet to use a lot of the paint in one sitting
Please note that while I have this product, the flavour is Dark Chocolate, not Milk Chocolate. All other aspects of the product are exact.
I'm a HUGE fan of the Kama Sutra brand products, especially the edible ones. When I received this product, I was not disappointed.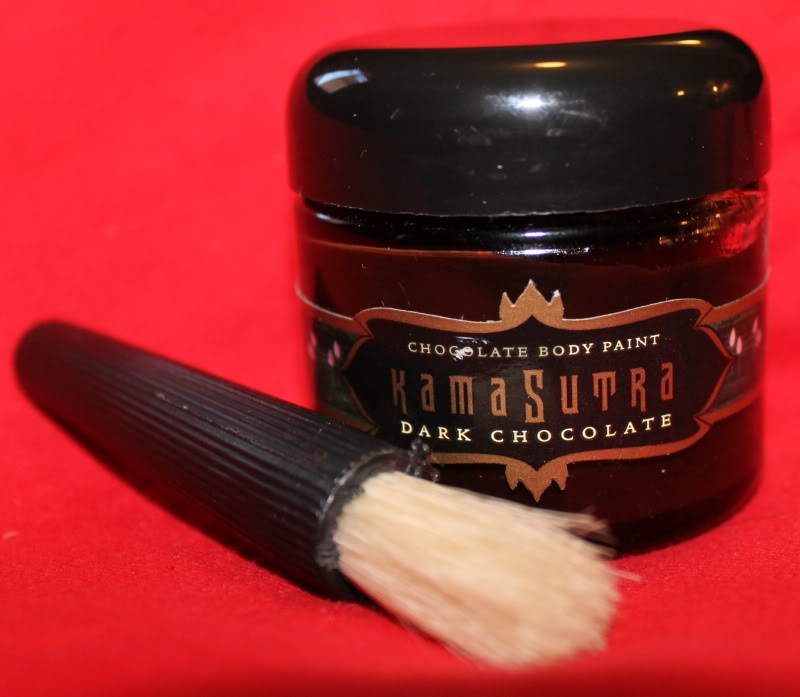 The body paint comes in a thick glass tub with a plastic twist-on lid. The volume of the product is 1oz. You also receive a thick "paintbrush" for application of the product.
The sticker label wraps completely around the jar. On the front of the label, you'll see the name of the product, as well as the brand and flavour. On the back of the label, there is contact information, the statement, "REFRIGERATE JAR AFTER OPENING", and some less-pertinent information. There is NO ingredient list on the product.
The first ten ingredients listed in the dark chocolate body paint are: Corn Syrup, Cocoa Powder Processed with Alkali, Ethyl Alcohol, Sugar, Palm Kernel Oil, Hydrogenated Palm Oil, Non-Fat Dried Milk, Soya Lecithin, Vanillin, Water. I have only listed the first ten because the dark chocolate is not available on EdenFantasys right now.
The ingredients in the milk chocolate flavoured body paint are as follows:
Corn Syrup, Palm Kernel Oil, Hydrogenated Palm Oil, Non-Fat dried Milk, Soya Lecithin, Vanillin, Ethyl Alcohol, Water, Cocoa Powder, Food Starch, Gelatin, Potassium Sorbate, Sodium Benzoate.
When you first open the jar, you'll notice that the paint is quite thick. I prefer a nice thick paint like this, but you can also warm the paint up for a less-thick texture. You can warm the paint up by placing it in a container or sink of hot water for a few minutes. I do not suggest putting this in the microwave, because you may end up burning your canvas (your partner's skin) if you've heated it too much. If you do decide to microwave it, be sure to test the warmness on your finger before applying it to your partner's body. If you do heat the product to a runny texture, be sure to use it over something that you do not mind getting dirty and sticky incase the product runs off the person's body. If you are using it without warming it like we did, the product will not run at all.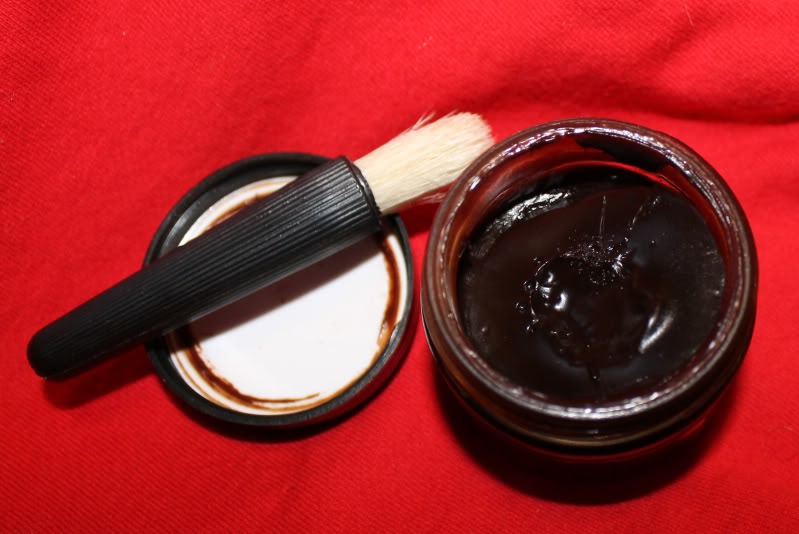 Like I've found with most Kama Sutra edible products, the flavour of the product is quite true to what they claim. The body paint did taste like dark chocolate, but I found it much too sweet. Since it was too sweet for both my own and my partner's liking, we used it sparingly. The paint is sticky, and will need to be washed off with soap and water when you are finished with it.
I've read reviews that the product only lasts for one or two applications for the reviewer, but in our case, this product would last us for MANY applications. This could be because we kept the paint at room temperature so the paint stayed thick, or perhaps because we found it too sweet to paint our entire bodies with.
The paintbrush that the body paint comes with is "okay". I wouldn't say it's terrible, but it's not phenomenal either. The part of the paintbrush that you use for application is really thick (yet soft), so if you prefer to use less of the product, buy a thinner paint brush. The brush is not extremely hard to clean, we just used boiling water.
The jar has not leaked for us, even when turned upside down in our drawer. The lid twists onto the jar, and is very secure.
The two most important things to know before using this product is:
1. IT MUST BE KEPT REFRIGERATED AFTER OPENING
2. DO NOT USE INTERNALLY
As for the cost of the product, at $17 per jar, it is 100% worth it. Like I had stated, we use it sparingly, so we will get a lot of uses out of a jar like this. Even if we only got two applications out of the jar like some other reviewers have, we would still buy it.
Experience
When we used the product, My stomach was the canvas and my partner was the artist. You can use it almost anywhere on the body, but do not use it internally and I would suggest not using it on or near your clitoris (just to be safe).

I've had this product for awhile now, and I'm sad to say that back when I first received it, I was never into reading labels (I know, shame on me!). I actually did not know that it was supposed to be refrigerated. We had used it twice when I received it (the same day), and then it was kept in our drawer. I just recently seen that it was supposed to be refrigerated, so now we will have to toss the product. We only had used it a few times, and there is barely any of it missing as you can see from the pictures above.

We plan to order the milk chocolate flavour in the next week or two to replace this one since it had not been refrigerated. We really love the taste, even with it being too sweet.

The product receives a 4 star rating instead of 5 because it needs to be refrigerated (which is a pain in the butt), and the ingredients are not listed on the jar.
Follow-up commentary
1 month after original review
I still like the Kama Sutra body paint, though I have yet to purchase another one to replace the one I had reviewed (which I forgot to refrigerate after opening the product). We will probably purchase another one with our next order because this is a product we both enjoy (my partner and I) and will get a lot of use out of it.
This content is the opinion of the submitting contributor and is not endorsed by EdenFantasys.com

Thank you for viewing
Lovers body paint
– edible paint review page!