Crazy Sweetness!
This is the perfect gift for YOU! The variety of items are each amazing on their own and well worth the price. What few flaws you may find are made up in other areas. Every girl should own this set!
Published:
Pros:
- Great Quality
- Perfect Assortment
- Great Ingredients
Cons:
- None
===============================
Crazy Girl Holiday Gift
by Classic Erotica
Lip Balm Shave, Cream Body Mist,
Massage Candle, and Oral Gel
===============================
==========
Packaging
==========
This set comes together in it's own gift bag. The bag is a very sturdy clear plastic with black netting at the top. It includes a cardboard backing with a bit of info on the products. The bag is 4" x 4" and stands about 10" high. You can remove the cardboard on the products and have a reusable gift bag!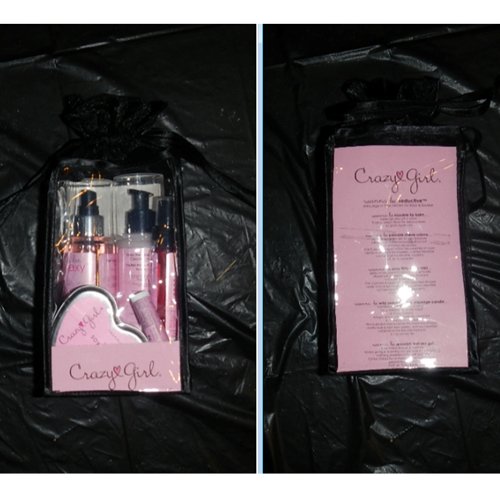 ==========
Product Overview
==========
There are five products in this set: Wanna Be Kissable Lip Balm, Wanna Be Intimate Shave Creme, Wanna Be Sexy Flirty Body Mist, Wanna Be Wild Seductive Soy Massage Candle, and Wanna Be Aroused Oral Sex Gel. All items, according to the package, are:
- Made in USA
- Paraben Free
- Sugar Free
- No Animal Testing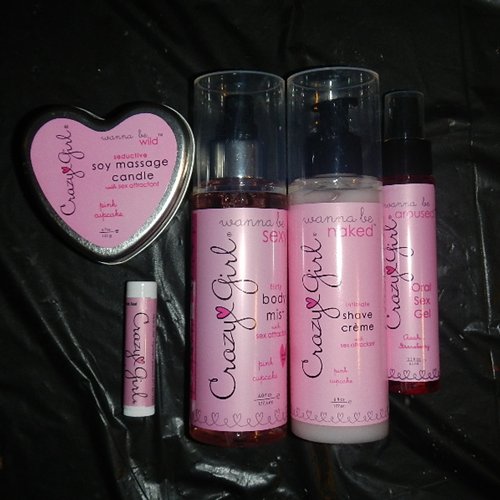 ==========
Lip Balm
==========
Wanna Be Kissable Lip Balm comes in your average 1 1/2" tube. It has your typical round cap and twisty bottom. The label states:
- Vitamin E
- UVA/UVB
- Aloe Vera
- SPF 15
Active Ingredients
: Octinoxate & Oxybenzone (For Sunscreen)
Scent/Taste
: Tropical
I go through a TON of lip balm because my lips are always dry. I've been trying a lot of different things for during the day (at night I use medicated stuff) and I've been unhappy with so much that's out there. This stuff was sooo nice! It goes on really smooth and the scent/taste is light enough that it doesn't bother me. If you lick your lips, the taste won't make you gag like some stuff, nor will it give you a bad aftertaste that lingers. I would compare it to Chapstick except this stuff makes my lips feel smoother and tastes better!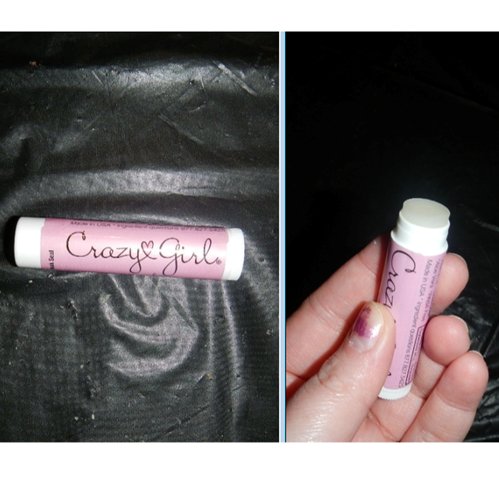 ==========
Shave Creme
==========
Wanna Be Intimate Shave Creme comes in a 7" tall bottle with a nice pump head so you can keep this in your shower and not have to remove caps constantly. 6 fl. oz. is enough to keep you going for a bit! The plastic bottle itself is actually really sturdy and only slightly squeezable. I've dropped this without it cracking at all.
The label states that it's appropriate to use on legs, underarms, intimate area, face, and the rest of your body. It says it has both hair AND skin moisturizers to soften even coarse hair, making it easier to rid yourself of.
Ingredients
: Water, Cetyl Alcohol, Cetrimonium Bromide, Stearyl Alcohol, Hydroxyethyicellulose, Glyceryl Stearate, PEG-100 Sterate, PEG-60 Lanolin, Simmondsia Chinensis Seed Oil, Methylisothiazolinane, Sodium Hydroxide, Copulandrone, Copuline-alike, Reconstituted Andronone, Fragrance, Red 40
Scent
: Pink Cupcake
The scent actually smells like a cupcake, and that makes me feel yummy! I would say it's compared to a vanilla cupcake with white frosting. The smell is decently powerful in the bottle but tones down while using. The label states it is "with sex attractant" although I see no pheromones listed in the ingredients. However, the scent sticks around a tad so if you head straight to the bedroom after using this, I can see your partner being very attracted to the smell. This is the first shave cream I've ever used. I wish I thought of it sooner! This creme made me feel smoother down there than normal and even helped prevent some bumps. The cream is smooth and goes on thick enough so you don't need to use too much.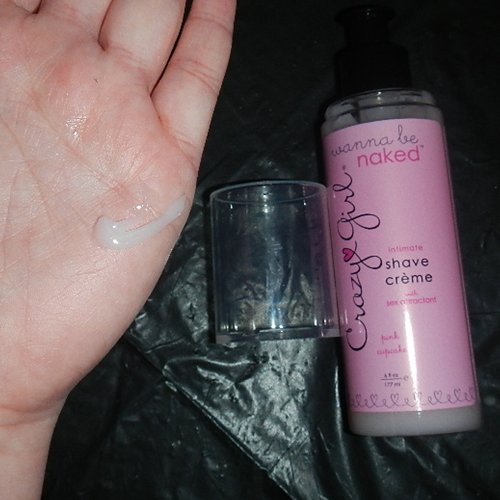 ==========
Body Mist
==========
Wanna Be Sexy Flirty Body Mist comes in a 6 fl. oz. bottle the same as the Shave Creme, except it has a spray top. The label states that this is ALCOHOL FREE so those with sensitivities should enjoy this.
Ingredients
: Water, Propylene GLycol, Benzophenone-4, Camellia Sinensis Leaf Extract, Copulandrone, Copuline-alike, Disodium EDTA, Helianthus Annus Extract, Mimosa Tenuiflora Batk Extract, Reconstituted Acetate, Triethanolamine, DMDM Hydantoin, Idoprpynyl Butylcarbamat, Red 33, Fragrance
Scent
: Pink Cupcake
This body "mist" comes out more in droplets than a mist. However, since this shouldn't be used as a perfume and it's best used as a after shower spray, you should be naked while spraying. The scent is extremely light, which is the main reason it should be used as a shower mist. Although I was hoping for a new spray before going out, I am happy with this as a slight perfume to use after I dry off and before going to bed. The scent is JUST strong enough to arouse my partner when his face is buried in my skin. If you want a stronger scent, you'll have to spray on a ton, and then rub it in your skin. This didn't stain my white stockings (nylons I tested on) so you could probably safely use this on clothes as well.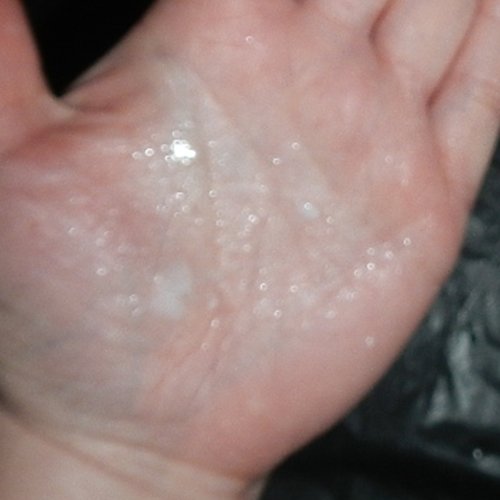 Experience
(continued from above)
==========
Massage Candle
==========
The Wanna Be Wild Seductive Soy Massage Candle comes in a 4.7 oz can. I assume this is made of aluminum. The can stand about 1 1/2" High and is about 3" Wide. There is a little plastic spoon inside that is about 3" Long. The label states:
"Burn candle until partially liquid. Extinguish flame and pour on body for moisturizing skin renewal or warm body massage. Melted oil will be warm but will not burn skin."
Ingredients
: Glycine Soja Oil, Cocos Nucifera Oil, Cannabis Sativa Seed Oil, Prunus Armenica Kernel Oil, Simmondsia Chinensis Seed Oil, Persea Gratissima Oil, Tocopherol, Copulandrone, Copuline-alike, Reconstituted Andronone, Fragrance
Scent
: Pink Cupcake
This is a wonderful massage candle! I absolutely love everything about it! The oil went on warm enough to smooth over nicely without immediately hardening. The scent was the perfect intensity, and our skin felt so nice afterwards! I would suggest you watch how much you use at a time though, because too much will get rougher to apply after a couple minutes. We kept this lit and used a couple spoonfuls every few minutes to keep the oil warm and thin.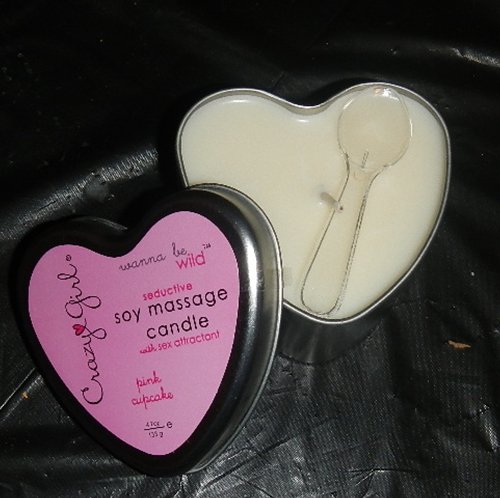 ==========
Oral Gel
==========
The Wanna Be Aroused Oral Sex Gel comes in a slim 2.2 fl. oz. bottle. It stands almost 6" High and only 1" Wide. This small bottle still packs a punch though, as you don't need much of the gel per use. The top is a pump style with a very tiny hole to make sure you don't squirt too much out.
Ingredients
: Water, Glycerin, Citric Acid, Flavor, GLycereth-26, Honey Extract, Hydroxyethylcellulose, Lonicera Caprifollum FLower Extract, PEG-45M, Propylene Glycol, Sodium Saccharin, Tetrasodium EDTA, Diazolidinyl Urea, Sodium Benzoate, Red 33, Yellow 6
Scent/Taste
: Aaah... Strawberry
Holy guano, this really tastes like strawberry candy! I've tried oral sex gels before and none of them tasted like it was supposed to and/or left nasty aftertastes. This one not only tastes as it should, but doesn't leave a weird taste in your mouth, nor does it numb your tongue or sensitive bits. You only need a dime sized amount to make you taste like candy, and the flavor lingers a bit after the gel is wiped away. This didn't irritate my sensitive skin. I was able to clean myself with just a sex wipe instead of having to hop in the shower right away because this didn't leave areas that were sticky and uncomfortable. However, you should still shower if you can if you may become sensitive to any of the ingredients. The gel has a good thick consistency that won't drip, but also thin enough to be massaged over your skin smoothly. The scent is also of strawberry candy and not strong enough to overwhelm your partner.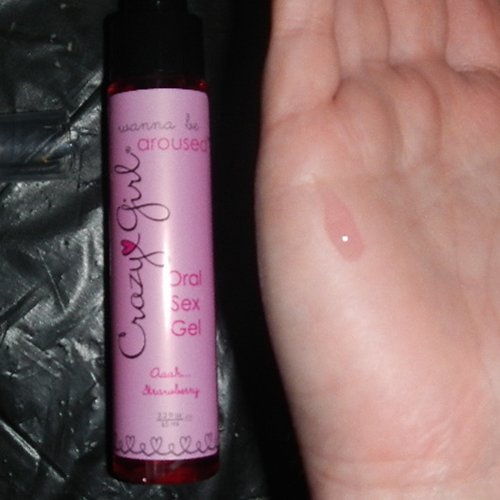 It was hard to fit everything in this review, so sorry if it looks a bit bunched up! Thanks for reading!
Follow-up commentary
2 months after original review
All of the products in this kit lasted me awhile and were good, if not amazing! My favorite is still the lip balm and I'm so glad you can buy it on it's own! Don't miss getting this while it's available!
This content is the opinion of the submitting contributor and is not endorsed by EdenFantasys.com

Thank you for viewing
Crazy Girl holiday gift
– massage kit review page!