Cupcakes!
I wouldn't say the smell of cupcakes is a turn-on, but it's a great gift for the woman in your life for any occasion. The massage candle was a great quality candle and the mist left my skin smooth. The shave creme is the same as Coochy which is an excellent rash-free cream & the oral sex gel isn't sticky but it contains a formaldehyde releaser in the ingredients.
Published:
Pros:
-yummy smell
-quality shaving creme
-mist leaves smooth skin
-massage candle good quality
Cons:
-oral sex gel contains Diazolidinyl Urea
The Crazy Girl holiday gift set made by Classic Erotica is the ultimate kit of "smell-goods". First off, everything comes in a durable plastic and fabric bag with a drawstring top to close it. The kit comes with lip balm, shave crème, body mist, oral sex gel, and a massage candle. Most of the items are cupcake scented with the exception of the oral sex gel and lip balm. The gel was strawberry flavored and the balm was tropical flavored. I can't describe the way cupcakes smell other than to say, "it smells like cupcakes" so I'll let the bottles tell you because they do it best. The labels say "Pink Cupcake - a playfully soft fragrance with the sweetness of sugar, cotton candy, vanilla musk & light fresh berries..." They're right on the money with that description.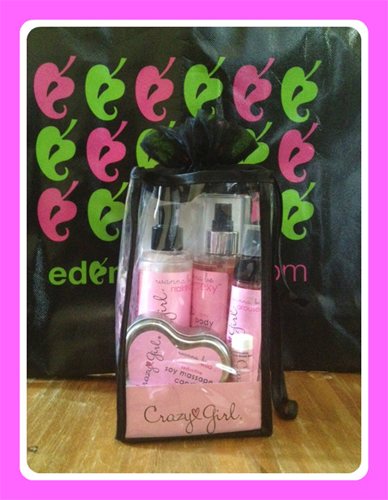 Lip Balm
The lip balm is your standard sized chap-stick in a traditional white tube. The tube has a pink label around it that says Crazy Girl "Wanna be Kissable" on it along with the ingredients. It comes in tropical flavored. The lip balm contains Vitamin E, Aloe Vera, and 2 active ingredients that act as sunscreens, Octinoxate and Oxybenzone. There is absolutely no difference in texture in this chapstick in comparison to any other.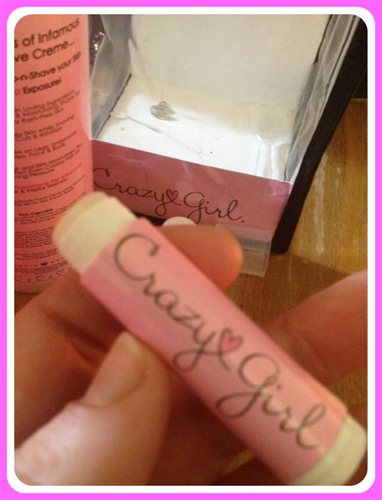 Intimate Shave Crème
This is the SAME as Coochy Crème because it's by the same people who make Coochy Crème. What does this mean? This means it is a MUST have. I love my Coochy Crème to death but it comes in 4oz on EF which makes me sad but the Crazy Girl shave crème comes in 6 oz which makes up for it. Plus, it smells like cupcakes. Yes, my vagina now smells like cupcakes. I don't particularly find that sexy and don't consider this to be a sensual kit (even though some items like the shave crème are infused with pheromones) because cupcakes aren't a sexy smell. But the smell is a nice treat. So this shave cream is designed for shaving the intimate areas and it's specially designed to moisturize the skin and prevent razor bumps and ingrown hairs. It's sulfate-free, sugar-free, and paraben-free. This is safe for all skin types and especially great for those of us that are prone to ingrown hairs after shaving.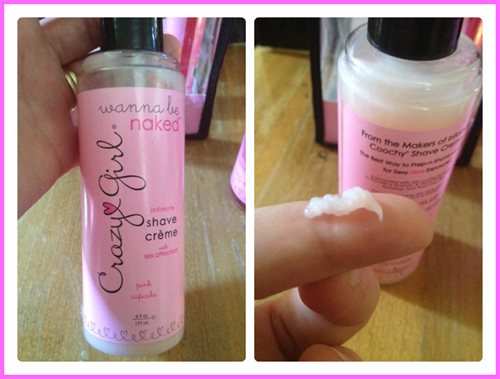 Ingredients: Water, Cetyl Alcohol, Cetrimonium Bromide, Stearyl Alcohol, Hydroxyethycellulose, Glyceryl Stearate, PEG-100 Stearate, PEG-60 Lanolin, Simmondsia Chinensis (Jojoba Seed Oil), Hydrolyzed Keratin, Panthenol, Allantoin, Phenoxyethanol, Methylisothiazolinone, Sodium Hydroxide, Capulandrone (parfum), capuline-alike (parfum), reconstituted andronone (parfum), fragrance (parfum), red 40.
Body Mist
The next item up for discussion is the Flirty Body Mist. This is basically a spray you can apply any time of the day to your body just to smell good, and yes, it smells like cupcakes and is infused with pheromones. The smell is very playful. According to the bottle (6.0 fl oz) it is "designed with white tea, a powerful antioxidant that adds hydration and sexy softness to the skin." It's no lie. After you spray this in to your skin you immediately get a strong buy yummy cupcake smell and your skin feels soft once the mist dries. It even looks like you have glowing healthy skin afterwards. Like the shave cream, the body mist is sugar-free, paraben-free, and sulfate-free.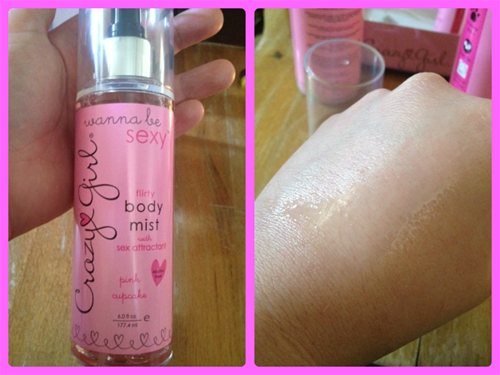 Ingredients: water, propylene glycol, benzophenone-4, camellia sinensis (white tea leaf extract), capulandrone, capuline-alike, disodium EDTA, helianthus annus (sunflower extract), mimosa tenuiflora batk extract, reconstituted andronone, simmodsia shinesis (jojoba seed extract), vitamin E, acetate, triethanolamine, DMDM hydantoin, idopropynyl burylcarbamate, red 33, parfum.
Experience
....CONTINUED
Oral Sex Gel
The Oral Sex Gel is a topical and flavored gel used to enhance sensation and create yummy oral sex. This can be used on the ladies or the gentlemen though I think this is specifically tailored for the vagina. This comes in a 2.2 fl oz bottle with a nice pump top ( I love pump tops; liquids don't leak often with pump-tops). To use you pump the desired amount on your finger and place on the clitoral or vaginal area and have your partner lick it off. A tiny pump may be all you need as it is thin and spreads over a large area. The taste is light and resembles that of strawberries but doesn't leave a bad after taste in your mouth. I didn't get any sensation from this product (tingling, cooling, or warming.) It is pH balanced, water-soluble, greaseless, and non-staining. It is also sugar-free, paraben-free, and sulfates-free. This should be safe for anyone unless they have specific allergies to one of the ingredients.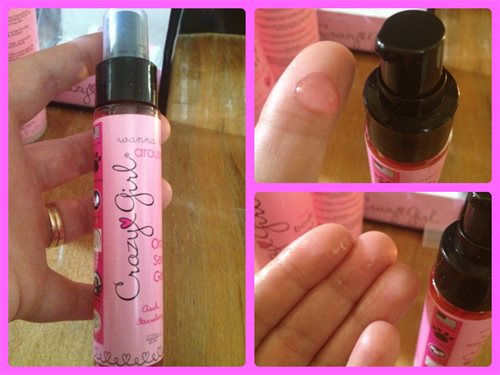 Ingredients: water, glycerin, citric acid, flavor, glycereth-26, honey extract, hydroxyehtylcellulose, honey suckle flower extract, peg-45m, propylene glycol, sodium saccharin, tetrasodium edta, diazolidinyl urea, sodium benzoate, red 33, yellow 6. (Diazolidinyl Urea is a formaldehyde releaser and a reason why many of my cosmetics and adult products have been thrown away after discovery.)
Massage Candle
The massage candle is a soy candle infused with pheromones that acts as a skin moisturizer when wax is melted and poured on the body. The candle comes in a metal or tin heart shaped container. This Is not edible even though it comes with a mini spoon. The spoon is used to assist in spreading the wax onto the body, though we just pour straight from the candle. It is also cupcake scented. Still not a very sexy smell but the candle wax is pretty excellent. We've experienced some massage candles like the PicoBong candle that was extremely difficult to spread the wax after it touched the skin. The Crazy Girl massage candle is so much easier. You just melt the wax and pour, then rub. The skin is soft not sticky and there's no resistance when rubbing.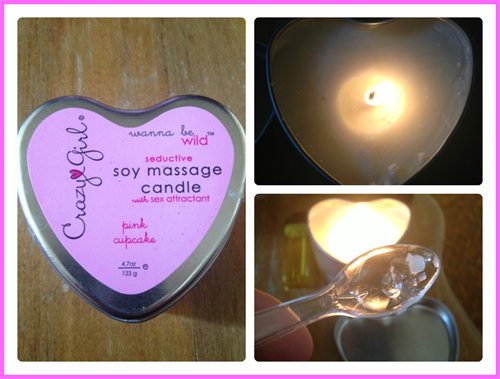 Ingredients: soybean oil, coconut oil, hemp seed oil, apricot kernel oil, jojoba seed oil, avocado oil, vitamin E, parfums.
Experience
I genuinely loved the fragrances of each item and nothing was too overpowering of a scent for me. The pink cupcake scent is very yummy and light, the tropical scent on the chapstick is very barely noticeable, and the strawberry scent on the oral sex gel is subtle. The scent from the mist lasts for hours and the candle is a very nice massage candle without the stickiness and resistance we've experienced before with others. The shave creme is identical to Coochy creme which is my favorite because it's so gentle on the body and it prevents razor bumps/ingrown hairs. This is a very pretty gift set.
Follow-up commentary
2 months after original review
I still think this is an amazing gift set for any woman. The scents are just yummy, the candle burns nice and the wax leaves your skin smooth, the shaving cream is the BEST you can get, the edibles are sweet, and the spray is just delicious. I am still in loooove with this set! It makes me feel so girly!
This content is the opinion of the submitting contributor and is not endorsed by EdenFantasys.com

Thank you for viewing
Crazy Girl holiday gift
– massage kit review page!