"Darkside Duck! Let's get dangerous!"
Oh my! It's a rubber duckie! He's dressed in kinky things! And he VIBRATES! Seriously, why wouldn't you want him? His cuteness alone is well worth the price. He may not be the absolute best shower vibrator, but he certainly knows what he's doing and offers a lot of vibratey goodness. He makes my bath time a whole lot more fun and loves hanging out with the rest of my rubber duckies in my bathroom. I'm really glad we met!
Published:
Pros:
Kinky cute, great gift, shower or bath massager/vibrator, powerful
Cons:
Doesn't like to float sitting up, loud, a bit awkward
(If you ever watched Darkwing Duck back in the day you'll recognize the title. I couldn't resist!)
It should really be a crime for things that vibrate to be this darn cute. When I saw Mr. Bondage Duckie here I squeaked with joy. Not only is my bathroom decorated in rubber duckies, but I'm a major kinkster, too. Oh, and he can be used to make your bath "extra relaxing"? What more could you ask for?!
What can he do for you? First and most importantly, he's the best bathroom accessory any kinkster could ask for. Can you get anything more adorable than this? Who doesn't like rubber duckies in their bathroom? I've got a whole collection of them. They're in the tub, on the shower curtains, and on my towels. I knew he'd fit perfectly into my collection of silly duckies. He's a perfect gift for your kinky friends. I mean, seriously, what is cooler than a bondage duckie? Really? Nothing. His adorable charm is only half of his awesomeness. He vibrates! Not only do we have a sexy duck for the tub, but he can give you some sexy time as well! He doesn't care if you have girl or boy parts and is always willing to get in on some three way action. Even if you're not in the mood he's the best type of friend who offers a massage to relax away the stresses of the day. He can do just about anything, really.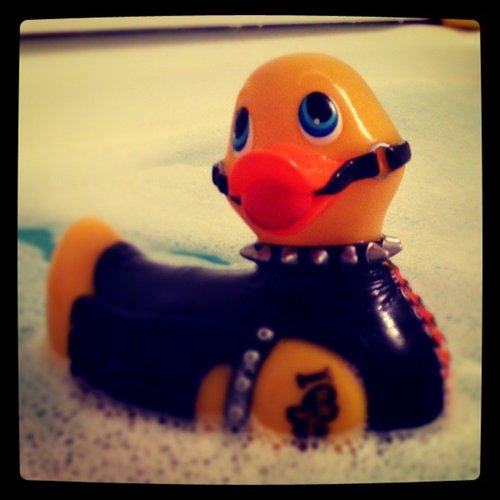 Tony, here, is what you could call a "subber duckie". He comes dressed in his finest gear. He has on his own little ball gag, spiked collar, leather vest, and studded bracelet. He's obviously a tough guy because he has his company's logo tattooed on his wing. He brings a little pair of handcuffs with him, but they're not the best. I think I need to have a talk with him about his choice in gear. He's also a big burly duck at 5" long by 5" tall. Quite a bit bigger than my other duckies. They're kinda intimidated by him, but he's actually a really nice guy. The only problem the two of us tent to have is that he's a little lazy and likes to fall over in the bath instead of sitting up straight.
To turn him on you press on his back. It takes a little might sometimes, but after you do it a few times it gets easier. He has one speed: wow! You wouldn't think he'd be that impressive in the power department, but he certainly pleases. He just likes to get the job done. He can also get a little loud sometimes so you should probably leave the water on or throw on some music if you don't want anyone else to know what you're doing. The water only makes him louder, but he can't really be heard over the faucet. He takes 2 AA batteries which are easy to come by. His battery compartment is on his belly and is secured by a screw to keep him waterproof. Make sure that screw is nice and tight. If you're looking for a little pleasure you can use just about every part of him because his vibrations travel all the way through him. He's also made of a very stiff and smooth body-safe PVC for your pleasure. It's not like you'll ever need to wash him really well because he stays clean in the bath with you.
Experience
Honestly, I just wanted this bondage duckie to add to my collection. I never intended on using it because it was more for decorative "look at my awesome duckie! He vibrates!" appeal. When I turned him on the first time I was blown away by how powerful he was and had to take a bath right then. I brought him along with me and used him outside and underwater and it was intense! This is also coming from the girl who wields Hitachis and Eroscillators around like it's nothing. Vibrators are more intense in the water, this guy included. I like this.

The only real issues are that he's kinda bulky, kinda loud, and doesn't like to do that whole floating stuff because he's obviously a glutton for punishment. Even though he can be used in a practical manner and is pretty good for that, I think he's best as an awesome novelty-like gift or collection item. Just his cuteness alone is worth the price. I'm still impressed with him even though he's not the most ideal vibrator out there. He amuses the hell out of me and people who end up in my bathroom. However, if you've got kids around you might want to tell him to go hang out in the cabinet to avoid having to answer some awkward questions. I still love him and he's my pride and joy of my duckie collection.
Follow-up commentary
8 days after original review
After months of bathtime adventures with me, my little lover duckie has fared the seas quite well. His battery compartment has remained dry. He's always ready for action. And he loves his new home here with all of his duckie friends. He's stolen the top spot in my bathroom collection for good.
This content is the opinion of the submitting contributor and is not endorsed by EdenFantasys.com

Thank you for viewing
Bondage duckie
– discreet vibrator review page!