My Big, Bad-Ass Bondage Duckie
The Bondage Duckie by Big Teaze Toys is absolutely adorable! I bought him just so I could use him as a decorative piece in our wash room. After trying the toy, I've decided that he will be more than just a decorative piece. He has rumbly, strong vibrations and is fairly quiet when you use him out of water. Just note that when you submerge Bondage Duckie into water, the noise level gets freakishly high. You won't want anyone around when using the toy in the water.
Published:
Pros:
large size, rumbly strong vibrations, adorable, waterproof, easy to use, easy to clean.
Cons:
loud when submerged in water.
The Bondage Duckie by Big Teaze Toys arrived in a plastic clamshell packaging. You can see the duck through the front and back of the packaging. The front states the brand, product name, and a couple product features. The back of the packaging states a few more product features, shows you were the on/off button is, and gives a few suggestions on how to use the duck as a "massager". While the packaging is really adorable, it's not ideal for storing the toy in. We just keep ours in the washroom. The packaging can be recycled.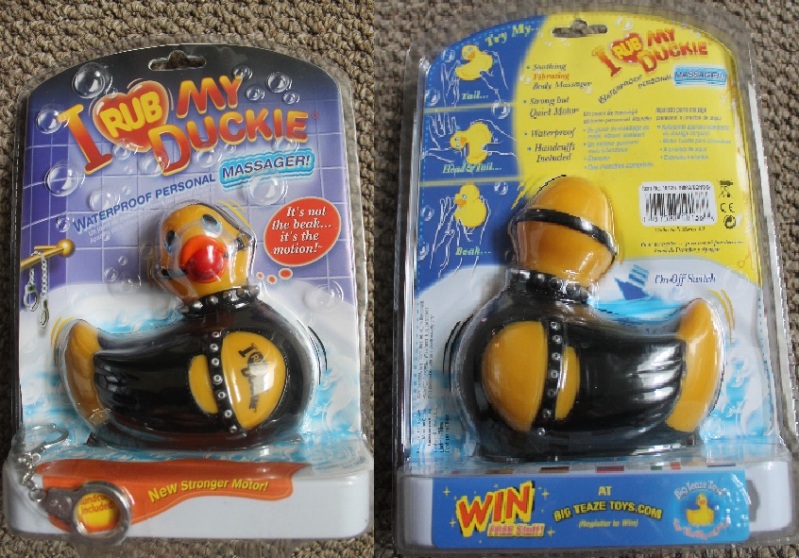 Inside of the clamshell packaging, you'll find the duck, a tiny pair of handcuffs, and an instruction manual. Ironically, it is not printed in English but there are 6 other languages to choose from. Bondage Duckie feels like he's made of plastic but the product page says he is made of Phthalate free PVC. He's stiff and not flexible.
In the stock photo on the product page, the duck looks like a bright yellow colour. He's actually more of an orange-yellow. I was actually quite surprised when I received him because I had assumed he was much smaller than what he actually is. He is approximately 5 ¼ inches wide and approximately 5 inches tall.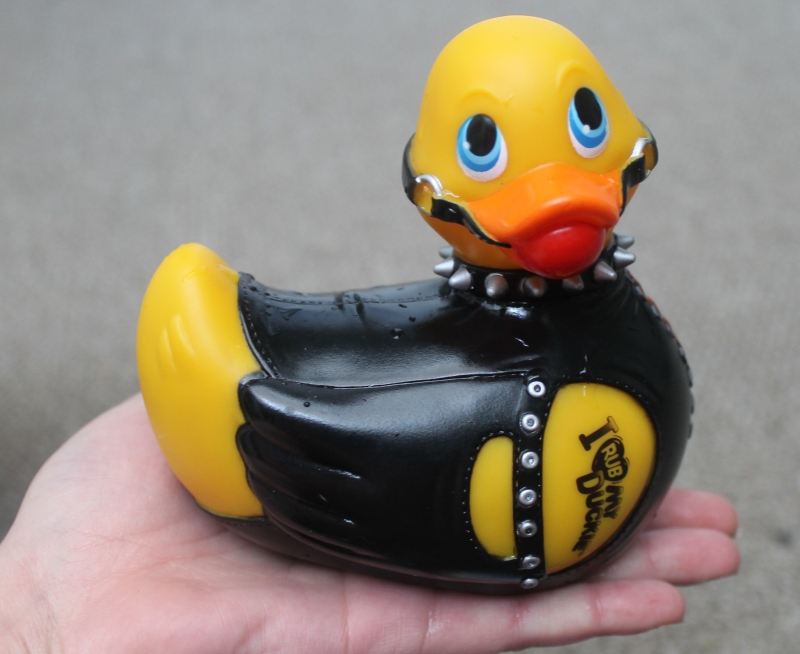 The packaging suggests using the ducks tail, beak, or the top of his head for stimulation. I figured that these would be areas you'd need measurements for. Though ultimately, you can use him however you want. If you are interested in knowing any other measurements, let me know and I will get them for you.
Circumference of duck head: 6 inches
Length of beak: 5/8 of an inch
Width of beak: 1 ¼ inches
Tail length (from bottom of toy to top of tail): 2 ½ inches
Bondage Duckie wears a black vest that laces at the front (not real lace), with little silver grommets running down the side of his vest. He's wearing a spiked collar and has a red ball gag in his mouth. None of his accessories can be taken off as they are permanently attached to the toy.
The battery compartment is located at the very bottom of the toy. You'll need a cross screwdriver to open the compartment as there is one screw that needs to be unscrewed. I find this to be a slight annoyance, not so much for myself but for those who don't have the tools on hand. I have a cross screwdriver but it's still a pain I have to do this (but that's just because I'm used to toys that don't require me to bust out my tool box).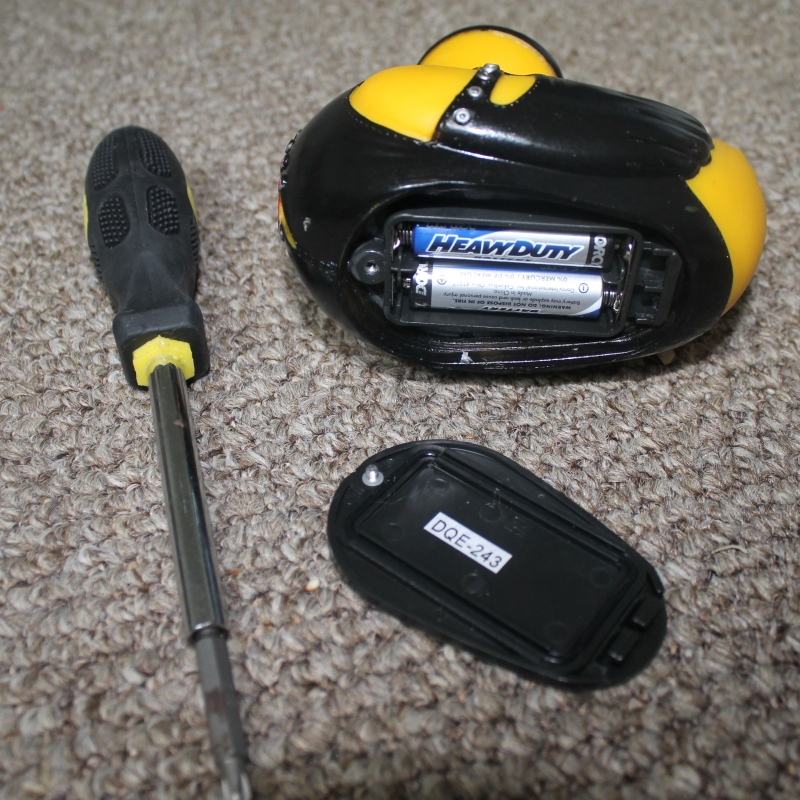 Once you've got the 2x AA batteries in the compartment (which are not included), you'll need to screw the lid back on. Now that the lid is on securely, it's time to play.
To activate the vibrations, you press the duck's centre back. You may have to use two thumbs to press down on the area because it's a bit stiff. Once you've turned the toy on, you're met with the only vibration speed it has, and it's a constant, high vibration. To turn the vibrator off, hold the duck's centre back down for a couple seconds.
I found the vibrations to be quite powerful and they were rumbly rather than buzzy. The vibrations can be felt the most on the tail of the duck. If any of the areas were to satisfy me it would be the tail. The tail has a vibration level of a 4 out of 5 but the issue I had was that when I applied pressure to the area with the duck, the vibrations didn't feel as strong. I need pressure and power so this was a bit disappointing. The noise level is fairly quiet. If you were using the duck outside of the water, it would not be able to be heard from beneath a blanket.
There really isn't any texture on the tail, nor on the top of the duck's head. If you were to use any other part of the toy for stimulation, you may have a bit of texture (the beak, the studded collar).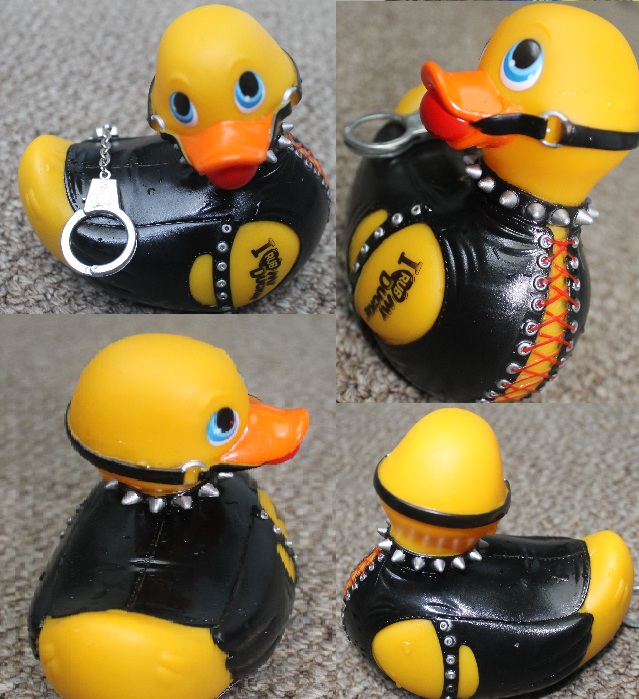 So next it was time to try my bad boy in the water. He worked perfectly submerged in water but does not like to float upright. He tends to fall over when I try making him float like a regular duck. His vibrations aren't dampened when fully submerged in water but his noise… oh boy! When Bondage Duckie is in the water vibrating, his noise level increases drastically.
Experience
...continued

I'd have to say that the noise was about a 4 out of 5 buzz level. I would not be comfortable with anyone in the house while using this duck in the tub because people would hear it, even thought a closed door. While out of the water, the noise level is only a 2 out of 5.

I'm not exactly sure what the included mini pair of handcuffs is for but it's a cute little addition to the duck. The handcuffs do open and close with the little safety tab on the side of each cuff. The cuffs are 4 ¾ inches in length and each cuff has a diameter of ¾ inches. We just keep the handcuffs sitting by the duck on the shelf when we're not using it.

Since the toy is waterproof, he's really easy to clean. You can clean Bondage Duckie with an antibacterial soap and warm water, a toy spray, or toy wipes.

Overall, we really love our Bondage Duckie. See, I bought him just because I found him really cute and wanted to display him in our washroom. I assumed the vibrations would be buzzy (which I can't stand) and weak (which I also can't stand). It was surprising to find that he has a strong motor and provides rumbling vibrations. I've deducted only one star for the noise level when the Duck is under water. I probably won't use him very often just because of the noise level he gives off in the water but when no one is home, me and Bondage Duckie may have a little get together.
Follow-up commentary
4 months after original review
I still love my Bondage Duckie! He's terribly cute! It's such a shame he's been discontinued. I hope EF brings him back so that others can get him. I haven't really used him as a toy much but he sits in the bathroom as a decoration. Everyone who sees him, loves him!
This content is the opinion of the submitting contributor and is not endorsed by EdenFantasys.com

Thank you for viewing
Bondage duckie
– discreet massager review page!