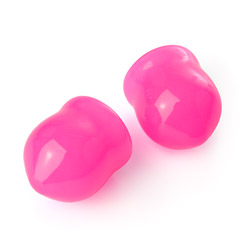 Mini nipple suckers
Nipple suckers
by California Exotic
Definitely Sucked.
Don't waste the money, it's nothing like your partner's mouth. Save the money a couple more months and buy a toy that can/will do more.
Published:
Pros:
Good suction, versatile.
Cons:
Too hard, lost easily.
The first thing I noticed about these were their size. They are definitely NOT discreet. Bright pink and about an inch long, these things definitely stand out. I found that they felt & smelled fine, not too much like plastic. They seemed a little bulky, but the quality seems high enough.

In order to figure out how to use this toy, I had to read other reviews. It was easy enough, squeeze the bulb while pressing it against the skin. If there is too much hair, though, a seal won't be made. I found that the suction created with this toy was far too strong for my nipples. The seal was difficult to break and led to much discomfort and some pain.

Although I would never use this product on my nipples again, I found that using it in *other* areas was pleasurable and exciting. This product was very effective in stimulating the clitoris. The suction was intense but not painful, and I found that the toy was better put to use in an area with lubrication, rather than dry like on the nipples. In that area, I was able to keep it in place, pump it, and tug/play with it to increase sensitivity and excitement. I thought this was a great preface to masturbation, because I was teased/frustrated enough and my clit was even more sensitive than usual. In this way, the product was extremely effective and I would suggest it to anyone.

This wasn't a means to an end, but it definitely was fun for foreplay, or some warm up before intercourse/masturbation. I can see this being fun for couples for teasing, but it wasn't very helpful (personally) for me to achieve climax.

Overall, I think these will end up in the trash or lost somewhere in no time flat. They don't come with any time of container, so they're easily misplaced. If this toy came with a small pouch or plastic case I think it would help the cause. As of right now, these are floating around the house, hopefully to be found and hidden by me (and not some poor, unsuspecting victim).

I feel like these are only worth it if you're purchasing to use the suction on the clitoris.
This product was provided free of charge to the reviewer. This review is in compliance with the FTC guidelines.
Thank you for viewing
Mini nipple suckers
review page!