Do yourself a favor, buy more than one!
32 reviews and you have not bought one yet? Why the hell not, what other product has so many uses and comes at such a low price? This Heart is a dream! Not only does it sooth away sore muscles and warm your hands or feet, it can also be used to warm massage oil, lube you can warm your toys too.
Published:
Pros:
Provides instant heat, Can be used anywhere on the body, Fits in pockets or purse, So many uses.
Cons:
I only bought one.
Leave it to those folks at Pipedream to dream up something so useful. The Heart Warmer Massager is a must have for anyone with sore muscles (What, like 99.99% of all humans on earth?), those that like to play with temperatures with their toys and everyone that wishes their lube/massage oil was warm. Truly a must have!
You get, for the meager price, a 5" X 5" heart made out of soft PVC. Inside is a solution of
Sodium acetate
, when you click the small metal disk inside the heart, it causes the solution to crystallize. As it crystallizes it creates heat, up to 129 deg. Fahrenheit (54 Celsius), more than enough to sooth sore muscles and warm up any but the largest stainless toys. The heat will last about 30-45 minutes before cooling back down. It does get somewhat stiff so make sure you apply it where you want as it is warming up.
There are hundreds of uses for this heart, only your mind is the limiting factor. I'll name just a few that I use it for on a regular basis.
1. Recently, I had a pinched nerve in my neck. Only a hot shower would relieve any of the pain. I used this pad under my head to fall asleep and keep the heat going. I used a heating pad once but I worry about anything that plugs in being used without supervision, especially something that heats up. The heart warmer soothed me to sleep every time.
2. Cramps, the wife uses it for her monthly cramp fest. She told me she would like four or five so she could just use one right after the other. She even has placed them down her pants while doing chores around the house.
3. Warming up cold toys like glass or stainless. While I do like the cold feel of toys at room temperature, the wife does not. Simply activate the Heart and mold it around the toy. Make sure you do not get it too hot though, burning sensitive bits is not fun. Test it on your inner arm or thigh first please.
4. Warming lube and massage oil. Lube is not so much a problem for us, but warm massage oil is extremely nice! It is slightly hard to warm the whole bottle but it can be done. After activation, just mold the Heart around the bottle and lay it on its side. After a minute or so, turn the bottle some or shake it a bit. You could also pour some in a bag and place the sealed bag on the Heart.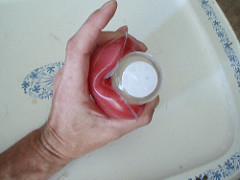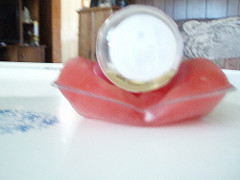 5. As the cooler temps of autumn are coming, you can use them in your pockets to keep hands warm. Even better would be if you have a hoodie with a central pouch/pocket, then you could just use one and keep the other for when the first starts to cool.
As you can see, this Heart is very useful. Hell, even just watching the reaction occur is fascinating. Back in my "Mind altering drug" days, I would have watched these for hours on end. lol
I took some pictures from start to end for you to see. I took them as fast as my camera would allow, as it was I could only get three pictures before the crystals filled the Heart.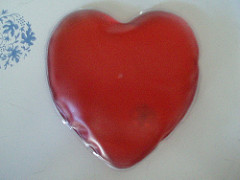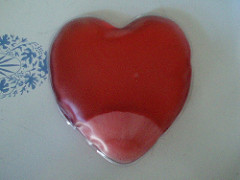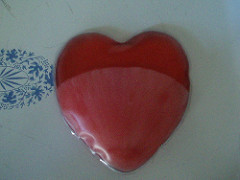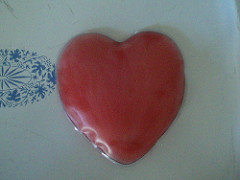 Cool, eh?
OK, now the Heart has cooled, what next, right? Easy as boiling water, just use a pan bigger than the heart, fill with water at least an inch or two over the top of the Heart and add a wash cloth so the Heart does not melt on the metal. Boil it until the crystals disappear. If you have coated tongs, they are the best to remove it. I only have metal tongs and have not damaged it yet but I am very careful. Place it on a towel to cool. It is recommended to reactivate the Heart after use, the same day if possible. Never happens with me though, life gets in the way every time. The first time I tried to reactivate it the crystals would reform somewhat, no matter how long I boiled it. Finally in desperation, I left it in the pan to cool after boiling. This worked and it was good as new. So if you have problems getting it back to a liquid, give that a try.
Experience
Not much else to say about the Heart Warmer Massager. I highly recommend you get five or six, hell you might want to have more. They would make a great gift for anyone and at this price they are highly affordable. The size is perfect for use anywhere and the heat is awesome for sore and achy muscles.

OK, the review is done now, why are you still here, go and order a few, geez.
This content is the opinion of the submitting contributor and is not endorsed by EdenFantasys.com

Thank you for viewing
Heart warmer
– sex toy review page!