Excellent, (other than smell & allergic reaction)
I bought this lip balm because it's organic, has no sunscreen & was on sale. I gambled on the Summer fruit flavor after my first choice sold out. The balm felt light & natural & didn't stray outside my lip line. I review from a chemically sensitive perspective & I happened to have a reaction to an ingredient in this product. Other than that, I would recommend this to anyone looking for an organic option & who enjoys a fruity scent/flavor!
Published:
Pros:
organic, cute design, easy to apply, real fruit flavor
Cons:
expensive, I didn't care for the flavor, linalool irritated my lips, doesn't fit pockets
I decided to try this organic lip balm because it was on sale & because it does not have sunscreen in it. The mint flavor sold out before I could checkout, so I quickly chose Summer Fruit, admittedly taking a gamble on the scent/taste. The ingredients are:

Olea Europaea (Olive) Fruit Oil, Beeswax (Cire D'abeille), Cocos Nucifera (Coconut) Oil, Simmondsia Chinensis (Jojoba) Seed Oil, Natural Flavor, Butyrospermum Parkii (Shea Butter), Stevia Rebaudiana Leaf/Stem Extract, Tocopherol (Vitamin E), Helianthus Annuus (Sunflower) Seed Oil, Vaccinium Angustifolium (Blueberry) Fruit Extract, Fragaria Vesca (Strawberry) Fruit Extract, Prunus Persica (Peach) Fruit Extract, Linalool.

Now, if you've read any of my other reviews, you'd know that despite my best intentions, I eventually end up getting bitch slapped by my chemical sensitivities. I have been struggling with them since I was a child, decades before they had a name for it other than just calling me a pain in the ass!

I thought I would be okay with the fragrance/taste of this lip balm, but that was not the case. I smell peach as the predominant note but there is something "off" about it & I didn't know what was causing the odd smell for me. I have to let you know [italix|my] experience & unfortunately, the odd note I catch a whiff of is...cat urine! Having this literally right under my nose was not going to work out, for obvious reasons.

Of course, I took a closer look at the ingredients to see if I could identify the reason for the strange smell. Well, I don't have an answer to that, but I did find a likely answer to why it caused my lips to become chapped feeling, then raw & eventually start to crack & bleed, looking as if I chewed them. I noticed that all the flavors have linalool is them & if you know you are sensitive to other ingredients, it might be helpful to know more about this one as it's known to have a risk of skin irritation and allergic reactions. But, that's not the whole story! I know there are a ton of other reviews where you can read about the packaging, etc., but my mission is to help others with sensitivities make good choices for products & not waste their time, money or health on something, (like I did).

So, with that in mind, bear with me as I explain about linalool which is in all of the formulas. It is a naturally occurring, fragrant, liquid alcohol found in many spice plants & flowers. And while a component of their essential oils, it has its own floral odor & citrus flavor. For example, lavender, geranium, rose, orange, bergamot & corriander essential oils all contain some linalool. And don't let the fact that it's a liquid alcohol upset you, the cosmetics industry has demonized alcohol in consumers' minds, preaching that we must avoid it. But, it is a broad group of chemicals & while some are drying & not good for your hair/skin, others are actually moisturizing & extremely gentle! (So, don't automatically assume seeing alcohol on a label is a bad thing.)

Interestingly, in it's pure, unoxidized form, linalool & it's "cousin" limonene, are not skin allergens. In fact, they have cancer fighting properties! However, once it becomes oxidized, it then becomes a skin allergen. As long as it is pure & fresh, it is safe, as well as beneficial. So, how do you know if it's oxidized or not? The label won't tell you & you might not relish experimenting on yourself & your pocketbook. You can ask the manufacturer about the date it was made & the date on the container of the linalool they used, but this is hardly practical, nor would I trust to get a helpful answer from most companies. You can hedge your bets by using the product before the expiration date, keeping it out of direct light & tightly capped, (to keep out oxygen - that is what oxidizes substances & is why things stay fresh longer in the absence of air). Well, those preventative steps might be fine for some products, but this is a lip balm, you open & close it all day, carrying it with you. So it's in the light, the air & not to mention it has your germs introduced to it several times a day - not the best scenario for preventing oxidation or other concerns!

So, that's my spiel about the linalool in this product & I provided it because I see many people rely on certain websites such as the Cosmetics Database for ingredient information. Unfortunately, some of them do not provide a full picture & I believe people are being misinformed & therefore prevented from making the best possible decision for themselves.
Experience
On a positive note, the taste is mildly sweet, with a very slight fruit tang & no aftertaste. I also enjoyed the slip it provided my lips at first, without being too greasy or too waxy. It feels very light & comfortable on my lips & I am extremely surprised that despite the oils in the formula, it does
not
migrate outside my lip line!
I did give this lip balm several different tries over two days, just to be fair for my review, as well as hoping the scent would magically disappear, or I'd become inured to it. Unfortunately, that didn't happen, plus I ended up with raw, cracked, bleeding lips that looked as if I had chewed them up! That took a while to develop, or I would never have continued to use it.
Since my other section is so long, I will include my pictures here. You may notice the contents look rather different from the lovely round ball of balm in the product page photo. Well, that's how it looked immediately after opening. I have no idea why half the balm ball is smashed in the lid like that, as this doesn't have a screw up base. The safety wrapper was intact, as you can see below, and there were no signs of damage to the container. It's a mystery!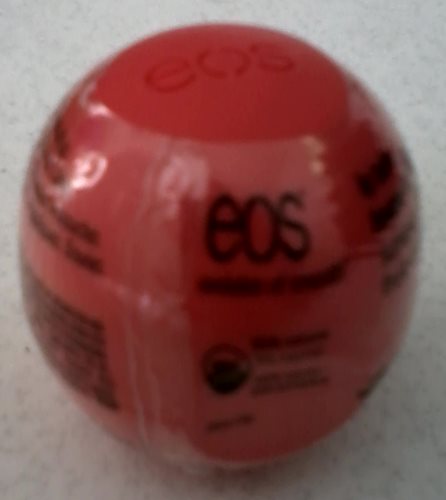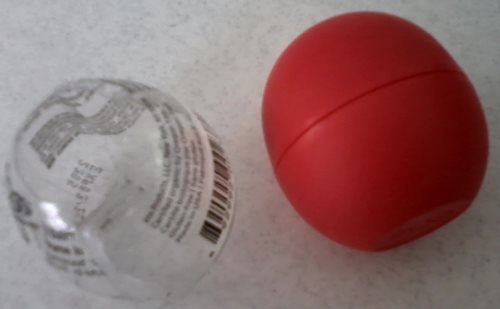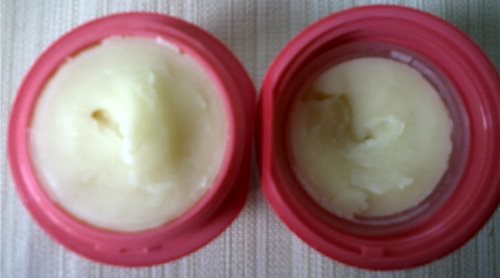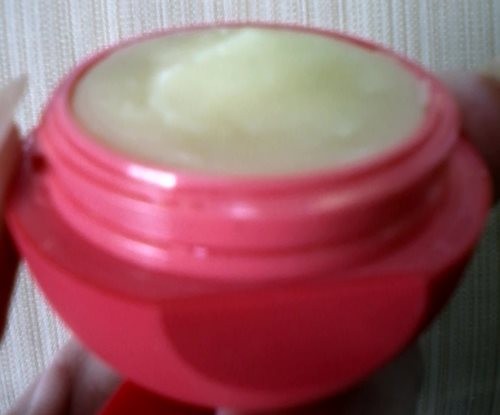 I am going to rate this product 4 of 5 stars. I removed the one star based solely on my negative reaction & because I really disliked the scent of this flavor. I don't think it's fair to deduct an additional star due to the condition of the balm, as this could be a simple fluke, they happen & I haven't seen anyone else complain about this.
Follow-up commentary
7 days after original review
The only reasons I don't like this are personal and shouldn't deter you from trying it! I know this is a popular scent, but to me it had unpleasant notes to it, even though the taste was nice. If you like a peach scent, you will probably like this, as well. In any case, the smell was not overwhelming, I'm just very sensitive to smells. My other problem with this is that it caused irritation to my lips, but as I've said, I am very sensitive.

Other than that, it's an adorable package, fun to hold and use. The feel is light and not waxy. I was pleasantly surprised that despite having several oils in it, it doesn't migrate outside the lip line after application! It is often difficult for me to find organic lip balms that do not have SPF included, so I was excited to try this when on sale. I just need to figure out what ingredient(s) caused me the problems and then try something else. That is a problem of mine, not the product. I just want anyone else who is similarly sensitive, to be aware of my experience.
This content is the opinion of the submitting contributor and is not endorsed by EdenFantasys.com

Thank you for viewing
Organic lip balm
review page!