Excellent Scrub .. But The Peppermint Scent Is Overwhelming!
The Walnut Sugar Scrub by Bella Il Fiore does an excellent job in exfoliating and cleansing your skin. The only issue I had with the scrub is that I didn't expect it to have such a strong peppermint scent. When reading the title of the product, I had assumed it would have been a sweet, nutty smell... Yeah, it wasn't. It's still a fabulous product, but if you do not like body products with a peppermint scent, you will not enjoy this scrub.
Published:
Pros:
exfoliates and cleanses skin very well, will last for many uses, no animal testing
Cons:
extremely strong scent may bother some people
I recently purchased the Bella Il Fiore Walnut Sugar Scrub because I love trying new bath products, especially ones that exfoliate. I probably should have read the scent properties, as I was unaware that peppermint was one of the scents. I'm not a fan of peppermint scents unless it's for brushing my teeth or exfoliating my feet. When using body products, I tend to go for more feminine, floral, sweet scents. When I received it, I decided I was going to give it a try anyway.
The packaging for the product is just the 12 fl. Oz (354mL) plastic bottle that the scrub is in. The front of the bottle states the brand, product name and scent in a very pretty swirled design. The back of the bottle has brief description of the product, company contact information, and ingredient list. The bottle has a black, snap-closure lid. The bottle stands approximately 6 inches tall, and is 8 ½ inches around.
The ingredients in the scrub are as follows: Aloe barbadensis leaf extract, sodium laureth sulfate, coamidopropyl betaine, PEG-18 glyceryl oleate/cocoate, glycerin, juglans regia (walnut) shell powder, sucrose, polyethylene, acrylates/c10-30 alkyl acrylate crosspolymer, camellia sinensis (green tea) leaf extract, panax ginseng root extract, anthemis nobilis (chamomile) flower extract, calendula officinalis flower extract, echiacea angustifolia (coneflower) extract, vitis vinifera (grape) seed oil, helianthus annuus (sunflower) seed oil, tocopheryl acetate (vitamin e), sodium pca, allantoin, panthenol, mentha piperita (peppermint) oil, phenoxyethanol, ethylhexylglycerin, triethanolamine, fragrance.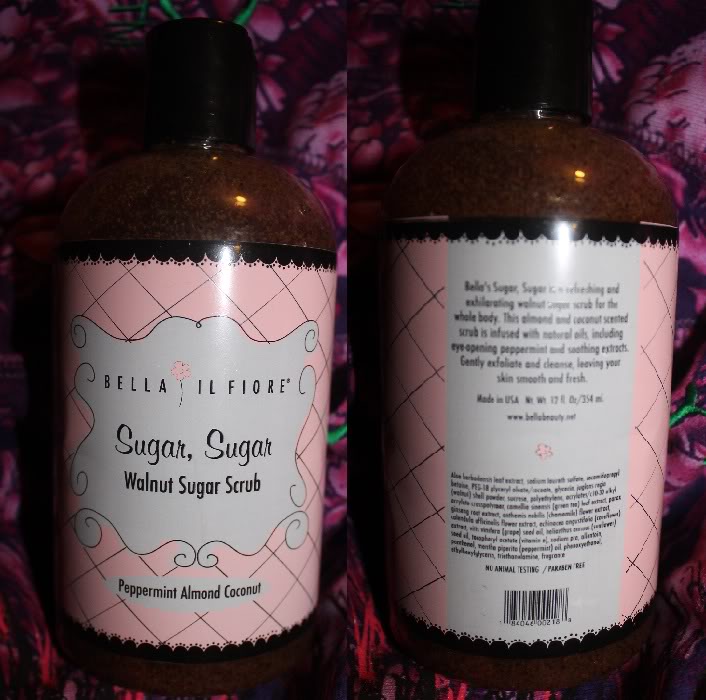 When I first popped the lid open, I was overwhelmed with a peppermint scent. I did not expect this, because like I said, I did not read the product scent specifics before purchasing the scrub. The peppermint scent is EXTREMELY strong and the most dominant scent out of the three that are listed for the product. The scents in the scrub as listed on the product page are almond, coconut and peppermint. The coconut scent is very subtle, and I cannot smell any almond at all.
The scrub is brown in colour and has tiny black granules in it to exfoliate your skin. The scrub is thick and gel-like. It is not runny at all and I have not had any problems with the product leaking. The first photo below shows the scrub on my hand, and the second photo is the scrub on my tilted hand to show that the scrub does not run. I had left my hand sideways for about 2 minutes and then took the photo.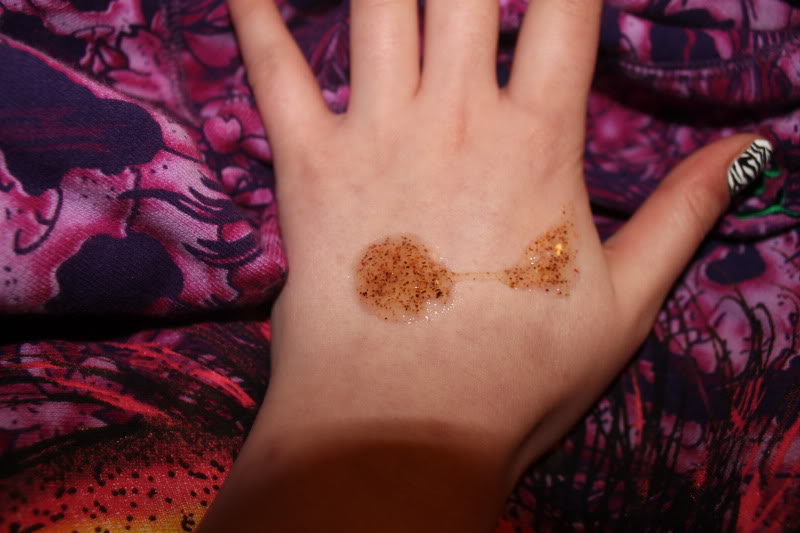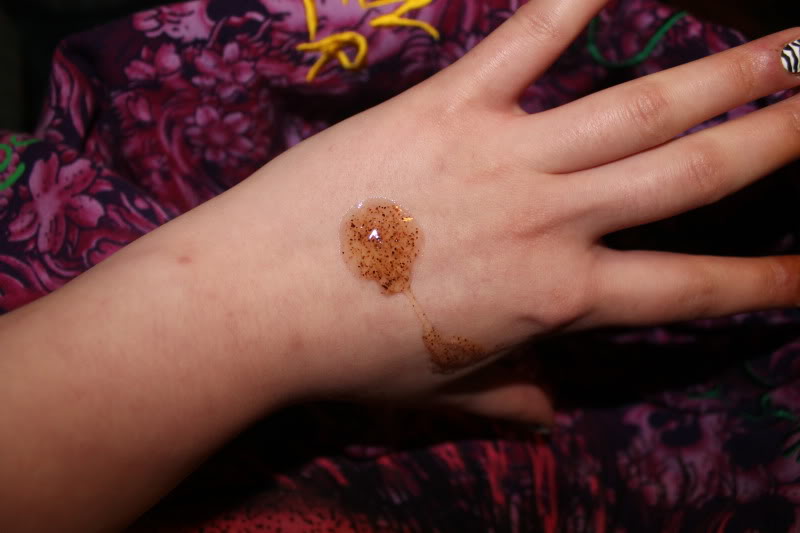 When I decided to use the scrub in the shower, I applied it to my body with a loofah (mesh sponge). The bottle was a bit tough to squeeze, but you do not need to use a lot of this product to exfoliate and cleanse your body. I put about a quarter size on my loofah and did not need to reapply.
The scrub not only exfoliates with the granules but it also lathers like a body wash to cleanse your skin. Most of the body exfoliating products that I have do not lather, and require a body wash after exfoliating my skin so this was nice because I was able to wash and exfoliate my body with just the one product. When using the loofah, the scrub lathers quite well, but the granules in the scrub seemed to get lost in the mesh of the sponge. It still did exfoliate, but it seemed that the loofah was not the best way to apply the scrub for exfoliating.
I found that applying the product by my hands or with a washcloth gave the best results for exfoliating my skin. The only problem with using my hands or a washcloth is that the product does not lather as well as when it was used with my loofah. It still does lather, but just not as much. How you apply the scrub to your body does not matter, but I figured that I'd explain how the product worked for me with the different application methods.
Regardless of how you apply the product to your body, the entire bathroom (assuming that is where you use it) will be filled with a strong peppermint aroma. If you are not a fan of strong scents, you will hate this product. Though the scent of the product is extremely strong when you are using it, it does not seem to linger on the skin when you are done. After I had taken my shower, I tried smelling the product on my skin and I only smelled it when I put my nose right up against my skin. After about ten minutes, I put my nose to my arm again and the subtle scent was gone so it does not last very long either.
Experience
...continued


I'll be honest, even though I dislike the smell of peppermint; this scrub really leaves my skin feeling fantastic. The granules in the scrub are perfect, and really exfoliate my skin making my skin feel new, smooth, and clean. My partner also likes the scrub, and will be using it as well because the peppermint scent is neither feminine nor masculine.

Overall, I give this product a 4 out of 5 stars (it would be 4.5 if that were possible). Everything about the product is lovely, except the fact that it has the peppermint scent to it. If you enjoy this scent, then I would highly recommend this product, but I personally wish there were other scents available. Despite my feelings towards peppermint, I will still use this product because it exfoliates and cleanses perfectly… and for that, I can overlook the peppermint aspect.
Follow-up commentary
2 months after original review
I still like the Walnut Sugar Scrub, even though I don't use it as often any more. There is still quite a bit left, and I love how it makes my skin feel, but I really just don't like the smell of peppermint. I probably won't purchase another bottle when this one runs out just because of the scent. It really is too bad it doesn't have more of a nutty smell.
This content is the opinion of the submitting contributor and is not endorsed by EdenFantasys.com

Thank you for viewing
Walnut sugar scrub
review page!