Walnut Sugar Scrub by Bella il Fiore
I absolutely suggest this product! It leaves your skin super-soft and smelling like coconut with a hint of peppermint. But for anyone with nut allergies, this is definitely NOT the product for you!
Published:
Pros:
Exfoliates wonderfully
bottle doesn't leak
smells good
peppermint may help alleviate headaches
Cons:
Scent of scrub is a bit overpowering,
contains nuts
The first thing I did when this package arrived was smell it and squeeze a bit out onto my finger to feel.
Aroma:
The scent is a bit strong. I can definitely smell the Peppermint and Coconut, and there is a slight woody/nutty undertone to it because of the Almond. The lingering scent after it's washed off is more coconut than peppermint and much more mild than the smell of the scrub itself.
Feel:
It's a relatively thick liquid, not very runny, and it's got nice little exfoliating beads and granules. I rubbed it in between my left thumb and index finger for a minute before rinsing it off, and can easily feel that those fingers are softer and smoother than the fingers on the other hand.
I asked my partner to feel the pads of my thumbs. He immediately exclaimed at how much softer my left thumb was, even though he was unaware that I'd rubbed the scrub between my fingers prior to his arrival home.
Appearance:
The bottle itself is rather plain. It's clear plastic with a black twist-off cap and holds 12 fluid ounces. It's the kind of cap that you can either twist off to pour the product, or you can press on one side to make it pop open and squeeze out a little bit. As far as I can tell, there is little to no leakage with this bottle.
It has a pink and black label with the name of the product, a short description and a list of ingredients. The label also states that this product was NOT tested on animals, and is Paraben free.
The scrub itself is a nice shade of brown and if you look closer, you can see that the granules are also shades of brown.
Now, for a few key points:
-The scent of the scrub itself IS rather strong, but it is much more mild after you've used it and rinsed yourself off. Instead of the powerful peppermint/coconut smell, it's relaxed into a much softer coconut scent with a hint of peppermint.
-Because of the exfoliating beads and such, you really don't even need a pouf or anything to use this. You can just squeeze some into your hand and rub it all over.
-If you have nut allergies, DO NOT USE THIS PRODUCT.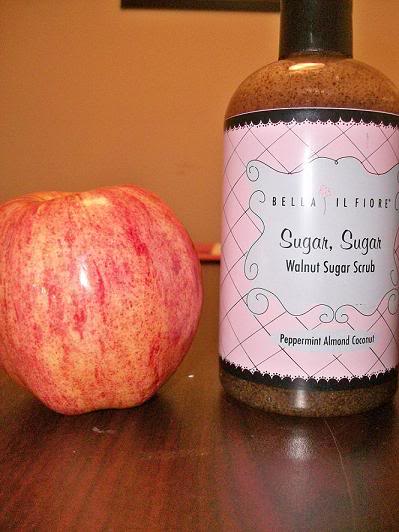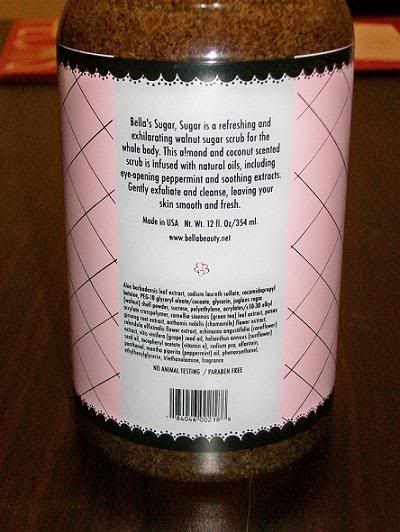 Follow-up commentary
7 months after original review
I have mixed feelings on this scrub...
I enjoy this product and it works well to exfoliate... But the scent is a little too pungent for me. I use it occasionally, but it's not the kind of thing that I consider to be an absolute staple in one's collection.
Essentially, I'm not as enthusiastic about it now as I was when I first got it.
This product was provided free of charge to the reviewer. This review is in compliance with the FTC guidelines.

Thank you for viewing
Walnut sugar scrub
review page!