For Unmentionables & More
I loved the Blue Lotus fragrance and it worked well for washing many of my designer tights and lace clothing. This is a fantastic replacement for harsh detergents which have slowly ruined some of the more precious items I've invested in. I would definitely buy again and the pleasant fragrance lingers well after washing.
Published:
Pros:
Decent sized bottle
Can be used to wash any lingerie
Can be used to wash regular clothes
Cons:
Instructions should say to use way less than the instructed amount
People might not like the smell
1) Use & Care: Before getting into the nitty gritty of this review, it is important to mention that this product is specifically advertised for use with lingerie. It works very well for its intended use with a few recommendations:
a) I would recommend using two tablespoons and not half a cup.
b) Unless using a delicate cycle in the washing machine, hand wash your lace/lingerie items! It is worth the trouble to preserve your investment for a longer amount of time. Warm water for lighter colors, cold water for darker colors, but not freezing cold. Ring gently or squeeze gently and hang to air dry. A drying rack is perfect (metal or wood).
c) If you have allergies to scents like me, this product is very soft on the nose.
d) Although the wash is liquid, it has a high viscosity, close to honey, but not quite that. So it pours slowly and there isn't a huge chance of spilling or pouring too much.
e) Do not use this as bubble bath! Please see contents section for more specific reasons why. Some people do wash their clothes in the tub, hence the later recommendation to use in the tub.
2) Packaging: The bottle was well sealed with a greenish tape across the cap and onto the bottle that had the "blue lotus" label on it. Although I was happy with how well sealed the bottle was, I had difficulty opening it. Based on the design of the bottle (see photos), the cap is small so it is hard to get a good grip on it to turn it if you have large hands like I do. Once you remove the cap it has a seal on it, which I was happy about, to prevent any incidence of spilling in travel. The seal itself was easy to remove. Obviously if you are flying, you would transfer some of this to the appropriate sized container.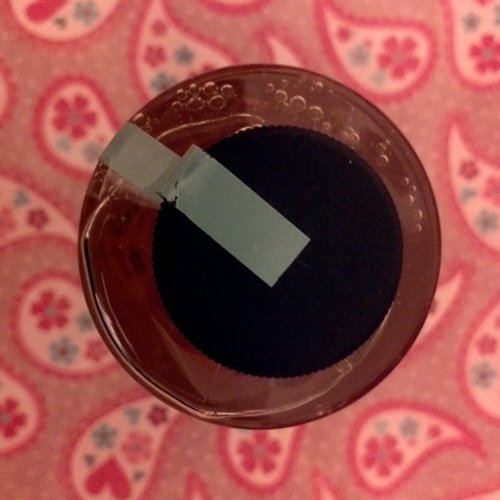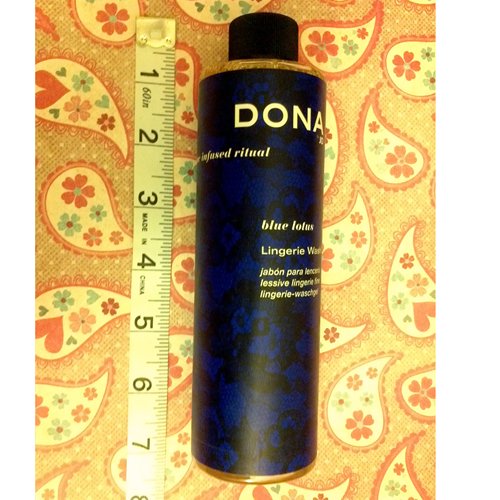 3) Contents: The bottle design highlighted that the product is paraben free, cruelty free, natural, petro deriv free. However, I would characterize it as having about 2/3rd natural ingredients and 1/3rd questionable ingredients. For example, Methylchloroisothiazolinone: I couldn't pronounce it, so I assumed it wasn't good. I did some research and apparently it acts against bacteria, yeast, and fungi (all good things), however, it is used in larger concentrations for glue production, detergents, paints, and fuel. Under these circumstances, I decided I would use way less than the recommended amount which is (1/2 cup in a basin of lukewarm water) especially to prevent skin irritation (these are for my unmentionables!). Additionally, considering the size of the bottle at 1/2 cup, it wouldn't cause the bottle to last very long.
Ingredients:Purified Water (Aqua), Sodium C 14-16 Olefin Sulfonate, Sodium Cocoamphoacetate, Cocamidopropyl Hydroxysultaine, Cocamidopropyl Betaine, Glycerin, Sodium Chloride, Punica Granatum (Pomegranate) Fruit, Lycium Barbarum (Goji) berry, Coffea Arabica (Coffee) Seed, Euterpe Oleracea (Açaí) Fruit, Morinda Citrifolia (Noni) Fruit, Camellia Sinensis (Green Tea) Leaf, Garcinia Mangostana (Mangosteen) Pericarp Extracts, Propanediol, Citric Acid, Benzyl Alcohol, Methylchloroisothiazolinone, Methylisothiazone, Disodium EDTA, Fragrance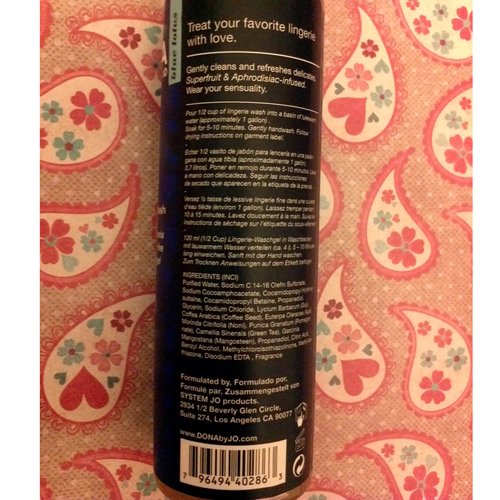 4) Smell: I'm not quite sure what blue lotus is supposed to smell like, but it is pretty close to what I imagine what it would be since I spent a great deal of time crushing flowers for fragrance with my cousin in the garden when I was younger. The fragrance is very light and pleasant, which is huge for me since I have seasonal allergies and would normally immediately sneeze after smelling something that is flower-scented. Feeling behooved to write a good review, I sniffed it for a little while every couple of minutes and lo and behold, no sneezing! This is coming from someone who uses non-scented laundry detergent for these reasons.
5) Properties
Safety features: Phthalates free
Volume: 9.5 fl.oz.
Base: Water
Weight: 1 lb
Special Features: Aphrodisiac (Though I very much enjoy the blue lotus scent for this product, I am not sure I would characterize it as an aphrodisiac. If I used too much it would be overpowering and if you use too little, you would barely smell it. If anything, any effects might be considered placebo-at-best, since you are associating your more risque' items with this product. Later on down the line (depending on how well it works out for you), there may be a case of conditioning, where you come to associate the smell of the product with all things naughty and hence, become more aroused as a result of smelling it. I will let you know in my follow-up review).
Experience
Although this product is advertised as a lingerie wash, if you really enjoy the blue lotus smell like I do and want all your clothes to smell like it, I would recommend the following ONLY if you use a scent free laundry detergent:
Replace about 1/3rd of the amount you would put in for a specific size load with the Dona lingerie wash and make the last 2/3rd detergent. The same goes for concentrated detergents (where you can use less detergent in a load than normal) and voila! That way you are guaranteed to have clean clothes that smell nice. It seems counter-intuitive, but as I said, this scent is so easy on the nose that those of us who are more sensitive can get away with doing this with the blue lotus scent.
Follow-up commentary
2 months after original review
I am still absolutely fond of my Dona Lingerie Wash. Besides using it to wash my lace tights, I also use it to wash my lace shirts and bras. It is so gentle on all of my items, and the scent lingers on my lace items many days after they have been carefully air dried.

Blue lotus is by far a very pleasing, but light scent. If you want your clothes to smell like this, please follow my instructions from my initial review and stock up when you can if you like this product as much as I do!
This content is the opinion of the submitting contributor and is not endorsed by EdenFantasys.com

Thank you for viewing
Dona lace lingerie wash
– toy cleanser review page!