The Mangosteen Experience - Part Five of Five
I liked the way this product cleaned and I liked the fact that my clothes smelled nice. I think I would prefer this in the pomegranate scent now that I've tried that body mist lotion though.

My only complaints are that it has a soapy smell to it and doesn't have the fresh clear notes of the mangosteen scent and it dried my hands out like dish soap would. Of course, that just gave me an excuse to use my mangosteen body lotion!
Published:
Pros:
Cleaned well
Scent stayed fairly strong on air-dried clothes
Cons:
Recommended amount is too high
has a soapy version of the Mangosteen scent
This all started thanks to
Cookie Monster Mike
. He contacted me to ask me for help with a bath and body review because I do a lot of them. As I read his review and how he described the Mangosteen scent, I knew I had to get this line and try it out. I wound up purchasing five items and started this series of reviews.
The DONA line is made up of 20 products, most of which are available in 6 different scents. You can read more about this line, and their 5 step rituals by reading my reviews on the following mangosteen products:
Body Wash
Body Polish
Body Mist Lotion
Linen Spray
.
The lingerie wash is part of the second ritual which is to 'cleanse' - in this case, cleansing your lingerie.
Unfortunately, Eden Fantasys will not let me use the extended template with this product, so I am going to try to get everything into this limited space.
Fragrance
I want to start out by talking about the mangosteen fragrance. We all smell fragrances differently, what one person may smell as a tropical delight may cause cause another person to pick up on the musky undertones and declare it to smell like a dead skunk in the road. So while I am sharing my interpretation of the scent, please understand that yours may be far different.
To me, mangosteen smells like a sweet melon scent. Yesterday I also received Camu Camu and Pomegranate (but not in the lingerie wash) and the Pomegranate helped me to realize just how much the mangosteen smells like a melon. (To me, the pomegranate smells even sweeter - like melons and berries).
However, each product in the line is going to carry the fragrance differently. The body wash and lingerie wash have an added soapy smell to them. It isn't a "chemical" smell but you can tell that it is a soap product. For scent, these are the least favorite of mine.
I feel like the body mist lotion and the linen spray offer the clearest tones in the line with the body polish a close runner-up.
Performance
I tested this lingerie wash with 10 pairs of underwear from Walmart, Cato's and Eden Fantasys. There was a mixture of cotton, nylon, etc. in the materials. Five pairs were tossed in the dryer after drying and the other five pairs were air-dried.
Since I'm short on space, I decided to do a lot of this review with pictures.
First of all, the bottle recommends using 1/2 cup per gallon of water. You should then soak each item for 5 minutes and then handwash.
I figured out the measurements and choose to do 1 tablespoon in 2 cups of water. The water was warm, but not hot. I poured the water in the bowl first and then added the lingerie wash.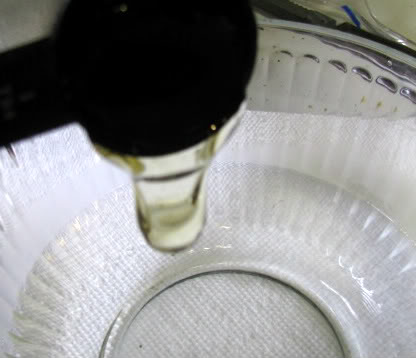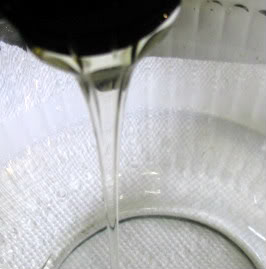 The wash pooled at the bottom of the bowl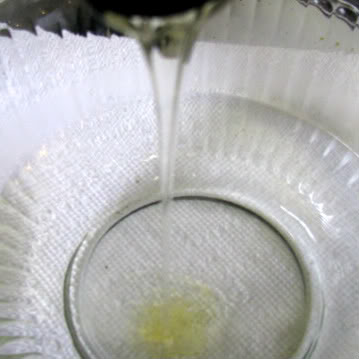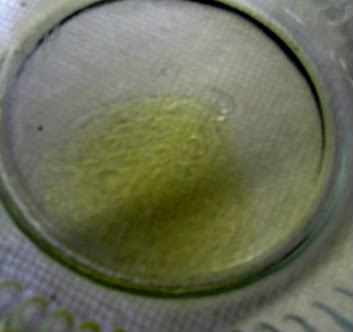 I put the spoon in the water to get the last of the wash off and to stir up some bubbles.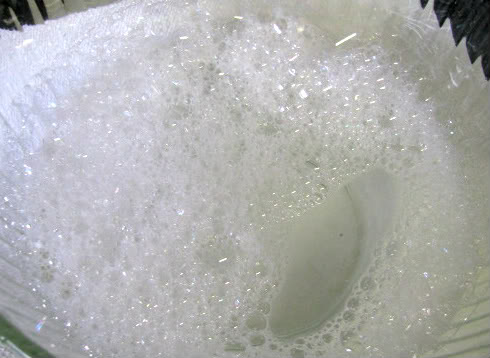 Then I put my hand in and stirred up the soap and water to mix it by stirring up the wash pooled at the bottom of the bowl.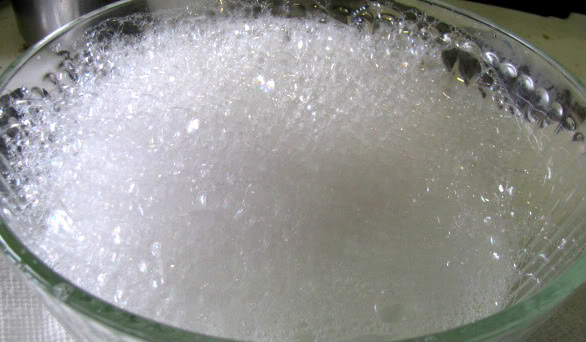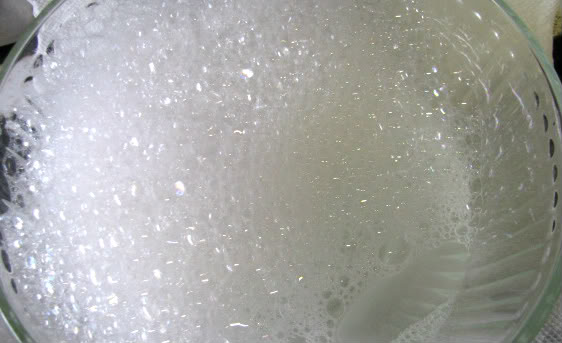 Because I had so many items to wash, I did not let them sit for 5 minutes each. I let them sit for approx. 2 minutes each and then washed them and rinsed them separately.
Unfortunately, I accidentally washed a brand new pair of red underwear that I forgot I had not washed before (I think my husband put it in with my underwear, not realizing I wash them first).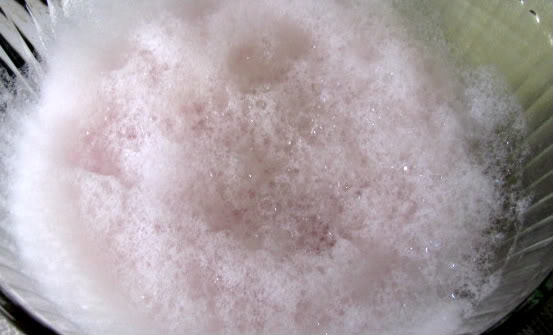 I was a bit worried, but continued washing my lingerie and NOTHING STAINED FROM THE RED - not even the creme lace on a black pair of underwear.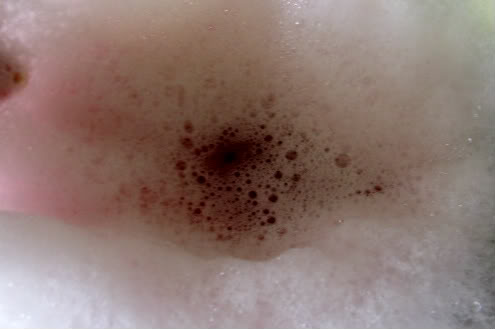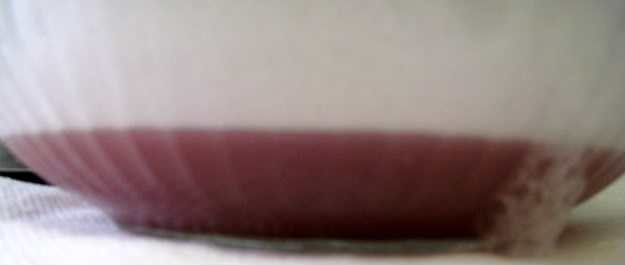 How everything turned out
I put 5 pairs of underwear in the dryer and let 5 pairs air dry. The 5 pairs that went in the dryer, did not have as strong of a scent when they were done as the 5 pairs that air-dried. In addition, the pairs that had some spandex in them, seemed to retain the scent a
tiny
bit better than the other pairs. The difference probably would not have been noticeable if I wasn't sticking my nose in each pair of underwear to smell it.
Experience
Something strange that happened
when I was using this product yesterday afternoon, we had our doors open in the front and back. My daughter's desk is by the front door and shortly after I started using this, she started complaining about a bleach smell or strong chemical smell. I had her come over to where I was working with the product and she said that she could smell the product but that wasn't quite what she was smelling at her desk.
My husband walked in from outside and I asked him about the odor. He could not smell it until he got near this and said it smelled like soap and fruit and he didn't smell any bleach or chemicals. I never smelled it either.
What we suspect is that there was something outside that someone was using and that came in through the open door and that is what my daughter smelled. She was about 8' from the open door and 15' or more from what I was using.
Later on, when I was walking outside, I too felt like I smelled something strong.
I'm sharing this because while I
do not think
it was the lingerie wash, and none of the other reviewers have mentioned it at all, it is
possible
that it was. I doubt it, but for the sake of integrity, felt I should share this experience.
Closing Thoughts
This product does a good job of cleaning lingerie. It has the mangosteen scent partly but a strong soapy scent too. Still yet, I did not smell a chemical scent.
It did leave my hands feeling dry, much like using dish detergent does. Of course, I was able to use my body lotion to help with that, but it might be good to know about that if you have sensitive hands.
I don't think you need to use as much as they recommend to wash your lingerie. If you did follow their instructions, you would only get 2 uses from the jar.
A note for Cookie Monster Mike
I have thanked CMM for introducing me to the DONA line even though I now want about 100 products or so. However, I am also issuing a warning here - if he gets me hooked on
another
line of bath and body products, then I've threatened to drive up to his place, bomb it with my favorite non-DONA scent that he swears smells like dead skunk, and then rush back home, spraying DONA and non-DONA products behind me all the way to throw off the scent hounds.
In other words - I can't fit much more in my house.
Closing with my dream bahtroom
In part one of this review series, I showed my current bathroom setup thanks to having to go out and buy a shelving unit now that I was getting DONA products. Here it is again.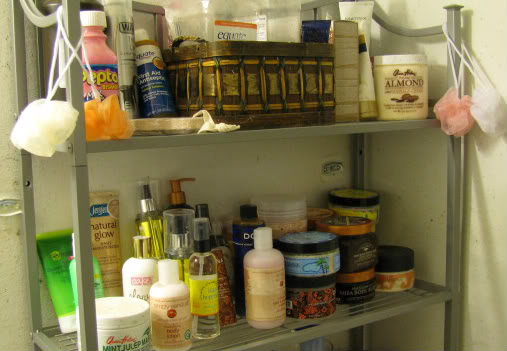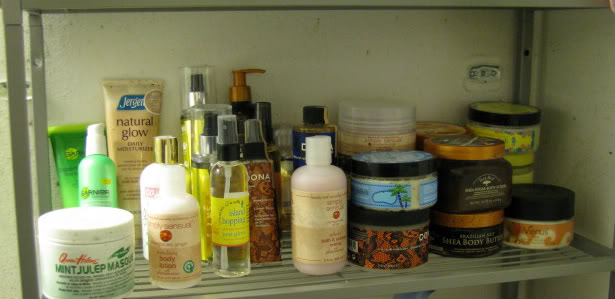 However, I've discovered my new DREAM bathroom would look like this: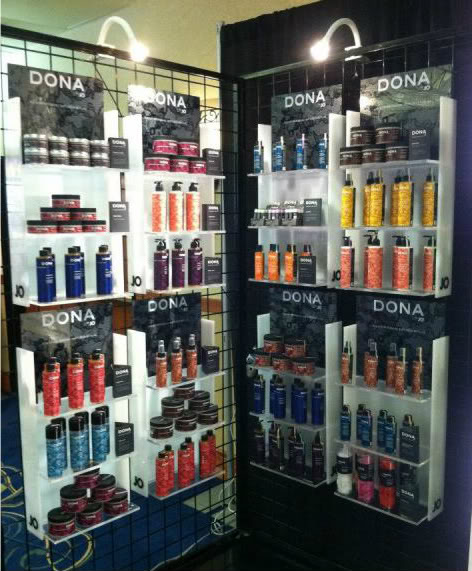 You can find out more about DONA at their
Facebook page
and see more photos of the products by visiting their
photo albums
.
(Photo used with DONA's permission)
This content is the opinion of the submitting contributor and is not endorsed by EdenFantasys.com

Thank you for viewing
Dona lace lingerie wash
– toy cleanser review page!