I just wanna shove my face in it!
Somebody up in Canada knew what they were doing when they decided to cross-breed a raspberry tart with a white Smartie. This is hands down the best scent I have ever had the luxury of rubbing all over my naked body, and when you combine a breath-taking scent with superb ingredients, you end up with an out-of-this-world product that will leave even the worst skin feeling wonderful all day long.
Published:
Pros:
Great scent.
All-day Moisturizing.
Paraben free.
Travel-friendly.
Cons:
Expensive.
No free refills.
So right now as I write this review, I have my face shoved about two inches away from the jar of CAKE, and it's causing my nose to have multiple orgasms. I actually am half tempted to not finish this review right now so that I can go take ANOTHER bath, because the first shower I had didn't leave me quite CAKE-ed out enough.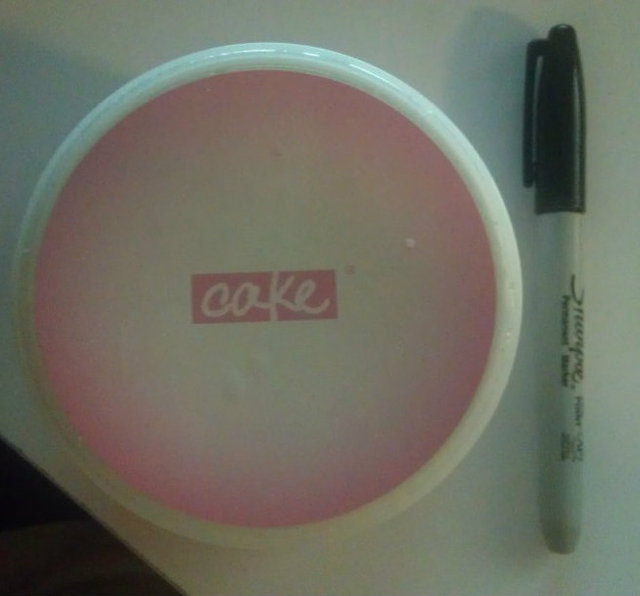 The container that my nose-orgasm came in is a tub, with a clear-twist cap and a white bottom, with a white and pink label. The label has everything written in both English and french, as this is produced in Canada. The front talks about what it is, how to use it, and what they put in it and what they leave out. The back of the jar has the ingredient list and their marketing information. The top of the lid has a pink sticker on top that says "cake" in their logo in the center, in a pink rectangle. My lid actually looked like it had been clawed to crap by something, but that didn't prevent me from tearing into it just as quickly.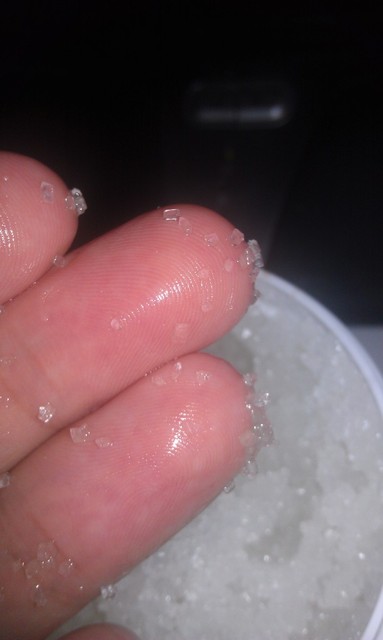 When you untwist the lid, you initially have to peel off a safety layer of plastic/cardboard/whatever that protects it from sloughing around or leaking in the container. After that, it's pure nose bliss. Cake Milk Made Sugar Body Scrub is like a white Smartie candy and a raspberry tart had a love child together. The immediate scent is sugary and candy-like. Not vanilla, but not just straight sugar, either. After you get past the sweet candy scent of it, there's undertones of raspberries, and almost a brandy scent. It's a rich, sweet cacophony that really comes together wonderfully. Taste wise, it's actually not that bad. These are genuine sugar crystals inside of here, so if you were to put one in your mouth (like I just did - anything for a good, thorough review!), it actually tastes sweet. There is a little bit of a oily feel to it, and it's sort of like licking lotion -- but hey, you can't be picky, it's not for your mouth!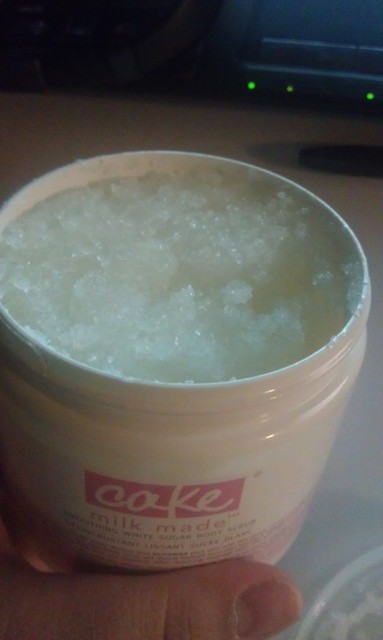 Now comes the good part. As if the amazing Raspberry-White-Smartie-Love-Child scent weren't enough, you get to actually PUT THIS ON YOUR SKIN. I know, right? So I got in my nice steamy shower, because I like it so hot it almost burns off my flesh, and immediately grabbed a quarter size. I slathered it all over my arms until it dissolved into my skin, and then kept rubbing just for good measure. Then I slathered up my chest and torso, shoulders, and worked my way down my thighs to my calves, and finally my feet. I used maybe 1/20th of a jar and covered my entire body from head to toe. It took a few quarter sized re-applications to do this, but I am not at all worried that this was wasteful. The sugar granules take a bit to fully melt into your skin, but it's definitely a product that you want to take your time with and enjoy. Scrub-a-dub-dub until there are no grains left - it'll help slough off the dead skin, and moisturize you. Even before I rinsed my body off, I could already tell this was a quality product that I was dealing with. The sugar scrub left my skin feeling oily, but not a bad oily -- it's the oily feeling you'd have after an amazing massage, that leaves your skin so soaked with moisturizing products, that it feels heavier and saturated to the core. Not the oily that makes you want to scrub it off with soap, but the oily that makes you want to run your hands along it just to feel it, because it's so soft and luxurious. I actually was sad to have to rinse myself off.
Once I dried myself off, I expected that wonderfully moisturized feeling to be gone -- but it wasn't! In fact, it's been over 8 hours since I took a shower earlier this afternoon, and I STILL have silky-smooth arms. The oily feeling is gone, but the moisturized-to-the-core feeling is still there, and I haven't put a drop of lotion in my skin in over 48 hours, just to test the quality of this product, so I know it's 100% CAKE's fault that I feel so delicious. Sadly, the scent only lingered for 3 or 4 hours until I couldn't smell it anymore, but this is a scrub, not a lotion or a perfume, so even getting 3 or 4 hours of scent out of this product is pretty amazing.
Experience
I'm actually very sad to have to screw the lid back on the jar so that I can get the ingredient list for you guys, since it'll end my nose-gasm.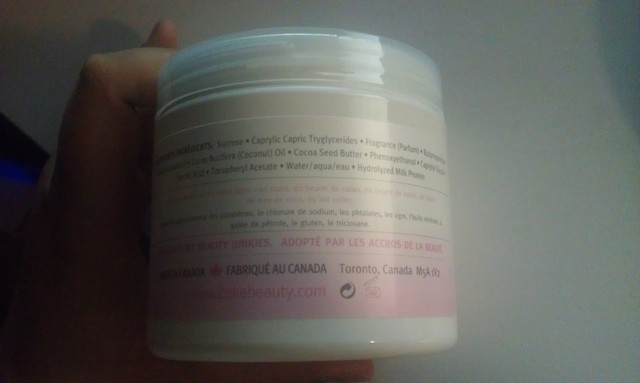 Ingredients:
Sucrose, Caprylic Capric Tryglycerides, Fragrance (Parfum), Butyrospermum Parkii (shea butter) Cocos Nucifera (coconut) Oil, Cocoa Seed Butter, Phenoxyethanol. Caprylyl Glycol, Sorbic Acid, Tocopheryl Acetate, Water/aqua/eau, Hydrolyzed Milk Protein.
Paraben, Sodium Chloride, Phthalate, GMO, Mineral Oil, Petrolatum, Gluten, and Triclosan FREE.
This product was provided at a discounted price in exchange for an unbiased review. This review is in compliance with the FTC guidelines.

Forum
| Discussion | Posts | Last Update |
| --- | --- | --- |
| cake | 11 | |
Thank you for viewing
Milk made smoothing white sugar scrub
review page!