I'm a greedy little bitch and I want more!!!!
Note: I bought both the Enchanted Amber and Amber Rose Botanical Body Spray
EA: If you like long lasting- almost Dior like scents, but want an all natural body spray? This is something you might want to add to your scent collection. I think it is better as an evening spray as I feel it is more classy. The Amber Rose is a sweet earthy fragrance and not as long lasting.
Published:
Pros:
EA: Long lasting, highly fragrant, elegant and sophisticated scent, all natural
Cons:
You cannot bathe in it. It initially reminds me of mosquito repellent but thankfully, changes!
As stated in the intro... I love this stuff.
But before I get too far... let's deal with the fine points first.
Bottle: As I mentioned before in the
Sensuous Beauty Facial Moisturiser Review
, to protect your essential oils and to protect you from chemicals that could be leached from a plastic bottle, the good products will be in amber glass bottles. The colour will help to protect your oils from the UV rays and filter out the blue light as well.
Size: 4floz
Dispenser: Pump to air spray sort of thing. You know like a regular body mister/spray or a perfume spray? This is the same way it dispenses. It sprays a decent amount (I use two pumps in my hair and one on my body), more than enough.
Scent:
Enchanted Amber: According to the web site; Enchanted Amber is warm and exotic, with hints of chocolate and orange. However; I disagree. STRONGLY disagree. For some reason, once the initial bugish spray is gone (approx 15ish seconds) I am left with the impression of Christian Dior's Hypnotic Poison. And that lasts the whole day long. Even till the next day... till I wash my hair. I am reminded of Dior's base notes of: Jacarander Wood, Vanilla, Musk. Even though these are not in the ingredient list: distilled water, brandy and a sensuous Enchanted Amber blend of essential oils and resins. I find this scent to be highly erotic, and a huge turn on. When I have worn it out, the scent does turn heads, and brings people in closer. The only time I have ever had so many people intrigued by a scent is when I have worn Hypnotic by Dior or Obsession by Kelvin Klein. But in any case, it is a very feminine scent, highly erotic, very elegant.
Amber Rose: I am torn on this scent. I find it very woodsy, earthy with a note of sweetness and a slight note of spice. I do have to say, that as much as I love the Enchanted Amber scent, this one intrigues me as I know I know this scent, but it eludes me as to where I have smelled it before. In some ways, it reminds me of men's cologne, but in the slight sweet notes, it is very feminine. Ingredients: pure imported rose water, brandy, amber, rose otto and pure essential oil of cedarwood. I also find, that Amber Rose does not last quite as long as Enchanted Amber.
NOTE: My body chemistry is so very different from everyone elses, so if you wear it, you might experience a different scent when you wear it. Some who have worn the Amber Rose, find the scent of roses overpowering where I do not smell them at all. Please note, all my body products are natural and homemade, not bought from a store and this will also change how scents smell upon your body.
Use: I like to spray these in my hair, and on my chest. When I let my hair down, the scent wafts down around me. You can also spray on your bedding, or even in your closet for a long lasting clean scent. When I have sprayed my bedding, it lasted from the day I sprayed, till the day I washed them (six days later), and I have received many compliments on the scent of my bedding.
REMINDER: Shake before use. Avoid spraying in your eyes and on your face.
This product was tested on people, not on animals.
Experience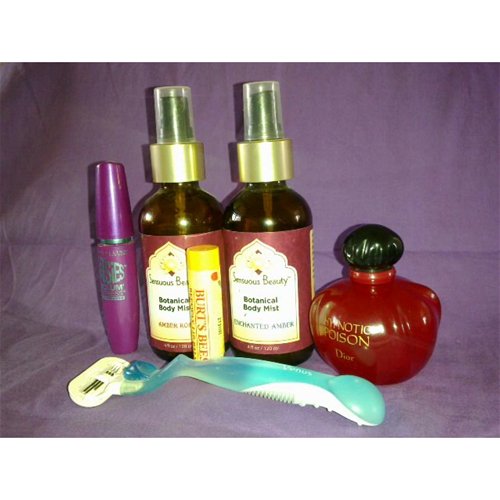 So. Yes. I am a greedy bitch. I. Want. More. Enchanted. Amber. MORE!!!! (insert evil cackle here)
I've been using the Enchanted Amber for about six weeks every day, and I still have about 3/4 of a bottle left. And I cannot stress this enough. It really does turn heads. I've not met someone who has not liked it on me. The man I was seeing a little while ago, he loved it when I sprayed a little between my breasts, he claimed that it was intoxicating. He also said, that he didn't notice a taste, but that he was lost in the scent.
I wish I had ordered more of the Enchanted Amber before it went out of stock. I am hesitant to order any other scent as I have found one that I love, and would be afraid that I would be just wasting my points.
Once I am all out of the body sprays, I plan to clean and sterilise the bottles, and put in my homemade facial toner in there. In case you were wondering... my homemade facial toner is about one cup distilled water, ten drops Lavender Essential Oil, three drops Tea Tree Oil and one drop Cedar Essential Oil.
This product was provided at a discounted price in exchange for an unbiased review. This review is in compliance with the FTC guidelines.

Thank you for viewing
Botanical body mist
review page!