Lovely Pepperminty Lips
For peppermint lovers this lip set will be a welcome addition to a cosmetics box. The sugar scrub is easily the best tasting scrub I have ever tasted and it is very soothing to dry, cracked and irritated lips. The lip balm soothes and eases chapping due to wind and dry weather. It will leave others wondering what yummy little piece of candy you have been sucking on!
Published:
Pros:
Amazing flavor and scent, generous portions, pretty little jars
Cons:
none
The Rescue Me/Sugar Kisses Peppermint Lip Lovely set from Bella Il Fiore is a prime example of why I love Bella products so much. The fragrance off the set of lip balm and sugar scrub is just plain delicious. It is sweet peppermint like a Polo Mint not the harsher peppermint oils that are in some lower quality lip balms. It has a buttery mint smell that I absolutely adore! The taste is slightly waxy but buttery minty and it truly enhances a kiss.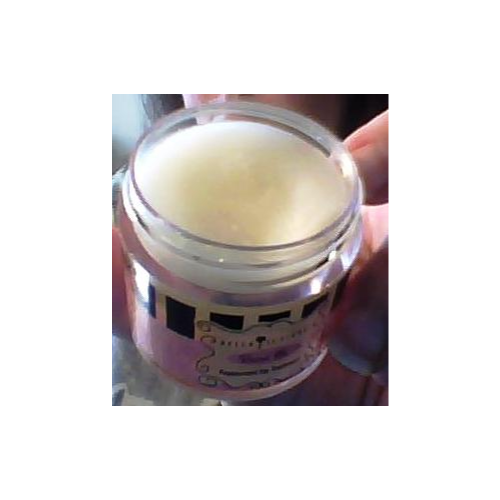 The Rescue Me Lip Balm is a medium weight beeswax based healing treatment that protects the lips from the harsh elements while moisturizing them. The ingredients are ones you can feel good about: Carthamus Tinctarius (Safflower) Seed Oil, Cocos Nucifera (Coconut) Oil, Beeswax, Theebroma Cacoa (Cocoa) Seed Butter, Butyrespermum parki (Shea) Butter, Simmandsia Ehinewsis (Jojoba) Seed Oil, Tocopheryl Acetate (Vitamin E).
The lip treatment has a solid wax base but it melts easily on the fingertips and slides onto the lips easily. The peppermint oil leave a cooling tingle that lets you know you are wearing it and the scent is amazing but subtle. It is like you are sucking on or have just finished a sweet peppermint candy.
The lip balm stays put but will 'kiss off' necessitating another application. You need to reapply just a touch to refresh the remaining balm. It goes on colorless but imparts a lovely subtle shine to the lips or to the top coat of your favorite lipstick. Personally, I like to put this on underneath my more drying lip colors or stains to provide a smooth surface for even coverage and to protect my lips from being dried out.
We have tried it as a oral sex enhancer and Sigel absolutely loved the experience. He felt like it was mild yet a very pleasant cool tingling sensation that left him highly sensitive to heat and cold. He gets a special sparkle in his eyes when I come to bed wearing this balm! It left me with a coolness and a slight tingle when he wore it and then performed oral sex on me, so all in all it was a lovely addition to our sex toy collection.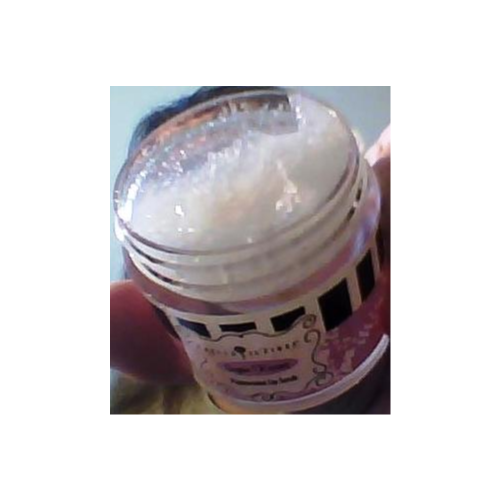 The Sugar Scrub is actually made with real sugar and is very sweet. The base is as thin as Mentholatum rub (but not medicinal smelling) and the sugar grains are easily felt. They do not melt easily and do provide a great scrub to exfoliate dry skin. It has a less waxy/buttery smell to me than the lip balm and has a much more crisp mint taste. This is not a scrub that you will be totally turned off of if you get it into your mouth or your lover wanders up and steals a kiss. I have to fight Sigel off if I am using the stuff at night and he loves it when he has dry lips, himself. It will soften, remove dry peeling skin and leave you with kissable lips. With frequent use it will also lessen tiny little lines giving the appearance of plumpness.
I have not been able to locate any information about the ingredients in this scrub but I have yet to have an allergic reaction after many uses.
As you can see from the pictures, both the balm and the scrub are packaged in generous 1 fl.oz clear plastic jars with black plastic screw top lids. They feature a pink and black label that lists the igredients on the lip balm. The jars come packaged in a lovely pink and black box with a pretty nifty flap. It makes a perfect place to store the duo and looks very pertty and feminine sitting on a make-up tray either in the bathroom or in the bedroom.
The duo should be stored out of direct sunlight to prevent it from melting. They will wash off with soap and water, both the lip balm and the scrub, but the lip balm tends to leave a lingering softness and a bit of sweetness.
Experience
I have rough, dry and easily irritated lips. This wouldn't be so bad if my lips weren't also full and very noticeable so I like to keep them covered in Winter or Summer weather. I hate to let them dry out because when they peel they can peel all the way to bleeding, which is ugly and very painful.
I have always had the best of experiences with Bella Il Fiore products despite their sometimes high price tags, for me the price is worth it. I have never had a Bella product break my skin out or cause the horrible rashes that other products like Mary Kay Cosmetics or Department store varieties can. So when I saw that EF had begun to carry some of the Bella lines I was very happy!
Follow-up commentary
8 months after original review
I have still only used half a jar of each of these lovely products and I recommend them to anyone who will stand still long enough to listen! Seriously, this is an amazing set of treatment/lip scrub.
This content is the opinion of the submitting contributor and is not endorsed by EdenFantasys.com

Thank you for viewing
Lip lovely set
– lip balm review page!