Sweet Kisses
While this set isn't something that I'll use on a regular basis, it's not a purchase that I regret, either. The packaging is great for a gift, but for the price you can find much higher quality sets elsewhere. Still, it's fun to use.
Published:
Pros:
Nicely packaged and makes a cute gift, strawberry scent is ok.
Cons:
Not the best quality.
This cute little lip set from Bella Il Fiore makes a really cute gift, or just a fun purchase when you're in the mood for some pampering. It's great during those months when the change in seasons have left your lips a little dull and bleh!
The packaging is possibly my favorite part of this set. There are two products (a scrub and a balm), and they arrive together in a little thin cardboard box, decorated with pale pink and white stripes and black trim. The box is VERY cute, I loved the presentation! The lip scrub and balm each come in a little pot, which is similar in size to a golf ball. (Not the best reference item, I know!) The plastic pots aren't amazing quality or anything, but they're nice. They're clear, so you can easily see how much product you have left, but are decorated with pink and black embellishments to keep them from being too plain. The lids are plain black, and are easy to screw on and off. They seal pretty tightly, but if you're traveling, it might be a good idea to pop these into a zip-lock baggie, just in case anything were to melt and leak.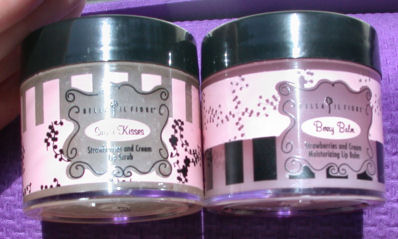 As far as texture goes, I wasn't as impressed as I could have been with either product. The scrub definitely feels sugary in texture, but it's a little thin for me. If I'm exfoliating, I like a pretty grainy texture. The granules are nice and fine, though, so you aren't crunching big chunks against your lips. The texture of the balm is kind of mediocre. It feels ok on the lips, and stays on quite well, but it's a little too tacky in texture for me, and just doesn't feel luxurious. The quality of both of the products is nice, just not exceptional.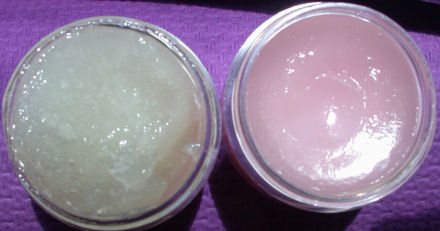 Scrub on left, balm on right.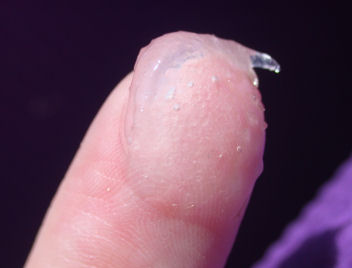 Sugar Scrub
The jars each have ingredients listed on them, but there are no instructions or other info. Thankfully, everything is pretty simple to use. I'd suggest lightly wetting your lips before applying the scrub, and then gently rubbing a very small amount on, with a mix of circular and back-and-forth motions, for around 20-30 seconds. You want to work with it enough to remove all dead skin, but not so much that you leave your lips raw! The balm can be used as a follow-up to the scrub, or just on its own for everyday use.
This set comes in both strawberry and peppermint. I actually ordered the peppermint on accident at first, despite detesting minty smells/tastes, so I just gave that one away and reordered. Learn from my mistake and be sure to click the right one, though! The strawberry scents are pleasant enough, but a little too artificial for my tastes. The scent of the scrub is quite strong, but the balm's scent is more subtle. I tend to be really sensitive to smells, but neither of these made me sneeze- yay!
The ingredients in the scrub are: Sucrose (sugar), flavor (kinda vague), helianthus annuus (sunflower seed) oil, coconut oil, and petroleum base. The ingredients in the balm are: hydrogenated polybutanes, petroleum, beeswax, isopropyl palmitate, flavor, shea butter, cocoa seed butter, vitamins A and E, and red 6. While it's nice to see a few natural ingredients in there, and I like that the ingredient lists aren't a mile long, it would be nice if they'd found alternatives to the less natural ingredients like the petroleum. I was a little frustrated that given how tiny the ingredients were printed and the background they were on, they were pretty hard to read, even with perfect vision.
Each jar is 1 fl. oz, and since you only use a dab with each application, they should last a long time. Overall, this isn't a set that I'd use on a daily basis, but it's a fun little thing to pull out every now and then. If you're looking for exceptional quality, this isn't it. (I highly suggest the Satin Lips set from Mary Kay for a similar 2 step process that's way more effective!) But if you're looking for a cute novelty item that makes a nice gift, this is a pretty okay buy.
This product was provided at a discounted price in exchange for an unbiased review. This review is in compliance with the FTC guidelines.

Thank you for viewing
Lip lovely set
– lip balm review page!