Mangosteen? More like Polystyrene!
I'm not usually a fan of bath salts and I'm even less of a fan now. Other scents in this range might be better than this one, but my attempts at relaxing with Dona's Mangosteen Bath Salts have proved to be disappointing.
Published:
Pros:
Nice packaging, recyclable container, dissolves quickly
Cons:
Mangosteen has cheap plastic/chemical scent
My hubby and I have a bit of a reverse dynamic when it comes to bathtime - he generally likes a long soak in the bath where I prefer a fast, no frills shower. But when I came across the Dona line, I read some of the great reviews of their bodycare products and decided to try these bath salts. That in itself was my first mistake. If I'm not big on relaxing baths, how would I go about enjoying a soak with nothing more than bath salts added? I can see the attraction in bubble baths or lotions but have never had much luck relaxing with salts.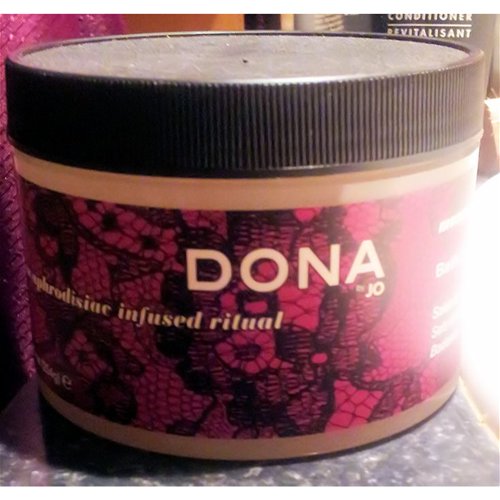 Determined to change that, I spent a few days poring (or should that be 'pouring'?) over reviews, flitting from bath foam to salts to milks and back to salts again. I eventually decided to order the Dona Bath Salts and chose Mangosteen. Another big mistake. I'd never had a Mangosteen anything before and was frankly disappointed with this. It's a reasonable-sized, recyclable jar, holding 9oz of salts. The packaging is nice and simple, although not 100% discreet since the label states that these are 'aphrodisiac infused'. Whether they actually ARE or not is anyone's guess. I certainly don't feel any sexier and haven't noticed any sort of magic tingling sensations over my still-damp skin.
The salts themselves are larger than other bath salts we've tried. Other reviews I've read suggest that the size of the salts does indeed vary from scent to scent, and I thought that might stop these from dissolving properly, but thankfully that wasn't the case, even though it's suggested that you add a generous amount. There's no scoop or spoon included, so I just shook a fair amount into my bath. Not very accurate but still generous.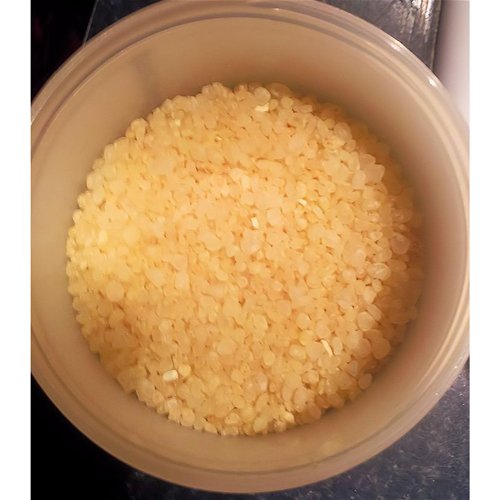 The ingredients are listed as the following:
Sodium Chloride, Magnesium Sulfate, Silica, Maltodextrin, Sodium Hyaluronate, Beta Glucan, Panthenol, Hydrolyzed Vegetable Protein, Allantoin, Aloe Barbadensis, Vitis Vinifera (Grape) Oil, Laminaria Digitata (Algae) Extract, Euterpe Oleracea (Açaí) Fruit Powder, Fragrance
Notice above that one of the ingredients is 'Fruit Powder'. I don't know whether that's from actual Mangosteen, but if it is you should be aware of the following information, which came from the
Livestrong
website:
"Mangosteen contains antioxidant substances and could interfere with some chemotherapy medication and radiation treatments, notes MSKCC. If you have cancer, consult your physician before adding mangosteen supplements to your regimen"
Since these are relatively inexpensive, I think I'll just write them off as a bad experience but definitely won't be ordering any more of them. I might try other products in the line, but the Dona Bath Salts are well and truly off any shopping or gift lists now.
Experience
I adore a Mango scent, and although I knew this would be different and that the only thing it has in common with Mangosteen is the first part of the name, I've got to say that I was disappointed to say the least. When I first opened the jar I was hoping to be greeted with some sort of heavenly tropical aroma, but was instead met with a blast of something I'd expect to find in the drywall section of Home Depot. That's actually no exaggeration - this stuff smells like a cross between a chemical toilet and sickly sweet cheap candy. Just to make sure it wasn't me, I asked my hubby's opinion. I won't repeat what he actually said, but suffice to say it was a string of words that would make Quentin Tarantino blush. The smell (I can't really call it a scent, it's just a smell) diffused when I added it to the running bath water, but it really didn't make it any more pleasant. In fact it just became a watered-down version of 'the smell'. To be honest, it wasn't so bad that I had to hold my breath whilst bathing, but it was just bearable rather than pleasant. I don't know whether I just don't agree with Mangosteen or the Dona Bath Salts themselves, although I've tried these on two separate occasions now and had the same results each time. I've still got half a jar left after two baths but will probably just throw the rest away.

I didn't notice any of the effects that these Bath Salts are supposed to offer - no aforementioned aphrodisiac qualities, no softening of the skin, no 'nurturing' of my body, although in its defense my senses WERE aroused - if aroused is the right word. Still, there was no slippery residue on either my skin or my tub during or after my soak which is something. Another thing worth noting is that I've got fairly sensitive skin and didn't notice any problems with this at all, despite the artificial & chemical smell.
Follow-up commentary
3 months after original review
I tried going back to these salts on several occasions but if anything I feel even more strongly about them than I did when I wrote this review. I ran one more bath with them and also tried just smelling them from time to time when I'd almost put them out of mind, but each time all they've really done is made me wrinkle my nose up. I don't know if it's my imagination but this particular scent really puts me in mind of damp drywall in a flooded basement (I'm nothing if not descriptive!)

Since buying these I've tried bath & beauty products from Cake, Venus and Not Soap Radio and haven't had a single bad experience. I even tried to offer these Dona bath salts to a friend - I didn't tell her what I thought of them, I just asked her whether she'd like some bath salts that I had lying around. She smelled them and asked why on earth I'd bought them in the first place. At least I know I'm not the only one!
This content is the opinion of the submitting contributor and is not endorsed by EdenFantasys.com

Thank you for viewing
Dona bath salts
review page!