Sad Salt Soak
If you're looking to overpay for a nice bath, this product is for you! Dona didn't try hard to give us a fair deal on these, and the product itself doesn't have an expensive spa quality to even recommend it. Mixed with Dona's Bath Milk, you can have a pretty nice bathing experience... if you're willing to pay.
Published:
Pros:
-Nice Scent
-Quick Dissolve
Cons:
-Too expensive versus quantity.
-Doesn't appear to be real sea salt.
I bought this item because after my disappointing experience with Dona's Bath Milk, I was curious to experiment and see if these two products would be better mixed together. To not keep you in suspense (especially if you read my milk bath review first), YES, they make a wonderful bath mixed together! However, Dona should have made these mixed originally. A typical milk bath INCLUDES sea salt. Buying these both and mixing them will give you a great bath, but not at a good cost. I'll explain this more later after telling you about just the salts.
First Look
I purchased this in Acai. Acai has recently become popular for health benefits when ingested, but I've never heard of it being known for it's scent. As a grape-like berry, I expected this to be a sweeter scent. Upon opening the container, you are definitely hit with a strong sweet scent! It's overwhelming, so I wouldn't suggest you put your face too close to the container.
The container itself arrives in no special packaging. It's a nice thick plastic jar with a screw on lid that closes tight enough that I would feel safe putting it in a travel bag. The labeling is a colorful sticker wrapped around the middle of the jar. I really like this label because it peels off with no mess, allowing you to reuse the jar. At the price of this, you better get more use out of it.
Size
: 8oz (228.8g)
Directions
: Add generously under running water into bath tub.
Ingredients
: Sodium Chloride, Magnesium Sulfate, Silica, Maltodextrin, Sodium Hyaluronate, Beta Glucan, Panthenol, Hydrolyzed Vegetable Protein, Allantoin, Aloe Barbadensis, Vitis Vinifera (Grape) Oil, Laminaria Digitata (Algae) Extract, Euterpe Oleracea (Acai) Fruit Powder, Fragrance
This product also says it's Natural, Paraban Free, and Cruelty Free.
The salts don't say they are sea salts, and I think these might me factory grown salts. Not a good thing to do when you want to charge what they are charging, in my opinion. Each rock is about the size of a pebble. The salt looks like it was mixed in a peach colored powder, although I didn't have a problem with dusting.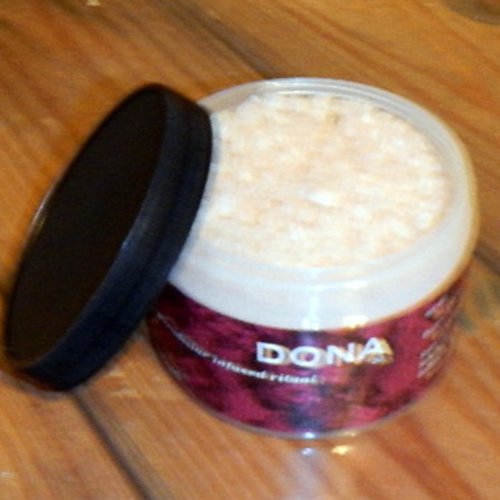 Using
If you have a small bath tub, you can get away with 1/6 of the container per bath. It won't give you a nice after bath feeling, but you will get enough scent for at least a pleasant bath. Just sprinkle the jar under the running water or take a handful and throw in. These dissolve pretty quickly in hot water, probably within a couple minutes. Perhaps I should have timed it for you guys, but it was all dissolved by the time I was ready to get in. However, I did find a hard black piece that looked like an actual rock. It wasn't enjoyable pulling it out of me...
In order to have a nicer bath, I added 1/4 of the jar to the tub. It took this much to get a nicer aroma throughout the bathroom as well as a softening affect on my skin. The scent didn't linger on my skin afterwards either, so this is nice if you use an after bath lotion.
In the picture below, you can see the salt dissolving already on the left where it was just put in.
Experience
Using this alone, the salts are nice enough and very fragrant, but you are being overcharged for what they are offering. For 1/4 of the price you can buy some coarse sea salt and mix it with your own fragrant oil for the same effect, if not better if you buy real sea salt. Mixed with their Bath Milk, you are getting an even nicer effect and a nice bathing experience. However, you need to use at LEAST 1/5 of each jar to obtain desirable bathing water. When you add up the price versus quantity, it's hard not to feel like you got severely ripped off.

If you have no desire to mix your own baths, this product is still too expensive to bother with. You may still want to try it for yourself but I wouldn't recommend it. If you're in the market for a quick and easy gift, this could do, but I hope you get this discounted!

This is my 4th purchase in the Dona line and so far only 1 has been a good experience. I wish I could say I've learned my lesson, but I'm easily distracted by shiny things. I'm hoping the company will realize their mistake and at least make the containers bigger. I have no idea what they think they are spending on making this, but it can't be anywhere near the cost versus price calculating they did. Unless they are purposely overcharging that much...
Follow-up commentary
2 months after original review
Although these are decent enough, price versus quantity just doesn't add up. They feel really nice paired with Dona's Bath Milk, but you're only doubling the amount per bath by doing this. Overall, I would only purchase these again if they were on sale and I didn't feel like running up to the local store for their brand of salts.
This content is the opinion of the submitting contributor and is not endorsed by EdenFantasys.com

Thank you for viewing
Dona bath salts
review page!