Mangosteen- New and Very Unusual
Reasonably priced and beautifully scented this is a bath salt that will look amazing sitting in your bathroom. It's mild formula can be customized to to suit your own personal preferences.
Published:
Pros:
Great scent, mild formula, cruelty free
Cons:
Scent fades quickly
Like many people the first thing I thought when I saw the exotic names of the DONA product line I wondered what the hell a Mangosteen was. After a bit of internet searching I found the answer: Mangosteen is more commonly known as 'Monkey Fruit'. Though the name is similar to the mango, the mangosteen is not even closely related. The mangosteen fruit grown on an evergreen tree in the tropics and the fruit is rarely imported to the United States. The fruit is about the size of a tennis ball and has segmented flesh that is soft, cream-colored and tastes a bit like a cross between a pear and a strawberry. The dark purplish-brown rind is sometimes used as a spice and it is considered an aphrodisiac.
It is rare in the US due to concerns about the asian fruit fly possibly being imported as well and damaging our own fruit crops.

Wow! So here we have a product that uses mangosteen extracts. It should be noted that the names of the scents in this line do not reflect the actual scent of the product. Rather, the names reflect the particular aphrodisiac infused into the product. The scents in this product line are complex and very hard to describe!
The Mangosteen fragrance is tart and citrusy rounded out with an after taste of sweet spice. It lingers in the nasal passages and in the back of the throat in a pleasant manner but doesn't overwhelm the palate. There's also a flat tone to the fragrance that actually reminds me of fresh cut peaches or apricots that have been left on the tree and cut after a day of sun soaking. Like I said it is a complex scent that offers something different each time I take a whiff.
The scent is light, refreshing and not cloying. It will not excite allergies in sensitive sinuses as the amount used in a tub of water provides a much lighter and sweeter fragrance. While I didn't notice any increase in my desire for sex I did notice that I felt more mellow and ready to entertain the idea of sex, if that makes sense.

The ingredients in this bath salt mixture are pretty straight forward: Sodium Chloride, Magnesium Sulfate, Silica, Maltodextrin, Sodium Hyaluronate, Beta Glucan, Panthenol, Hydrolyzed Vegetable Protein, Allantoin, Aloe Barbadensis, Vitis Vinifera (Grape) Oil, Laminaria Digitata (Algae) Extract, Garcinia Mangostana (purple mangosteen) fruit powder, fragrance. This is an all natural, paraben free, petrochemical derivitives free, phthalates free, triclosan free and cruelty free product.

It arrives in a short plastic jar with a black plastic lid all of which is, presumably, recyclable. The paper label is fuchsia with a black lace overlay and white writing. There are several languages represented on the label. You get a generous 9 ounces of product and I found that about two tablespoons was perfect for my skin and nose. Sigel uses a bit more but I noticed my kids actually tend to use a bit less.

The idea of the bath salt is to soften the water and soothe the skin. Our water is so hard that we are forced to buy a coffee pot or kettle every year so this is something of a necessity. After a week of bathing we can very quickly develop lizard skin! The problem is, though I LOVE to take baths my lady bits do not like soaking in anything and I can end up with a nasty Bacterial Vaginosis if I indulge too often, especially if I use a product in the water. Normally bath salts are not as irritating and I can tolerate them far longer than I can tolerate oils or milks. Mangosteen Bath Salts are no exception, I can use these salts and have suffered no ill effects.
After a bath my skin felt soft and very, very lightly perfumed. The smell faded very quickly from my skin, which I actually don't mind as most of my after bath products are perfumed. The bathroom, however, smells heavenly for a few hours after one of the family takes a bath. You could audition the scents of this line and when you find one or two that really spark you, buy a few products in that scent and layer them to help hold the scent on your skin. They also mix and match very well so that you could use a bath soak, lathering body wash and body misting lotion in different scents to achieve a totally unique and indescribable scent!
Experience
The salt grains are smooth, well formed and melt evenly. This is one product you will want to keep tightly closed in the bathroom when you aren't using it. I don't have problems with the salt remaining grainy in the water which is an amazing thing given our mineral rich, hard water. There is no residue left after a bath and I noticed that there is less and less limescale as well. Now we don't use this product often enough to stop the weekly scrubbing we have to do every week but it does make it easier which is nice.
I didn't taste the product as some of the ingredients are really not meant to be ingested but after getting some water in my mouth I noticed it had a slightly salty taste but not much more. This product does contain iodine and an MSG-like chemical so it is recommended that this be kept out of the hands of children.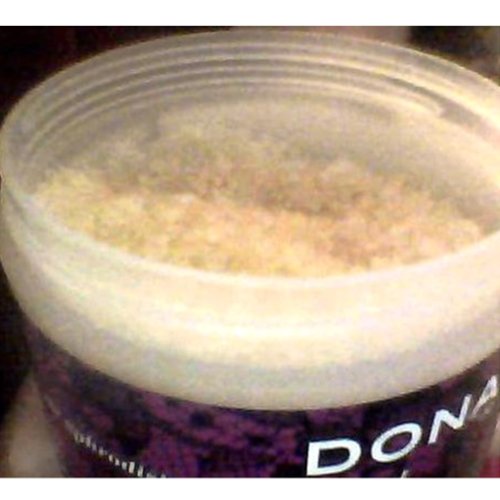 You can see the lovely yellow color of the grains.
Follow-up commentary
10 months after original review
I have found that this product makes me itch in the most uncomfortable places! I cannot take a long soaking bath with this in the water. However, my daughter and husband LOVE it and have bought more. So all in all if you aren't sensitive to salt products this could be just the thing you are looking for!
This product was provided at a discounted price in exchange for an unbiased review. This review is in compliance with the FTC guidelines.

Thank you for viewing
Dona bath salts
review page!