Melt Your Stress Away...
I would definitely recommend picking up a few of these hot hearts! They're not only good for massage but also for headaches, backaches, and cramps. The hot heart gets really hot and the heat feels so soothing! I love that it's reusable and you don't have to reboil it right away if you don't want to. It's a little tedious to boil it but other than that it's awesome! They're useful to keep around the house and would make really nice gifts.
Published:
Pros:
Reusable, Cute, Very Warm, Inexpensive, Pain Relief/Stress Relief!
Cons:
It takes time to reboil it which may be inconvenient at times.
The Hot Heart Massager is a unique little device that melts away stress, tension, aches, and pains. I don't know the scientific process of how it works but it's really fascinating to watch! Bend the small circular metal disc back and forth inside the heart and it'll start to get warmer and warmer. It claims to reach up to 129 degrees F. It's not hot enough to burn the skin but it gets pretty intense with it's soothing heat. Plus you can reuse it again and again! There's so many different uses for the Hot Heart! I love it so much that I'm planning on purchasing more to keep and to give as gifts.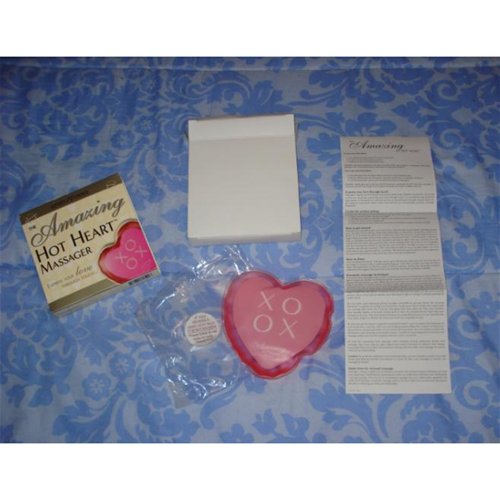 The Hot Heart comes packaged in a white cardboard box that slides out of an outer cardboard box. The outside box says, "Express your love through touch." On the back of the box is a small picture of a woman's back getting massaged by a man using the Hot Heart. The brand name says, "Lover's Choice" and the back says, "Warm eachother's body and mind for an unforgettably romantic massage. There's no nudity on the box (very slight side boob but nothing major) or anything on the outside of the box that describes anything sexual in any way. The instruction sheet inside does make references to "enhance your sexual relationship" and is aimed at romantic couples. If you want to give a heart to a friend or family member I'd give them the heart in the white box by itself or find something else to gift it in.
The Hot Heart comes inside of a sealed plastic bag with a sticker saying, "If you receive a hard heat pack it is not broken! Please follow the re-use steps to reset. Thank you." So even if yours feels as hard as a rock don't worry! The Hot Heart was made to be reheated and restarted over and over again. Mine arrived perfectly normal. The heart is made of vinyl plastic and is filled with a light pink gel. The front of the heart has a solid cotton candy pink heart with white letters. Printed right onto the back of the heart are the instructions on how to use and reuse as well as some warnings.
In the box there's a long sheet of intructions and massage tips. I love it because even though it's simple it's fun to read and definitely helps to get you motivated. It tells you things like how to set the mood, how to give a great massage with or without massage oil, and the benefits of sensual massage in a relationshop. The back says the same thing in French.
To Use:
To get the heart started find the little disc inside and bend it back and forth a few times. You'll noticed that the pink gel will start to turn opaque, feel firm, and start to heat up. Knead the heart gently. You can use it immediately and the heat will increase quickly and last for about 40-45 minutes before starting to cool down again. You can place the heart in a thin towel to keep it warmer longer.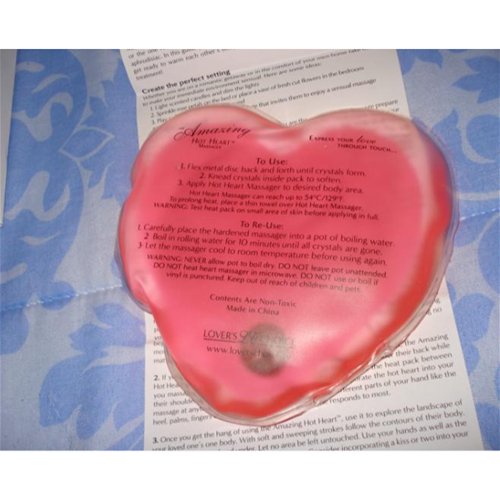 To Reuse:
You don't have to boil the heart right away after you've used it. You can let it sit out for days as hard as a rock before reboiling it again. It'll go back to normal if you give it enough time to boil. The directions say to boil it for 10 minutes. I personally don't find that to be long enough. If you don't boil it long enough and the crystals are still floating around it'll get hard again later and you'll have to boil it again. I boil mine for 15-20 minutes. What you do is place a wash cloth inside of a pot of water. Place the heart inside making sure it doesn't come into direct contact with the sides of the pot. Then put the pot on the stove and turn the heat on high. When it finally comes to a boil set a timer for 20 minutes making sure to keep an eye on it. The wash cloth and the heart will be fine. When the timer beeps I just turn off the stove, move the pot to another burner, and leave it alone. When it's completely cool I'll take the heart out, dry it off, and place it back in the box.
Experience
For Massage!
Use the hot heart by gently gliding it all over your partners body. You can use it through clothes or without depending on how sensitive your partners skin is so always test first. Give your partner a warm soothing back massage or use it all over for a more sensual massage. Add scented massaged oil if you want. Creativity is the limit!

For Stress, Aches, and Pains...
I've used these hot hearts for so many different things besides massage. After I got over a really bad cold the lymphnodes on the left side of my neck were swollen and painful and my sinuses were killing me. I took turns holding the hot heart up to the side of my neck and also on my forehead and cheeks for the full 45 minutes. I can't tell you how much relief this thing gave me! It was a life saver. The curve of the heart shape was perfect for my cheek and behind my ear where the pain was throbbing. I've also used it on my lower abdomen when having menstrual cramps. If I get a headache I'll lay back and place it on my forehead with a towel over it and it helps to make the headache go away. If my back aches I'll sit in my recliner and set the heart behind me where it hurts and just relax. Also, when I'm just cold and feeling miserable or stressed the hot heart just overall makes me feel better.

Contents are non toxic!
I've ordered hot hearts before and sometimes there's little plastic loose strings on the side. Cut them off gently using extreme caution using a pair of nail clippers, do NOT pull them off or you'll rip into the heart. I've never had this happen before but if for any reason there's a hole in your heart (boohoo!) or your dog gets a hold of it and it's leaking all over throw it away. Thankfully the ingredients are non toxic but try to keep it away from kids and pets!

Made in China.

I specifically purchased the XOXO hot heart for Valentine's Day. I'm planning on setting the mood in my bedroom and giving my boyfriend the best massage ever! It'll be really fun. If you're looking for a add on item to go with your Valentine's Day order I'd definitely pick one of these up. It's a great item and worth the price in my opinion. It doesn't have to be Valentine's Day though you can use these anytime anywhere.
This product was provided at a discounted price in exchange for an unbiased review. This review is in compliance with the FTC guidelines.

Thank you for viewing
Hot heart massager XOXO
– warming massager review page!