Time to heat things up a bit!
This amazing hot heart massager is a great edition to any persons massage collection. Whether you've got sore joints, aches and pains, or simply need a nice warm massage after a long day, the Hot heart massager will always do the trick! It feels great on your skin and can be used on any part of your body.
Published:
Pros:
Travel friendly
Heats up quickly
Easy to use
Affordable
Resuable
Cons:
None!
The Amazing Hot Heart Massager by Lover's Choice Inc. is a great, innovative product that is versatile and easy to use. It's great for giving massages to your partner or even for solo use. It fits comfortably in your hand and allows you to give warm, sensual massages that will relax and excite your partner.
Your Heart Massager will come packaged neatly in a small square box with the heart massager on display in the front of it.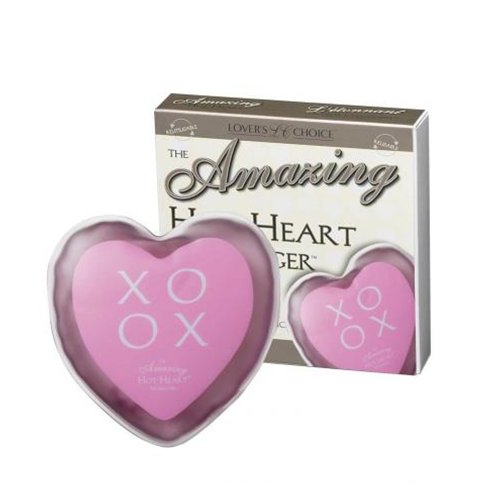 This massager comes complete with a guide that gives great mood setting tips and easy instructions on how to use and reuse this product.
The Hot Heart Massager is simply designed in the shape of a heart with "XOXO" printed in the front of it. It is a lovely shade of pink that is quite girly but can be used by both male and female. Upon holding the heart-shaped massager I noticed how squishey it was. The massager itself is 3" in length and 3" in width so it's not bulky and is easy to travel with and also easy to store. It is made out of pvc and has a slight smell of vinyl to it but the smell is not overwhelming and does not bother me. The liquid within the massager has a round metal disc floating about inside of it. You will see clear instructions printed in the back of the heart massager on how to use and reuse it. The contents inside the massager are non toxic.
To use the Hot Heart Massager you will first need to locate the metal disc inside of it. Once you've found it, grab a hold of it and apply pressure on it with both thumbs and try to flex the disc back and fourth until you see crystals start to form. Here's the really cool part. You will feel the massager start to stiffen a bit as crystals start forming through out the heart massager and you will instantly feel the heat emanating from it. The massager gets quite hot as the liquid starts to turn into crystals and the crystals completely fill the heart massager. You will then need to start kneading the massager so that it gets nice and soft.
I would recommend kneading the Hot Heart Massager for a good 10 minutes before use because it does get really hot and will hurt you if applied to bare skin too quickly.
Do not heat this product in the microwave and discard if vinyl is punctured.
Experience
Upon first use of the Hot Heart massager my husband and I were amazed by how hot this massager gets within just a few seconds of flexing the disc. We thought this product was the coolest(or hottest) thing we've come across in a long time. My husband laid comfortably on the bed as I kneaded the massager for a good 10 minutes. I gently dripped warm massage oil onto his back and ran my hands gently over it to spread the oil. I then grabbed the heart-shaped massager and slowly ran it up and down his back, gently kneading and massaging it. His moans and groans of relaxation made me smile as I massaged him with the Hot Heart Massager. He loved the sensual warmth it brought him as I massaged his tense muscles with it.

Amazingly enough this massager can reach temperatures of up to 129 degrees. Wow! It can stay hot for a good 30-45 minutes if continually used and kneaded every so often to keep it from getting firm. Once the massager is left alone after 30-45 minutes of use it will begin to stiffen and become very hard. Your heart massager will then cool down significantly.

Reusing the heart massager is quite easy. Grab a pot and place it on your stove. Then fill it with water and let the water boil for about 15 minutes. Place your massager inside of the boiling water and let it boil for a good 7-10 minutes or until all the crystals have dissolved. After the crystals have dissolved grab a pair of tongs or even a spoon to take the massager out and place it on a paper towel. Allow it to cool for at least a couple hours before using it again. Unfortunately, after quite a few uses, my silly self left my heart massager in the boiling pot for too long and it punctured a hole in it. I had to then throw it away. So please make sure you time your massager precisely and take it out immediately after time is up. Thankfully, I've already purchased a new Hot Heart Massager!

A great idea came to me one day when I thought back to when I used to breastfeed my daughter. This massager would have came in handy back then! Doctors say warm compresses will help soothe sore breasts after breastfeeding or during engorgement of the breasts. This would be a great product to use for breastfeeding mommies. Slip one of these bad boys in each bra cup and your good to go!

These massagers can also be used as hand warmers during winter. This product has so many purposes!
Follow-up commentary
8 months after original review
Unfortunately, I over boiled my Hot heart massager and it punctured a hole in it. Totally my fault though! I really do love these massagers and I have since bought a couple more. This is a great product with so many uses and well worth the money. Still highly recommend these!
This product was provided at a discounted price in exchange for an unbiased review. This review is in compliance with the FTC guidelines.

Thank you for viewing
Hot heart massager XOXO
– warming massager review page!