Mirror, Mirror, on my shower wall....
This mirror is an excellent addition to anyone's bathroom! It's easy to use and has a variety of uses! Whether you're using it the shower to help shave your intimate areas and the back of your legs, or outside of the shower to help shave your face, pluck your eyebrows, or apply make up, this is an awesome piece to have! The stem is a little weaker than I would like, but it doesn't stop me from loving this mirror for all of it's great uses!
Published:
Pros:
Fog Free
Strong Suction
Easy to Use
Versatile
Cons:
Stem could be stronger
Use
Sex in the Shower shaving mirror by Sportsheets is a fog free mirror that can be used in the shower to help you see all the places you normally can't while you're shaving.
The cup can be placed higher on the shower wall to help with facial shaving, lower in the shower to help with shaving your legs, or even right on the tub to help you see your sweet spot from a totally new angle.
Using it outside of the shower works great too! You can suction it right to your regular bathroom mirror to help with applying make up, plucking your eyebrows, or facial shaving. Because it easily adjusts, it works better than having a stationary mirror.
Material / Texture
This mirror is made from plastic which rates an 8/10 on Eden's material safety scale and is made from food-grade material is hypo-allergenic, latex, and phthalates free. Since you're not planning on using this item internally, the material safety isn't a huge deal.
The plastic on the back of the mirror is very firm and has only a light texture on it. The stem has a ribbed feel and look to it, it's obviously necessary as this is the part that bends to help you see things better. The suction cup is totally smooth, but the top has a slightly frosted look to it.
The whole piece is pretty lightweight, but the mirror part tends to be a little top heavy when in use. The majority of this piece is white. The suction cup is a clear/frosted piece and the mirror is, well, a mirror!
There was only a very light plastic smell when I first removed it from the box, but it quickly wore off!
Design / Shape / Size
The design and idea of this mirror is wonderful! The mirror is the perfect size to use, no matter how small your shower is! Because the mirror is fog free, it won't matter how hot your shower gets, you'll still be able to see all the areas necessary when removing all of your unwanted hair.
The surface of the mirror is flat, and goes in just enough for there to be a slight lip around it. The piece then goes up into a slight cone shape where it attaches to the stem.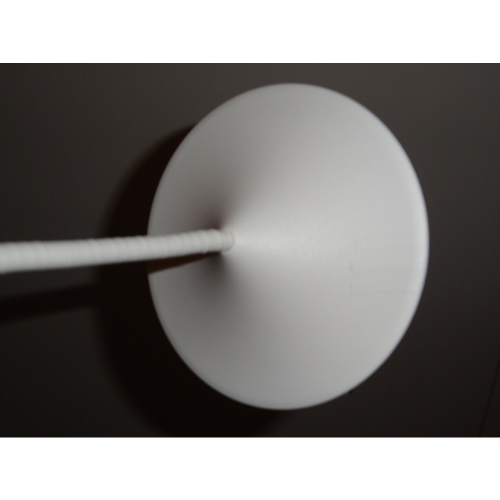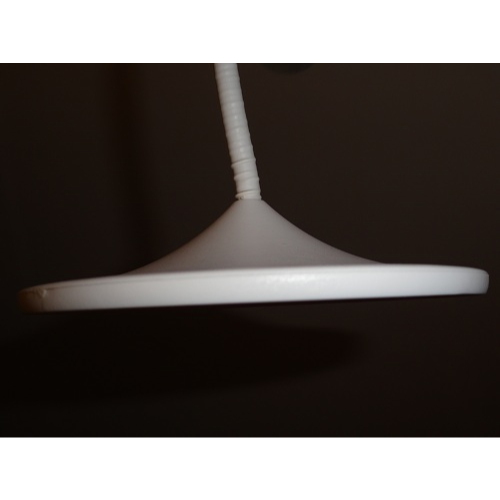 The stem of this piece bends fairly well. It will contort into most positions needed. It's thinner, but durable. On the end of the stem, there's a plastic piece that has two little parts that come out from the piece, it helps the end plug into the suction cup and stay in place.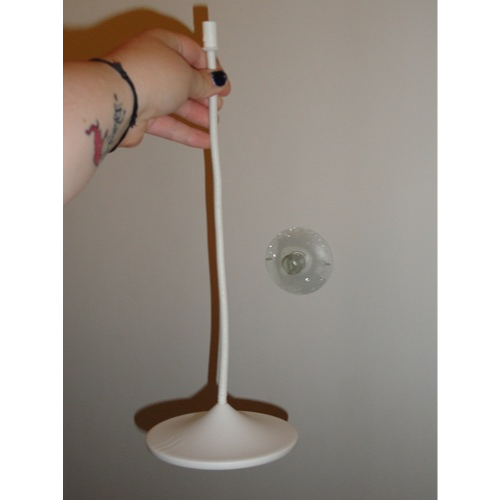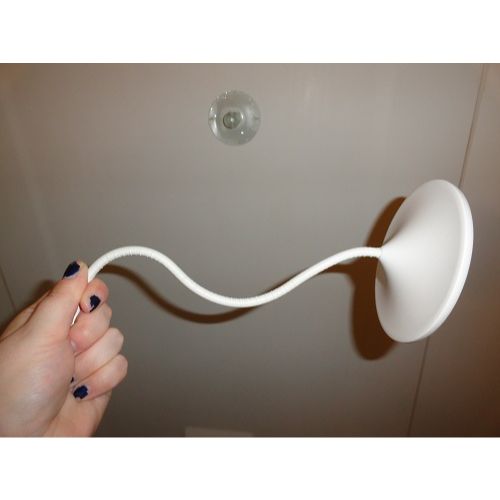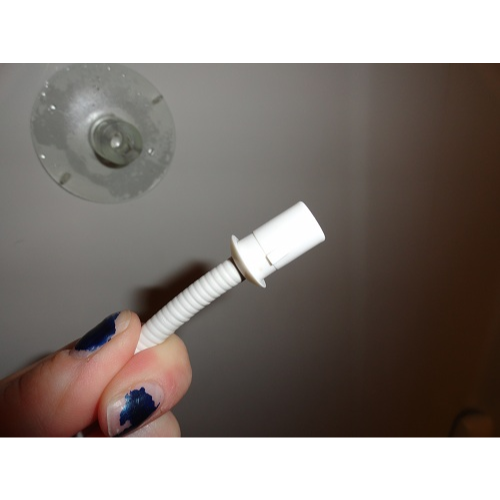 The suction cup is my favorite part of this piece because of it's design. It sticks really well and has two release tabs on either side of the cup to help you break the seal when necessary. The area where you insert the stem is awesome! There are three different holes that the end of the stem can go in, each assisting you in putting the mirror in the exact position you need!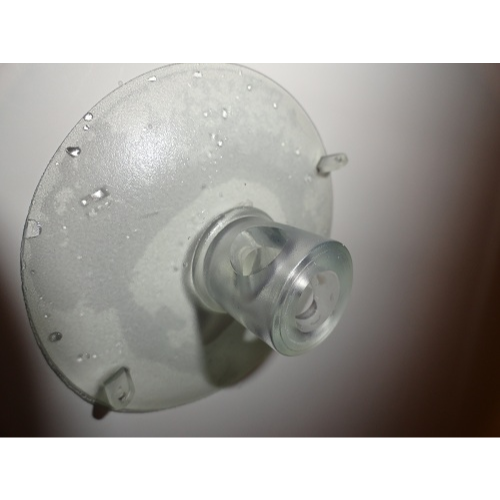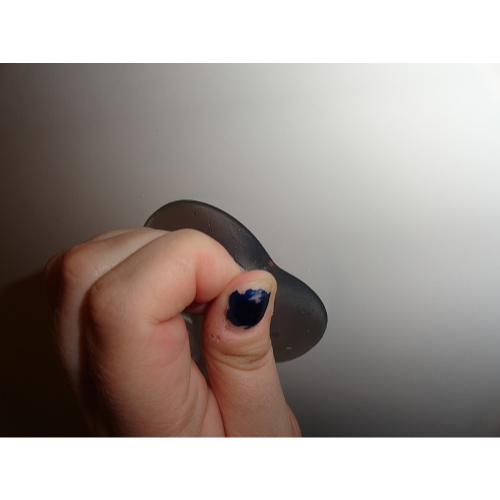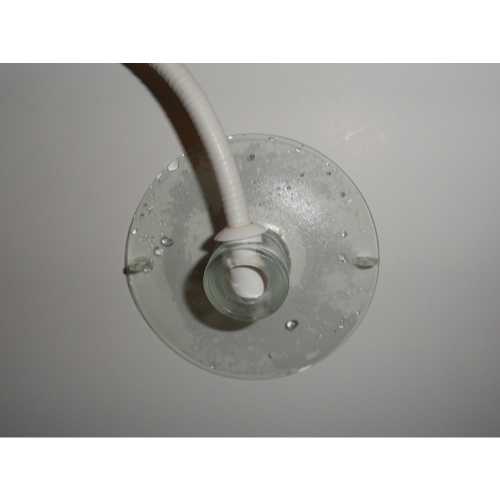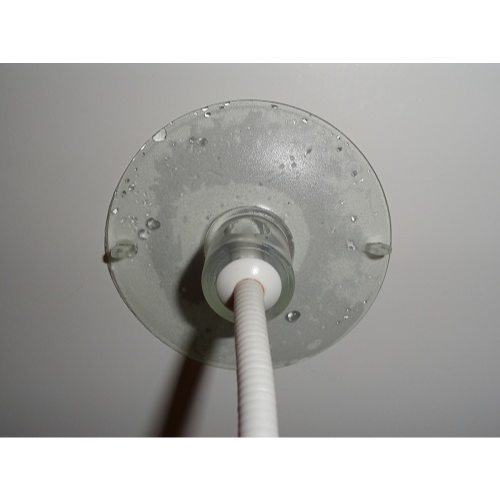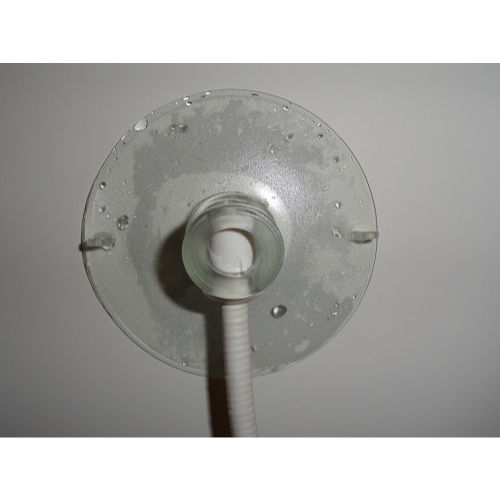 Total Length: 14"
Diameter of Mirror: 5"
Stem: 11 1/2"
Diameter of Suction Cup: 3 1/4"
Diameter of holes on Cup: 1/2"
Performance
The suction cup holds up extremely well and stays stuck to your shower wall until you remove it. I've actually had it in place for over a week before and it didn't lose any of the suction!
The stem could be made to work a little bit better. It's a little more lax than I feel it should be, and tends to wilt when you put it in certain positions. I think if they had made the stem a little thicker it would have stayed in place a lot better.
The mirror works very well! It doesn't fog up, no matter how hot your shower is!
Care and Maintenance
This mirror is simple to care for! Simply rinse with water as needed and clean with the same products you'd use for the rest of your shower.
When it's time to put the suction cup back, putting a little bit of water on it before pressing it to the wall does help it to stick on there better.
You can keep this mirror right in the shower if you'd like, but will curl up to fit well under a sink or in a closet. The box it comes in doesn't make a very good storage box. It's not discreet and while it doesn't show actual nudity, it does show a lot. The box was informative, but not necessary to keep. And don't forget to remove the protective piece that is on the mirror when you first take it out of the box!
Experience
I purchased this mirror to help me with shaving my lady parts, since some areas are hard to see. I've gotten a ton of use out of it! My husband has decided that it's also his mirror for when he's shaving his face and head, and recently my children decided that it was fun for use while they were in the bathtub!

While the stem has been annoying at times, this mirror has been a great item to have on hand in our bathroom!
Follow-up commentary
1 month after original review
Though I wrote my review for this mirror only a month ago, I've had it for almost a year now. The suction is just as strong as the day it arrived and the mirror hasn't clouded or scratched at all. I'm still very pleased and impressed with the way that this works, and it's a must have for our bathroom shower! I couldn't be happier with this mirror!
This content is the opinion of the submitting contributor and is not endorsed by EdenFantasys.com

Thank you for viewing
Sex in the Shower shaving mirror with suction cup
– sensual bath review page!