No "Splish Splash" jokes, this is just a freaking great bath and shower mirror!
This little mirror is irreplaceable. It is put to use to view shaving, waxing, dying hair, sugaring, putting on make up, and even making love, if you deem it so. The mirror is crystal clear and stays free of fog, the suction cup is strong to stay where you put it. The goose neck is flexible and you will be able to see virtually any part of your body with this mirror to primp and preen yourself without having to contort your body. You can save that, the contortions, for later.
Published:
Pros:
Clear mirror, fogless, flexible neck, strong suction cup
Cons:
a bit small, glass could break (but hasn't yet)
The Fogless Shaving Mirror with Suction Cup is one product in SportSheets new "Sex in the Shower" line of bath and shower products.
This handy little product is made with a 5 inch across glass mirror, at approximately 2X or 3X magnification,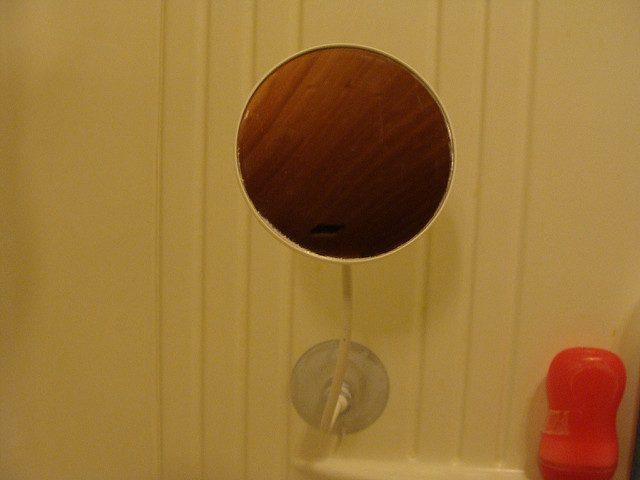 an 11 inch long plastic coated goose neck for flexibility and movement,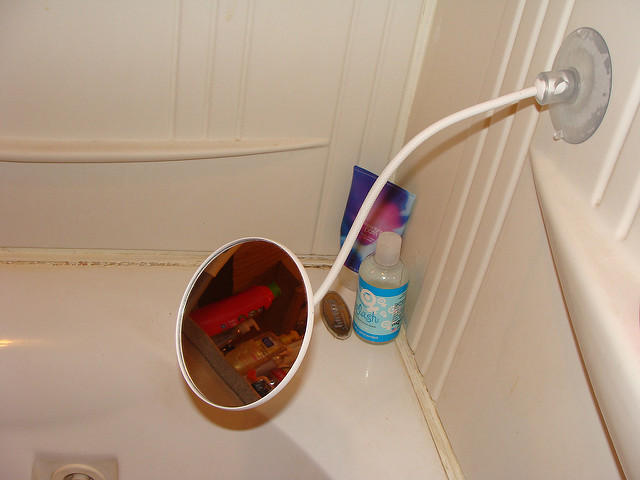 and a large 4 inch removable suction cup to attach to the wall of your bath or shower or next to your sink.
Comparable mirrors have been seen in the Brookstone catalog for more than $50.00, and these mirrors have to be installed with tools, require hardware putting screws into your wall. At the moment, using a suction cup and the lower price of the Sex in the Shower Mirror is a much better solution for our home.
The mirror truly is fogless; it remains clear and viewable in even the steamiest showers and even the hottest situations. I simply clean the glass with a spritz of Windex every few showers to keep it clean.
The main purpose of the mirror is to facilitate shaving while in the shower or bath. We all know how difficult it is to shave the backs our our legs or our pubic area, while not being able to see what we are doing. Not to mention what a drag it is to have to try to hold a hand mirror in the shower; between a regular mirror fogging up and being continually dropped into the tub!
The Sex in the Shower Shaving Mirror simply attaches to the wall of your shower, and you bend the goose neck to get the best vantage point to shave all those pesky hairs without missing a spot. When you are done shaving, the mirror's neck will help you bend the mirror out of the way. Or, if your partner is clumsy or hates being crowded in the shower, like mine, you can "unplug" the goose neck from the suction cup, leaving the suction cup attached to the shower and putting the mirror and it's neck someplace safe until The Hulk is done with his shower.
This mirror can also be used near the sink; it helps you see the back of your head to make French Braids or UpDos, helps you center your pony tail and even stands in to help you see what you are doing while dying your hair. I hate when I miss parts of my hair in the back of my head, because I couldn't see, and holding a hand mirror is a mess. Just stick the suction cup on the mirror itself or next to the mirror on tile or drywall, and you're set to do your hair. If you have a really small bathroom, you may even be able to place the mirror across from your main mirror to see the back of your head even better.
We have wooden walls in our Master Bath, and this suction cup doesn't do well on wood. I have to stick it to the mirror proper to do this, but it stick well to the tile in our downstairs bathroom well.
As the name of the line of product implies,
Sex in the Shower
is also something that could be improved with this mirror. The mirror is not large, but if you want to see something close up, or just, for whatever reason see things from a different perspective, while making love in the shower, this little guy would be helpful.
In addition to cleaning the glass with Windex every few uses, I also simply rinse the entire mirror body in water every few uses as well. As our water is extremely hard, the suction cup has picked up some water spots that cannot be removed. But, it's a cosmetic issue and does not impact the performance of the mirror at all.
And the 4 inch suction cup is strong, it holds until you want it to let go. I wet the suction cup under the faucet or shower, or use a cup of water from the tub, then just stick in wherever I want it. When I want to move it, I insert a nail under the edge of the suction cup or grab the cup near one of the little nibs on its edge.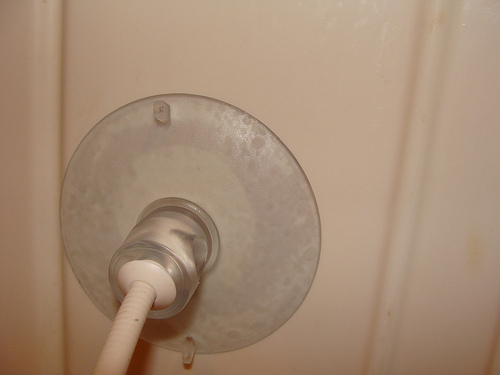 I have never had the mirror's suction cup let go when I didn't plan for it to.
This product is a great addition to our bathroom, and if you shave, wax, sugar, dye or….whatever in your bath, you will probably enjoy the use of this product as well.
Experience
The only flaw is that the mirror is a little top heavy, as the mirror itself is glass. This sometimes pulls the mirror down, after you have placed it in position. It isn't a huge problem, and repositioning the goose neck will often correct the problem. The only problem I see with the mirror is breakage, as it is glass. However, plastic would give the mirror an easily scratchable surface and reduce clarity, so glass is the best choice for this product.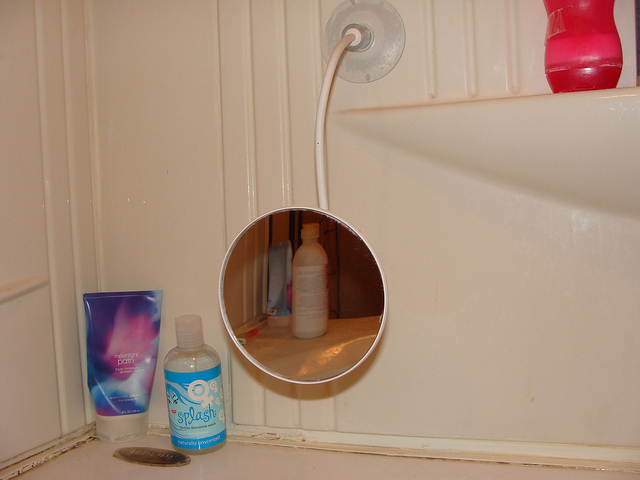 I do wish the mirror head were a little larger, but as the head is heavy enough as it is to cause the mirror to droop sometimes, a larger mirror would probably be very difficult to control.
Whatever you shave, wax, dye, prepare or make love to in the shower or bath can be improved with the use of the Shaving Mirror by Sports Sheets Sex in the Shower. The addition of
Sex in the Shower
foot lift would improve the usefulness of this mirror, as it gives you a place to also place a foot while shaving.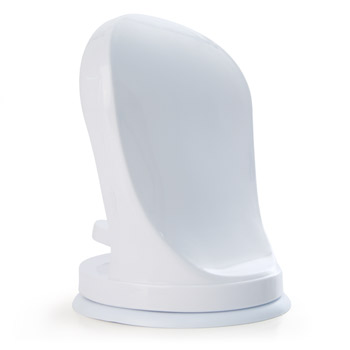 I have wanted this product for a long time, and I have not been disappointed with its performance.
Follow-up commentary
2 months after original review
This is a product I use literally every day. It resides in our Master Bath and nearly everyone in the house uses it for shaving, or whatever works for them. (I don't bathe with anyone else in my house except my husband, but I know my daughters have commented on how useful the mirror is and how glad they are we have it.)

I was thrilled with Eden decided to restock it, after it was at first discontinued. It's such a great product at a good price, and as many have said, one of those items you don't even know you need until you have it.

The mirror stays un-fogged, even after hundreds, maybe thousands of showers and baths. It's one of the most versatile products in our bathroom.

I would buy an other one, if anyone in our house used the downstairs bathtub, (but they don't) and would certainly replace it if anything happened to it. I don't think our family can live as well without this little shaving mirror. (Well, at least we'd be furry in strange, unseen places.)

Its a product that would enhance any bathroom in any home.
This product was provided free of charge to the reviewer. This review is in compliance with the FTC guidelines.

Thank you for viewing
Sex in the Shower shaving mirror with suction cup
– sensual bath review page!