Oh, Oh. It's Magic! Ya Know...
A perfect little gift for the winter outdoorsman, your friend to whom Aunt Flo is not kind, or your aching muscles, the cute little Heart Warmer will be your friend for life! He'll never run out of batteries or steam, and uses the magic of chemistry to keep himself going hard and hot for you time and time again. What's not to love? Oh, have a heart!
Published:
Pros:
Reusable for eternity, cute, great price
Cons:
Takes a little effort to boil it for reuse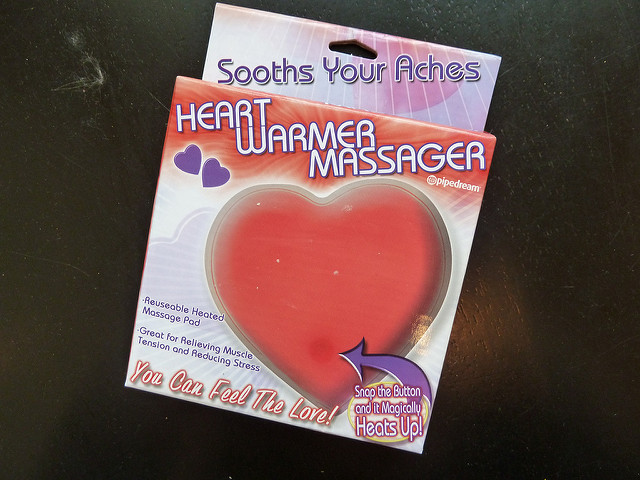 A hundred of these is right--as Miss Debauchery has said, you can't really have enough of these cute little Heart Warmers. Wonderful for a variety of purposes and magically reuseable, these therapeutic little guys will soon be fast friends with your most troublesome body parts.
It's so small at only 5" long, and is lightweight for travel and delicate belly-resting purposes. Don't let appearances fool you though. This Heart Warmer has something up its sleeve. And it's sure to... well, warm your heart, of course! What'd you expect?
Dormant state.
Unexcited, the heart is jelly-like and very squishy. As soon as the hard-on starts happening though, be sure you have it in a position you'd like it to stay in, because it will soon be stuck, until you prep it for next use.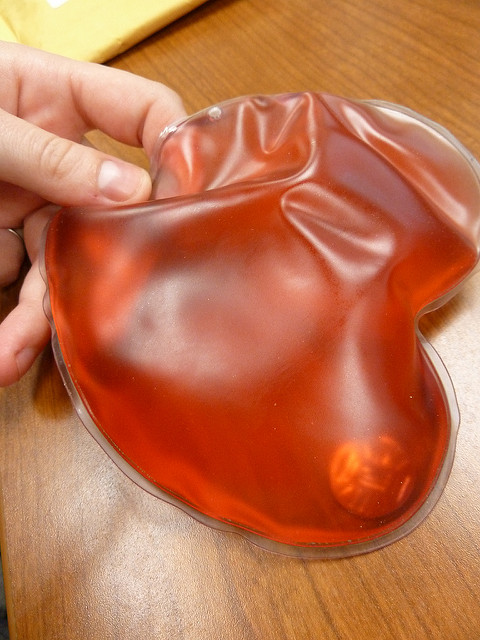 A rare shot of the camera-shy disk.
A tiny .75" metal disc lives inside the land of Heart Warmer, hibernating till you come along. Then anything from a gentle tap to a couple snaps back and forth and this button has released all the stored energy, and shaken the very foundation of the crystals inside the vinyl casing. Sodium acetate is the name of this magical game. Opaque white crystals bubble up and spread quickly across the sea of love while you watch amazed.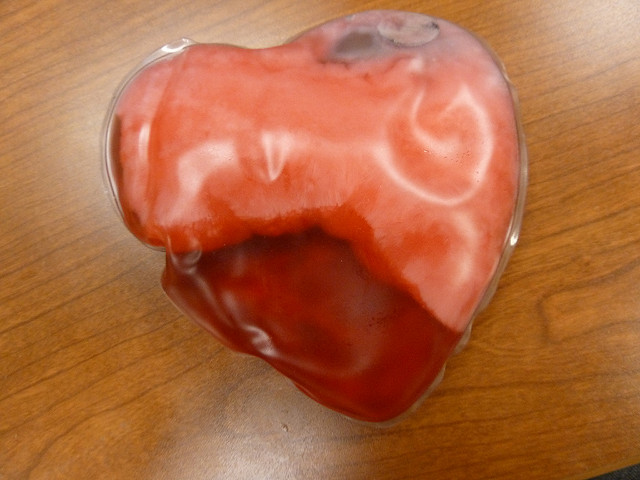 Magic! Watch it grow.
A sensual kneading of the now-warm crystals distributes their hardening mass throughout the heart-on. A temperature of up to 129 F. To keep the love lasting, wrap a cloth around the lovebud. It will stay at maximum temp for up to thirty minutes and then start cooling its jets. It will stay warm, however, for a good hour.
The vinyl casing is delicate, so be sure to store it away from the danger of sharp objects. The box it came in will do nicely.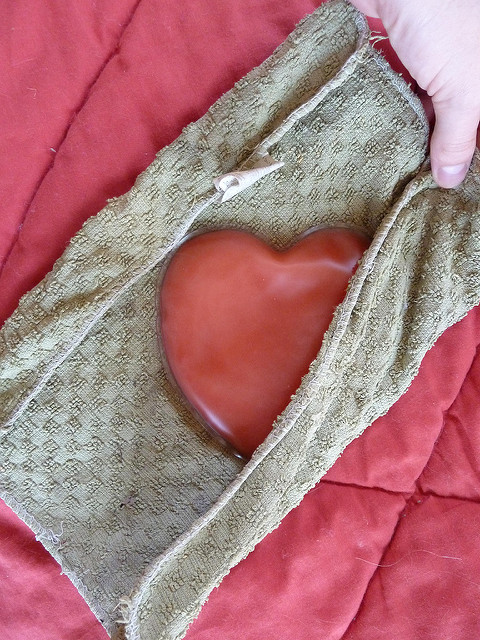 G'night, friend! Happy hibernating.
After use, simply wrap him in a washcloth and gently place in boiling water for 10 minutes. When the gel is clear again, the crystals have displaced their energy to the underestimated metal disk once more, and it is ready for use again. The only drawback of this toy is that you have to wait 10 minutes and boil it between uses... meanwhile you're anxiously awaiting your fix of its magic!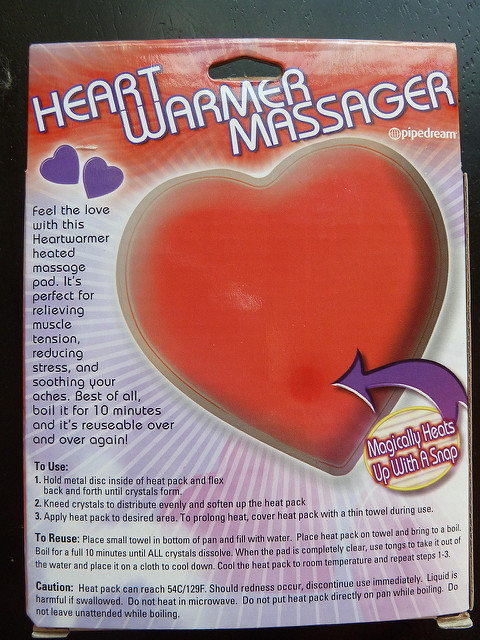 The back of the box warns to never use metal tongs to remove it from the boil, don't let it touch the metal pan, and don't put it in the microwave, you corner-cutter, you. All of these will result in the melting demise of your loving friend.
This heart has been great for cold nights in the office.
You can also use it on
Your lower back for aches
Sprains
Your neck to keep it relaxed after injury
To keep your hands warm in the tree stand
For outdoor workers, they slip easily in a pocket to warm up on breaks
Menstrual cramps
UTI pain relief, and really anything you'd like.
With winter coming, a couple of these come in handy at the foot of the bed on nights when your cat decides to take the couch. Your warm feetsies will thank you.
You can boil and reuse this warmer until the cows come home, which is the best part about it. And at this price, what's not to love?
Follow-up commentary
3 months after original review
Oh god I love this thing. It's sitting on my belly right now. Period started this morning and I had just enough time to throw it in a pot to turn it back to its ready state before leaving for work. It sits underneath my clothes and I can wear it at my desk, warming and soothing my cramps for hours. If left under my pants, my body heat retains the crystals' temperature for extended periods of time.

The only thing I need to mention that wasn't in the review is to take caution when storing the warmer. Be sure to get a sizable box, sturdy, and with ample room to place the warmer in without squishing it. If you squish it into the box, you'll likely activate the crystals and have to boil it again! So lame. Still, this is a lovely toy, a lovely concept, and even lovelier execution! Wish I had a dozen of them.
This content is the opinion of the submitting contributor and is not endorsed by EdenFantasys.com

Thank you for viewing
Heart warmer
– massager review page!