Powerful Sweet!
Indulge is the very first of its kind for Cake Beauty: an eau de parfum. In a bit of a departure from its typically sugary scents, Cake's so-called "gourmand" perfume turns out to be more of an aqueous fragrance. Fresh and a bit sweet at once, the heart and base of Indulge work well together. If you can get past the initial sucker punch of the top notes, the powerful, powdery base and jasmine filled heart may just win yours.
Published:
Pros:
Pleasant fresh and sweet impression, lovely bottle and package, long lasting
Cons:
Can be too strong, base overwhelms heart, top notes are aggressive, no citrus, fruit or anise
Indulge
is the first (and so far only) eau de parfum from Cake Beauty - and they've been rather modest in its promotion considering its fledgling status. Most of Cake's products are advertised in bubbly, cloying descriptive terms. Indulge, on the other hand, is rather understated in its copy:
Wrap yourself in a new level of scent-sational sweetness & sophistication and leave others longing for more. Indulgence is good.
This seems to be a calculated effort to move from cutesy confections to a more sophisticated, grown up perfume. And, perhaps, they hope the quality of their product will speak for itself. So what should you expect from this perfume? Well, according to the Cake Beauty website,
Indulge
boasts a rather stacked and complicated list of fragrance notes. Here is the list, from top to bottom.
Top
: citrus sparkle, fresh and juicy orchard fruits, caramel syrup, island sugar cane and star anise
Heart
: heart of rich florals of jasmine, rose, lily of the valley and water lily
Base
: warm vanilla met with sweet powdery notes
For those playing along at home, perfumes are described with fragrance notes. Similarly to the way in which flavor notes are described in foods, fragrance notes detail the order in which a perfume's scents occur to your olfactories. Top notes describe the first scents that hit you upon application. These notes occur immediately, and evaporate just as quickly. These are inexpensive oils, but important for capturing the attention of a buyer. They typically do not last longer than ten to thirty minutes after a spritz. The middle notes or the "heart" of the scent develops just as the top fades. This is called the "heart" because it is considered the "body" of the fragrance. The heart determines the taxonomy of the fragrance. There are seven major families in the prevailing French taxonomy - which I subscribe to - and they are as follows: citrus, floral, fougere, chypre, woody, amber and leather. Because Indulge uses floral scents for its heart, it would be considered a floral. The base notes are the most expensive, and are also have the heaviest molecular structure. They are the last to evaporate, and will be the last scents you smell on your skin before the perfume entirely evaporates. Base notes act as an "anchor" that help sustain lighter oils that might evaporate more rapidly without the base. Cake Beauty uses vanilla - a very common base note - for Indulge. Base notes should hover below the heart, never dominating, but rather a steady, reliable companion.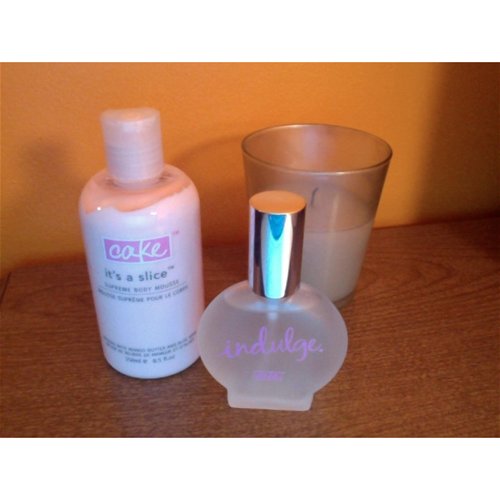 So, does Cake Beauty succeed in finding complimentary fragrance notes that fade in and out of one another, ebbing and flowing like classical movements? Well, not exactly, but for $50? They do a pretty good job in making an overall pleasant sensory experience.
The initial scent hits you like a ton of bricks, which seems to be a recurring theme for Cake products. My Cake Mousse was also brutal at first, but mellowed into a bearable and even enjoyable scent. Most of the top notes are entirely absent for me. This is in part because they are so overwhelming. I detect absolutely nothing of citrus, however, nor of any kind of fruit or anise. The anise appealed to me in particular, so I did miss that. However, the syrupy, sugary scents were there in spades. Think the kinds of drinks that you pay $8 for at certain coffee shops - the ones that taste nothing like coffee and everything like candy. Thankfully, after about 5-10 minutes, that mess fades.
What follows is quite strong, which can be expected of an eau de parfum. However, it is significantly weaker than many others. Some Googling tells me that an eau de parfum is typically comprised of 8 – 15% perfume oil. I would say this particular perfume is on the lower end of that range. It's probably still much too strong if you're very sensitive to scents and prone to scent-induced migraines. Asthmatics should also steer clear. However, I generally consider myself fairly sensitive to smells, and this doesn't bother me once the top notes fade. I wouldn't recommend more than a single spritz, though, unless you plan on being outdoors or want to offend those in your immediate proximity all day.
Experience
The middle notes are there, but again, not all too strongly. The rose is conspicuously absent, though the jasmine comes through strong. There are hints of the lilies, but these take the backseat to jasmine. I was pleased to see that at least the majority of the heart notes were present. As is to be expected, these fade in time. I couldn't say exactly how long; over the course of hours, it's hard to keep a steady bead on that kind of thing. The base notes ultimately dominate in this perfume, which isn't exactly what they should be doing, by definition. I get strong notes of musk and powder as promised by Cake, as well as more subtle notes of vanilla.

The powdery notes are the most pronounced, and combined with the jasmine, give Indulge a sweet and fresh impression. Cake describes Indulge as a "gourmand" offering. A gourmand is, literally, a person that enjoys gourmet foods. In the world of perfume, "gourmand" means something that smells sweet and dessert-like. I wouldn't say Indulge would be the first kind of perfume that would come to mind when I hear the term "gourmand." The powder and musk is too powerful, and reminds me more of clean linens. For this reason, I would say it strikes me as more of an "aquatic" meets "gourmand" affair. This is a successful combination to me. It's not a favorite, but I do enjoy it quite a lot.

All told, I do recommend this product. If you like fresh and a little bit sweet - and in abundance - you'll love Indulge. Its 1.7 ounces are cradled in a clear frosted glass bottle, with a metallic cap and spritz dispenser. The bottle is devoid of writing except for the name of the company and the fragrance. It's very elegant, and comes in a very nice pink cardboard box. It would make a lovely gift, though you can smell it through the packaging, so it may not exactly surprise the recipient. Indulge is free of GMOs, Petrochemicals, Phthalates, Sulfates, Triclosan, and Parabens. If you have any allergies, you'll have to use your good judgment looking at the note list, because no perfume company will ever give away a complete list of their ingredients.
This product was provided free of charge to the reviewer. This review is in compliance with the FTC guidelines.

Thank you for viewing
Indulge eau de parfum
– perfume review page!