Shower for two, please!
If you and your partner enjoy fun showers together but one shower head just isn't enough to keep you both warm and wet, here's your answer! This dual shower head allows both you and your partner to enjoy a steady stream of water at the same time! Plenty of fun to be had, now that the shower just got even better!
Published:
Pros:
Easy to install, operate and care for. Works well!
Cons:
Could provide stronger stream
Sportsheets
invented a much easier way for lovers to connect in new, fun places. Taking something we all are familiar with and modifying it to something we can all enjoy with our partners in a whole new way, they created the
Sex in the Shower - Dual Shower Head
.
An innovative new way for couples to shower together, this item has two separate shower heads connected by a "t" shaped pipe which screws on in place of any standard shower head. Each head moves independently of one another and they each have 3 settings. A "rain" shower, pulsating shooting out, or a combination of both.
Settings
:
Rain-like shower
- This setting is our personal favorite for both of us. It is easier to clean up with this setting, because you seem to get more water coming out at once. It also feels better on my back, because it feels like it comes out with more force on this setting than any other, even the pulsating. This could vary from person to person based on what your water pressure may be.
Pulsating
- This setting is great if you want to just target a small area of your body and don't plan to bathe. If you just want relaxation, this would be the best setting, because it provides a "massage" like sensation on your back. It does splash up, so if you don't plan to get your hair wet, you should avoid this setting unless you can aim it low enough on your body.
Combination
- You don't get enough of either setting to tell that you are getting anything different. It just feels like you are getting the rain-like shower, only a little bit weaker. Personally, I never used this setting, other than to try it out for the review.
Overall
:
Overall, I really enjoy using this shower head. I keep it on the first setting, whether we use it together or not, and we never take the shower head out. Luckily, we do not need to worry about anyone prying, but luckily the shower head is very easy to remove, so if needed, you can just remove it after each use and screw the original shower head back on.
Packaging
:
This product will come in a plastic clam-shell package, with information about what the item can do, company information, and a picture of a couple enjoying an intimate moment in the shower on the paper insert. It is easy to open, so you can begin using your product right away!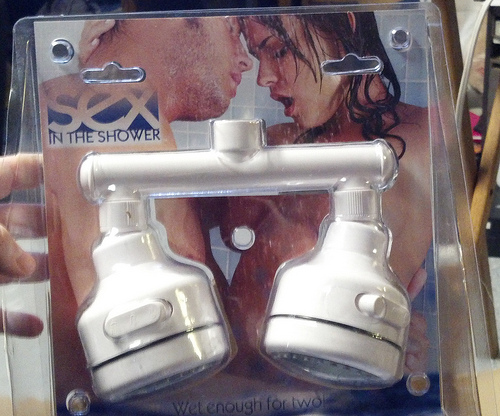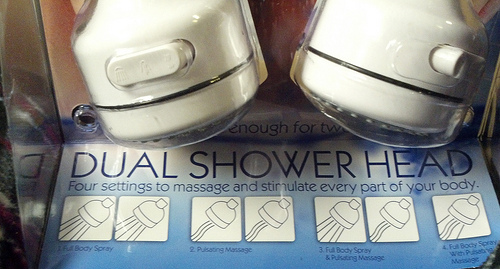 Experience
Why I added Vrooms and Bees

Obviously this shower head is going to make some noise, since you can hear running water in the shower anyway. Of course, it is loud, so I figured I should just add some Bees.

As far as Vroom, I did try to play around with the streams of water coming from the shower head, they were nothing fantastic, but they did give me a nice pre-toy tease!
This content is the opinion of the submitting contributor and is not endorsed by EdenFantasys.com

Thank you for viewing
Sex in the Shower dual shower head
– sensual bath review page!